As the world becomes more and more health-conscious, several products have been developed so that people can have healthier lifestyles. Glass water filters aren't just eye-catching. They purify water and eliminate contaminants such as heavy metals, like lead, mercury and copper, and other substances such as chlorine and pesticides. On the other hand, they help to maintain or boost other minerals, including potassium, magnesium and calcium, which are very beneficial to our health. Ultimately, thanks to these products, one can enjoy better quality water which tastes better and which does not have any odor.
This article will list down the top 9 best water filter pitchers of the moment. These products are modern and offer numerous benefits to users. At the end, we have included an informative buying guide that will help you pick up the best water filter pitcher that suits your individualized needs.
List of the 9 Best Glass Water Filter Pitchers in 2023
Reviews
9. LifeStraw Home Water Glass Water Filter Pitcher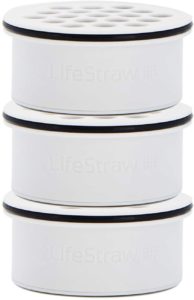 This LifeStraw water filter is one of the best deals of the moment. It matches good design, functionality and performance altogether. With this wonderful product, you will be able to filter water while keeping all the healthy minerals; all undesired contaminants are eliminated leaving only minerals like potassium, calcium, magnesium and sodium. Moreover, it is popular for its activated carbon Ion filter that is effective in decreasing mercury, chromium III, copper and several other heavy metals. Plus, it comes with a half-year supply.
All Lifestraw products are well tested so that they offer the safest and best experience to users. This water filter meets EPA, ANSI/NSF standards. Available in cobalt, grey, aqua and white, you can choose the best color that will match your interior décor.
8. pH REPLENISH Alkaline Glass Water Filter Pitcher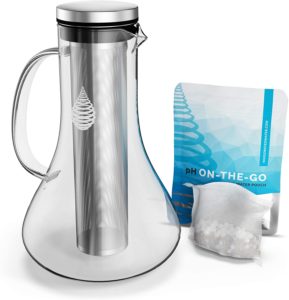 The modern pH REPLENISH water pitcher is an efficient and eco-friendly device. As part of its vision for a plastic-free use, this water filter is made of professional-grade stainless steel and borosilicate glass. It is perfect for family use. The water filter has a very elegant and modern design that will match wherever you place it. One aspect that you will love about that product is its high filtering capacity. What's more, each 100g filter bag can support 400 liters/105 gallons/1700 cups of water; with the average person drinking 8 cups of water every day, one bag can last up to 106 days for 2 people.
Get this amazing pH REFLENISH and make the most of your drinking water. Other than these, this water filter pitcher helps boost water pH and ORP. As such, the water tastes and smells better, plus you can enjoy added minerals like magnesium, selenium and iron. In addition to that, the filter helps eliminate harmful metals such as arsenic, lead and mercury.
7. ZeroWater Glass Water Filter Pitcher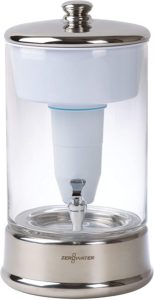 The only pour-through filter which is certified by NSF for removing lead and chromium, the ZeroWater filter dispenser is a great device for any place. It has a very uncommon design; the glass dispenser has a 5-stage filtering unit. It is known for removing up to 99.6% of all dissolved solids. And, the glass filter pitcher has been developed for daily/ frequent use. It has a high capacity of 40 cups and it has a water quality meter which is very helpful to monitor the water quality.
In addition, this water pitcher is the perfect pour-glass water dispenser to have at any place; office, home, party or gatherings. You will be happy to have this BPA-free and practical water dispenser, offering healthier and tastier water anywhere you want.
6. Brita Glass Water Filter Pitcher with 1 Filter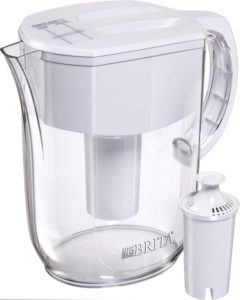 Looking for a water dispenser that is perfect for everyday use ? One that matches functionalities and looks ? The Brita Pitcher is what you need. This white water pitcher has a very modern look that will embellish your décor. It is a great product for families; it has a large filtering capacity and allows easy refill and pouring. For your info, one Brita filter is equivalent to 300 standard (16.9-ounce) bottles of water.
The pitcher weights 2.29 pounds and is BPA free. With the Brita daily pitcher, you will enjoy healthier and tastier water. It decreases the amount of copper, cadmium and mercury impurities in the water. Best yet, users will appreciate the status indicator that tells when the filter needs to be changed.
5. Soma 6-Cup Glass Water Filter Pitcher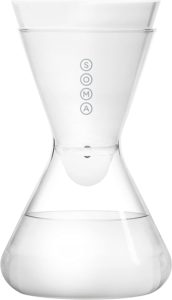 Soma is renowned for its high quality and elegant products. This Soma water filter pitcher is just another great addition to their list of great products. It is a perfectly developed water filter that offers convenience by also being a carafe. Users love how practical it is to have the water filtered and just use the same product to pour the water out. In addition to that, it is small and fits well in the refrigerator. In a modern white color and sleek design, leaving the Soma filter on your kitchen table will add to the décor of your place.
The Soma's upgraded filter system decreases concentration of mercury, copper and chlorine in the water. As such, users can enjoy water that does not taste or smell chlorine. This water pitcher is ideal for a small household of two people. Made of shatter-resistant glass, the water pitcher/carafe can hold 6 glasses of fresh water. Likewise, is very convenient for daily use ; for easy refilling, the lid can open automatically. In addition, the lid, cone and glass are dishwasher-friendly.
4. pH Restore Glass Alkaline Water Pitcher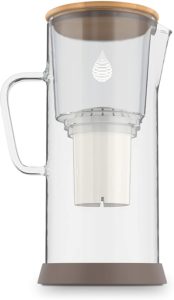 We are thrilled and proud to have this pH Restore water pitcher in that list. To start with, this product stands out as it has a very contemporary look and design. The pitcher is made of ultra-solid borosilicate glass coupled with an elegant bamboo lid. It is great for use at home or office. With a superior filtering capacity, it helps to save, on average, 720 bottles of water and $1080. And, each PH001 filter can process up to 360 liters which is equivalent to 1500 cups or 96 gallons. One of the greatest highlights of this product is its multiple-stage PH100 filter. It can increase pH level up to pH 10. In addition to that, it also boosts ORP and ionizes your water.
Our product will enhance the quality of your drinking water. The water filter dispenser adds beneficial minerals such as calcium and selenium. It filters heavy metals like mercury and other substances such as chloramine, fluoride and chlorine. Ultimately, the water comes out with better taste, no odor and no color. This product is BPA free and SGS certified.
3. Dafi Alkaline Glass Water Filter Pitcher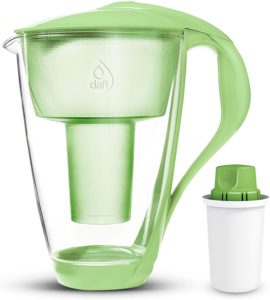 Having a proper water pitcher at home is an essential element for many people because drinking well-filtered water is very important for our health. By filtering water, it removes heavy metals and adds on essential minerals that improve digestion for instance. This Dafi water pitcher is a great product that is renowned for efficient and quick water filtering. Made of borosilicate glass, the pitcher is shatter-proof and satin-resistant. Users will like the sensor that indicates when the filter has to be replaced.
What's more, this Dafi Alkaline water comes with one free filter. The Alkaline UP filter harmonizes the alkaline-acidic balance for the wellness of your body. Likewise, it increases the pH concentration and negative ORP ; in the long run, this contributes to the slowing down of the aging process and enhances antioxidants which prevent several types of illnesses. This is a great gift idea for any household!
2. Waterdrop Chubby Glass Water Filter Pitcher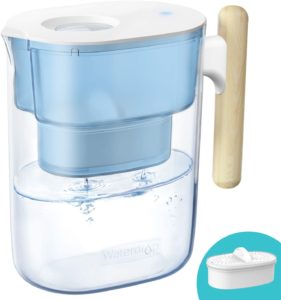 One of the notable features of this water filter pitcher is its powerful 7-stage water filter system. This 7-stage technology ensures the elimination of as many impurities as possible from the water. With our Waterdrop filter pitcher, you will enjoy drinking more water every day. The filer helps to reduce heavy metals such as arsenic and lead. Ultimately, the filtered water will have a better taste and will not have a bad smell.
Furthermore, the filtration does not just focus on removing 'total dissolved solids' but also helps retain essential substances such as magnesium and calcium. The high grade filter can produce up to 200 gallons of water. Above all that, this is a great product that helps save money and protects the environment as it replaces 1600 16-ounce bottles of water.
Additionally, the product is of exceptional quality. The pitcher is made of BPA-free and premium plastic. And, the Waterdrop's innovative design includes a gravity inductor and LED display mode that indicates when the filter needs to be replaced. Overall, this is an outstanding product that is long-lasting and is perfect for any place!
1. Brita Monterey Pitcher with 1 Longlast Filter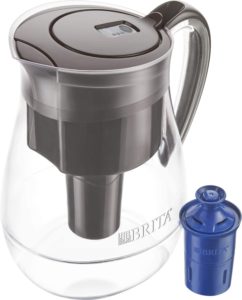 Brita has been serving many households for many years all over the world. Their products are known to be modern and long-lasting. This Brita Monterey Pitcher has a large filtering capacity while also being compact. Its design allows you to keep it conveniently on refrigerator shelves. The pitcher measures 10.9" L * 6.1"W *11" H and weighs 2.6 pounds. It can fill up to 10 large cups.
Indeed, this one is a water pitcher that is ideal for daily use. Not only the design will suit any modern kitchen, but the water pitcher has an ergonomic design. The handle is very comfortable. Another interesting feature of this water pitcher is the change reminder.
Best yet, there is a status indicator on the pitcher to notify users when the filter should be changed. By using the Brita Monterey, users will also be helping to protect the environment ; its Longlast filter lasts half a year and the pitcher helps replace 1800 bottles in a year.
Buying Guides
Filtering Capacity
One factor to think about when choosing the water filter is its filtering capacity. There are several types of water filters with very distinct capacity. For instance, if you have a big family, with people pouring water very frequently every day, you might want to choose a big filter that can purify huge amounts of water. On the other hand, if you are a couple or single, a smaller pitcher of 10-cup capacity for instance might suffice.
Size of the filter
Depending on where you want to place the water filter, you should consider the overall size. Some are big, while others are compact and can be placed anywhere on a table for instance. Likewise, if you would like to place the water filter in the refrigerator, you should get one that will fit on the fridge's shelves.
Construction of the water filter
Durability and strength are always essential for any product. Accidents happen very often and having a sturdy product helps in the service longevity. When it comes to water filter dispensers, you should choose one that is made of premium glass that is resistant.
Similarly, one should opt for one which is BPA-free and with minimum plastic contents.
Look and design
Last but not the least, in addition to the effectiveness of the product, you might choose one that will match the décor of your kitchen. Many water filters have interesting designs that are artistically interesting. For instance, some are in the form of carafes and others are very colorful.
Additionally, you should see how ergonomic the design is. It is always agreeable to have one with a comfortable handle and which is convenient for daily use to pour water out.
Conclusion
Now that you have looked at the top 10 best glass water filter pitchers of the year, which of these goodies meet your needs the most? A glass water filter pitcher will make your life easier and healthier. So, reserve yours while they last.