No matter if you are living in a big or small house, having an innovative household tool is very important. Not only can it help to organize your space better and more efficiently, but it also gives a clean and stunning look to it; making you feel more productive and less stressful. One of the highly recommended organization tools is a hanging pot rack. It's an essential tool that can't be missed in every kitchen. There are many hanging pot racks on the market.
When choosing one of those, you must make sure to check on the quality and functionality of it. However, most products in the market don't always possess both of these at the same time; only a few do. In this article, we will be introducing the top 10 best hanging pot racks that are very practical and outstanding in terms of quality. Check them out for more detailed reviews.
List of the 10 Best Hanging Pot Racks for Your Kitchen in 2023
You may also check: Top 10 Best Over Kitchen Sink Dish Racks 2023
Hanging Pot Rack Reviews
10. Kinetic Store Pot Rack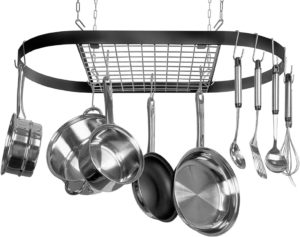 The first best hanging pot rack in the list is from this famous brand called Kinetic Store. It's in oval shape which gives more space to store your pot. The whole pot rack is made from high quality wrought-iron that can endure heavy weight of pots, so you wouldn't have to worry if it would get broken someday after purchasing. On top of that, Kinetic Store also has the center grid that is removed in order to add more hooks in case you own more pots than the original hooks are.
When purchasing this product, you will get 4 ceiling hooks, 4 chains, 4 S-hooks and 12 pot hooks. It's perfect for those who own a reasonable amount of pots in their kitchen. To add more confidence in this product, it's worth mentioning that Kinetic Store outstanding supports its product with a 25-year limited warranty, so you can definitely use it for a lifetime.
9. Cooks Standard Store Wooden Hanging Pot Rack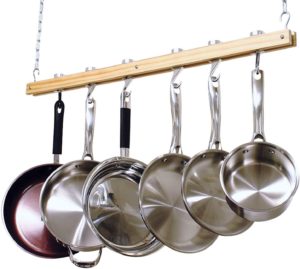 Moving onto the next product, the best pot hanging rack belongs to this modern wooden rack from Cooks Standard Store. What's special about this is that it is designed with a single bar and 6 swivel hooks. It's highly recommended for those who have a reasonably wide kitchen space, so that you can display and hang your pot for easy organization. The whole hanging rack can support up to 30 pounds with all its 360-degree rotatable hooks. It's very flexible and heavy-duty since it's made from solid cast aluminum and natural wood.
On top of that, it gives a really clean and minimalist look to your kitchen; having it more space for other products. What's also convenient about this is about the installation. You can easily install this hanging pot rack by yourself without requiring professional help, so you can save more in terms of money on that.
8. Wallniture Store Hanging Pot Rack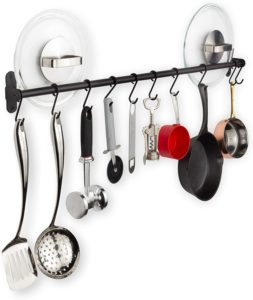 If you are less of a wood-preferred person, you can also consider purchasing a hanging pot rack designed with a steel bar, too. What we have here with the Wallniture Store pot rack is that it has a 32" rails that extends to include up to 10 hooks which you can use to hang anything and everything on it. With this, everything you would need will be within your reach. Because it's installed in an open space, you can have your trouble from trying to find the right kitchenware to work with in the hidden cabinet by effortlessly placing them on the 10 durable hooks of this hanging pot rack.
Beside, since the product is designed for multipurpose usage, you can also use it as your mug holder in your coffee corner, bedroom to hang clothes or even toilet to store any toiletries. Each product comes with all the important accessories, so you can install the product to use immediately after receiving it.
Also check: Top 9 Best Red Wine Racks in 2023
7. Kaptron Ceiling Pot Rack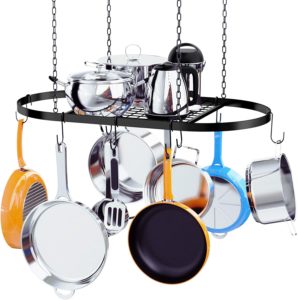 Next, we have another oval designed hanging pot rack from Kaptron. What's interesting about this product is that it has a compact design that doesn't require a big space to install. The rack can store for both pots and pans with its top grid shelves and S-type hooks. You can also hang utensil and other cookware to dried up before storing to avoid odor or mold building on those items too. From displaying to organization, this rack can absolutely keep your kitchen clean and attractive.
The product can be installed anywhere. Since it's designed for multi-purpose use, you can also install it in the toilet to store toiletries or other places anywhere you like. The thick high quality finished makes it very resistant to rust, so there won't be anything in the worry-list of this product.
6. Elegant Designs Light Pot Rack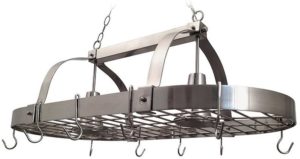 From household furniture to kitchenware tools, Elegant Designs also has its product on the top list. For this model, it's the brushed nickel industrial-looked hanging pot rack. Having this finish makes the hanging rack look very aesthetically pleasing as it can be styled with any kitchen theme. The whole hanging hot rack possesses up to 10 hooks that you can use to store anything from pots and pans to utensils and towels. With this pot rack, you can also reallocate the hook to wherever you like in case some of your pots are items than the others.
You may also need these Best Electric Fondue Pots, Crab Steamer Pots & Non-Stick Cookware Sets for your  kitchen!
Such an oval design allows this product to be highly accessible; making cooking a lot easier and less headache trying to find the pots and other kitchenware. There is also a lighting installed with this product, so you can easily use it to find your stuff even quicker if this hanging pot rack is installed in a less bright area. All the installation hardwares is included in the package, so you won't have to spend on buying other things to use this.
5. Old Dutch Store Oval with Hooks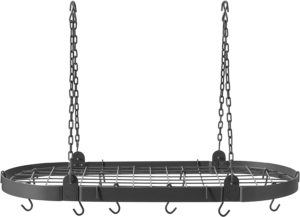 If you own a medium sized kitchen and a reasonably big amount of kitchenware, you might want to check out the hanging pot rack from this Old Dutch Store. Unlike most of the pot rack that has only a few hooks in the set, this has up to 12 hooks. That means you can store more items on it. Moreover, using medium gauge steel as the constructing material coated with steel powder, this product can support up to 60 pounds. Yes, you heard it right; 60 pounds. You can basically hang anything there and you don't have to worry if it would break your hanging rack apart after hooking those items.
The middle part of this pot rack is also designed with removable grid selves, so you can store anything that can't be hooked on the rack. Similar to the other products on the lists, Old Dutch Store hanging pot rack provides installation hardware and instruction that you can easily follow to start using it.
4. Old Dutch Store Rectangular Pot Rack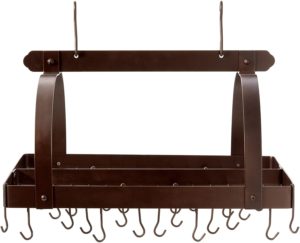 What's even better than having 12 hooks on your hanging pot rack, it's having 24. One of the most special and rare  pot racks on the market definitely belongs to this amazing oiled bronze finished product from Old Dutch Store. If you own a great amount of kitchenware, this is definitely what you are looking for to help you organize your space a lot better. It is made from super tough steel that allows it to withhold up to 120-pound weight capacity. You can easily customize this product according to your need.
The "S" hook can be installed for all or for some depending on how many kitchenware you own. There's also the matching grid in the middle where you can put utensils or to dry the cleaning towel, too. In terms of maintaining this for a longer service life and clean look all the time, you can also wipe clean it with damp cloth and dry clean it anytime you want. This product is highly recommended for those who have medium to large space in their kitchen.
3. SODUKU Pot Rack Organizer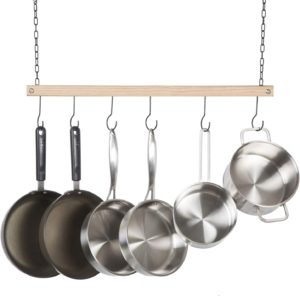 If you are after a minimalist yet sleek design and affordable hanging pot rack, you should never miss checking out a product from this brand called SUDOKU. It has a design similar to the previous product on the top 9th as it's patterned as a single nice looking wooden bar and attached with 6 swivel hooks that can be rotated 360 degree. It works like a charm for a small kitchen since you can have a great amount of space by simply using this. The whole  pot rack can support up to 36 pounds; which is totally okay for every pot and pans you own to be hanged there.
With this, you can also customize how you want your hanging pot rack to look in terms of the amount of hook you will install onto the wooden bar. You either install less hooks if you have less items to hang or to purchase an extra hook with a reasonable extra price and add more to the bar. However, you will do with it, the product is great for space saving.
2. Old Dutch Store Oval Pot Storage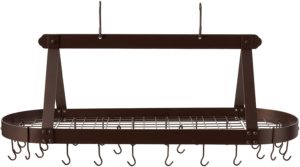 Remember the incredible 24 hooks product from Old Dutch Store mentioned previously in the list, if some of you don't like it because it's in the rectangular shape, you must look for this model instead. Here on the top 2nd, we have another topnotch hanging pot rack for medium and large size kitchen from Old Dutch Store again. As high and unquestionably quality as the previous products from this brand, this model is even better in its iconic oval shape that allows many kitchenware to be stored properly on it.
The heavy-duty gauge metal used for this hanging pot rack can hold up to 120-pound. To put that into a perspective, even if you use all the 24 hooks and the middle grid to store all your kitchen items, it still wouldn't exceed the weight limit capacity.
1. Cooks Standard Store Wooden Ceiling Pot Rack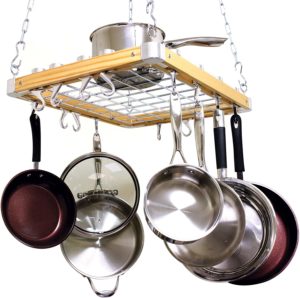 Last but definitely not least, we have the final product in the list of top 10 best hanging pot rack and it's no doubt from this popular ceiling mount wooden pot rack from Cooks Standard Store. Using solid natural wood track as the main structure, you wouldn't have to worry about durability or product getting rusted like the ones made from steel or metal. This rectangular wooden pot rack has 12 hooks and a wide grid surface in the middle.
You can store and hang any kitchen accessories on it while saving them from messing up your cooking space. The pot rack can be mounted on the ceiling to make all the items more accessible while you're cooking. Absolutely, with this, you'll enjoy cooking and be even more productive in the kitchen. Grab this premium and affordable hanging pot rack before the stock runs out.
What to consider when buying the hanging pot rack for your kitchen!
When buying a hanging pot rack, there are a few things you need to pay attention to. First of all, it's important to determine the size and number of hooks/space you can use that actually align with the number of kitchenware you own. To put it simpler, if you have a small kitchen space, you should purchase any project that is large in size. Besides, it's also essential to check the detail of the products when it comes to installation; especially if you are going to buy a ceiling mounted hanging rack.
As a general rule of thumb, the comfortable height that anyone can reach above their height is 1 foot taller. Hence, when you are selecting a product, you need to make sure that the chain is enough in terms of length when it's installed from your ceiling. Otherwise, you must look for a solution from a technical team; such as buying extra length chains to supplement or choosing different products.
Lastly, you can also select in terms of your preferred shape of hanging pot rack. Normally, there are 4 common shapes of the pot rack which includes round, rectangular, oval and a steel/wooden bar. Each of the shapes serves different taste to design, so you can also consider that when buying one.
Conclusion
To ensure that your purchase is 100% satisfied, we highly recommend that you prefer the top 10 products we introduced in the list as they are very well-trusted among hundreds of thousands of consumers and chefs around the world.