Nonstick cookware set has become more and more popular in every kitchen because they are made for convenient cooking and easy cleaning after use. Having such a modern and convenient cookware set is important in any household. Whether you are someone who cooks every day or randomly, these cooking sets consist of various sizes of pots and pan to accommodate your cooking need. Each pot and pan are nonstick coating to eliminate your cleaning effort. You won't feel less hectic after cooking as you know the cleaning will be easier.
List of the Best Nonstick Pots and Pans Sets in 2023
Unboxing the Non Stick Cookware Set by TeamKLoWhat
Here are other cookware options for you to choose: Copper Cookware & Ceramic Cookwares
10. T-fal All-in-One Dishwasher Safe Cookware Set (10-Pieces)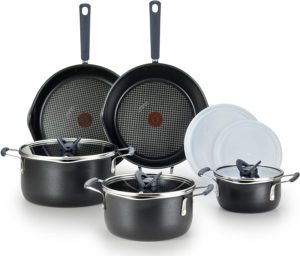 The T-fall is a cooking ware set coated in black. This cookware package includes two frying pans (7.75 inches and 11 inches), 2 saucepans with lids (1 quart and 2 quart), a spatula, a spoon, a ladle, one Dutch oven (5.5 quart) with lid and a griddle (10.25 inch). You will enjoy how convenient and easy-to-use these kitchen appliances. The cookware is compatible with almost all cooking methods – with the exception of induction cooking mode.
Additionally, the pans heat up very quickly and evenly. Users appreciate the thermo indicator that tells you when the T-fal pans are ready for use. The set has been developed as a very ergonomic kitchen set; the handles are heat-resistant allowing users to hold them while the pans are hot. Similarly, all the items in the cookware are dishwater friendly. Both the interior and exterior are nonstick.
9. T-fal Ultimate Hard Anodized Nonstick 12 Piece Cookware Set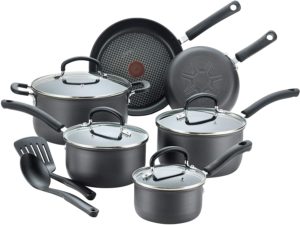 If you have a bigger kitchen in which the above 10 pieces of pots and pans do not meet your demand, T-fal also provides another 12 pieces of the dishwasher Safe Pots and Pans Set for you. This non-stick cookware set includes an 8" and 10" frying pan, a 1-quart and 3-quart sauce pan with lid, a 5-quart Dutch oven including lid, a slotted spatula and spoon. The pans have been designed for a greater cooking experience. Made out of anodized aluminum, the pans maintain heat for longer and have stronger protection thereby making them scratch and corrosion resistant. The protective layer makes the pan resistant to acidic foods.
For convenience, it is equipped with a thermo spot that turns red when the pans are well preheated and ready to add the food. In addition to that, the pans are nonstick. You do not have to worry about scratching the pans to remove sticked food ! The nonstick feature makes cooking more pleasant and easier.
8. T-fal Red 18 Pieces of Pans and Pots Set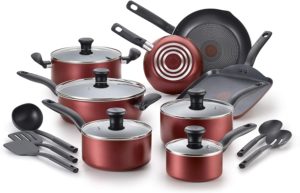 This is a larger set of cooking set provided by T-fal brand. Each cooking pot and pan is coated red outside and nonstick inside; food will slide like butter without sticking to the base and the nonstick feature preserves the flavor of your food. Likewise, the exterior is also nonstick. The nonstick quality of the T-fal cookware makes cleaning the items as easy as a pie.
This T-fal set includes 3 saucepans (3-quart, 2-quart and 1-quart), a stockpot(5-quart), 2 frying pans (8-inch and 11-inch) and skillet (10-inch) – all have a lid included. Furthermore, it comes with a slotted turner and spoon.
In addition, the pans include comfortable handles. You will enjoy cooking using this ergonomic T-fal cooking ware set. All items are safe to wash with the integrated dishwater. Lastly, the set is in a modern color that will well fit into stylish dining table and kitchen.
7. AmazonBasics Non-Stick Pots and Pans Set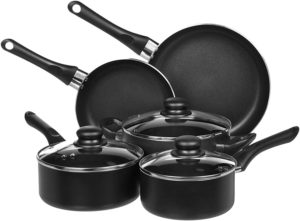 Looking for one of the best deals of the moment for cookware ? Checkout this incredible AmazonBasics nonstick cooking set. It matches affordability, quality and functionality. This 8-piece cookware includes a 10-inch frying pan, an 8-inch frying pan, a 3-quart casserole pan plus lid and 2 saucepans – 1.5-quart and 2-quart – with lids. The utensils are BPA-free and the body of the pans is made of durable aluminum covered in nonstick coating.
Users appreciate how effective the nonstick aspect is ; food doesn't stick and get burned, plus it is very easy to wash afterwards. It is to be noted that the products should be hand-washed as they are not dishwasher safe. The base of the pans is spiral so that it heats evenly. This AmazonBasics cookware can be used with any glass stovetop, electric and gas cooking stoves. It is perfect for couples, small families or single people.
Also check: Top 10 Best Hanging Pot Racks for Kitchen in 2023
6. GRANITESTONE 2228 NonStick Cookware Set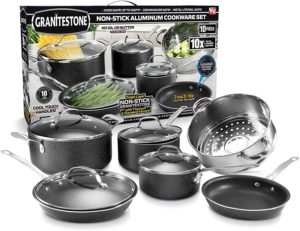 This Granitestone 10-piece non-stick cookware set has everything you need to let the chef in you take control in the kitchen ! It includes 2 frying pans with lids(8.5" and 10.25") 2 saucepans with lids (2.5 quart and 1.5 quart), one stock pot with lid ( 5 quart) and a steamer insert. Its multilayer nonstick nature will marvel you ! Stirring, flipping, tossing and releasing the food from the pan will be done in a breeze. In addition to that, it will be extremely easy to clean the pan. Just load the utensils in the dishwasher and after cleaning, they will look like they have never been used.
The granite stone is a wonderful heat conductor that conveys heat evenly so that the food cooks better and more quickly. On the other hand, the handles are heat-resistant and stay cool so that users do not get burned accidentally or when carrying the pans.
5. Cook N Home NonStick Pots and Pans Set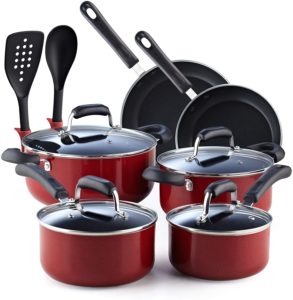 The days when one has to struggle with food sticking to the pan while cooking and having a hard time cleaning this same pan afterwards with this Cook N Home cooking set. Available in 2 elegant colors, red and turquoise, this cookware will also beautify your kitchen and table set. The whole set includes an extensive set of utensils for all your cooking needs ; 2 saucepans of 1.5 quart and 2 quart with lids, a casserole of 3 quart with lid, 2 fry pans of 8 inch and 9 inch , a Dutch oven of 5 quart with lid, plus a spoon and spatula. The lids made of tempered glass are transparent to allow users to view and monitor the cooking.
With no doubt, the Cook N Home is a non-stick cookware set that is perfect for daily use. The pans are made of thick quality aluminum that ensures that heat is distributed evenly while avoiding hot spots. The aluminum allows the pans to heat more quickly. On the other hand, the handles are stay-cool for convenience. The nonstick nature makes your cooking experience more pleasant while keeping the quality and flavor of your food.
4. Cuisinart 66-17N Chef's Classic Non-Stick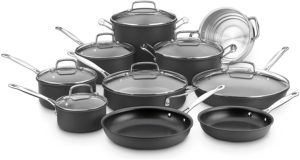 This wonderful 17-piece of non-stick cookware set from Cuisinart is an incredible deal not to be missed. Cooking is an art that many people enjoy. Having the proper tools to do is a plus ! The Cuisinart 66-17N offers features that facilitate cooking and cleaning. You do not have to worry about ruining dishes because food sticks and burns to the bottom. With the cooking surface covered with titanium, food is released smoothly.
Moreover, there is no need to use butter or oil if you are into healthier and no-fat cooking. One of the highlights of the cookware is its strong anodized exterior surface ; it is sturdier than stainless. This guarantees durability and a long-lasting performance for years.
The handles are tightly riveted and fixed. Moreover, they stay cool on the stove to provide a comfortable and safe grip to users. Users can easily see the cooking through the break-resistant and transparent lids.
3. Calphalon Simply Pot and Pans Set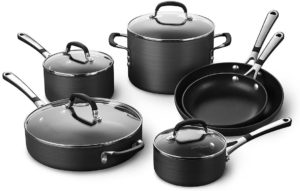 Calphalon is always among the top of the range in producing high quality cooking wares. This 10-piece cooking set is definitely one of the best. It offers convenience, aesthetic, quality and durability in each single item. The cooking surface of its pans and pots are coated with a hard and reliable nonstick material ; with its nonstick featuring holding well, your food will taste better. Likewise, the cleaning of the different utensils will be easier. The cookware is to be washed by hands only.
If you are a frequent cook, learning how to cook or you are randomly in the kitchen, the Calphalon Simply cookware is perfect for you. The product is oven safe to heat of up to 400 F. Its lids are made of tempered glass and can be used under heat of up to 400 F. The whole includes two omelet pans, two saucepans , one sauté pan, one stock pot and four lids.
2. Rachael Ray Cucina Nonstick Cookware Pots and Pans Set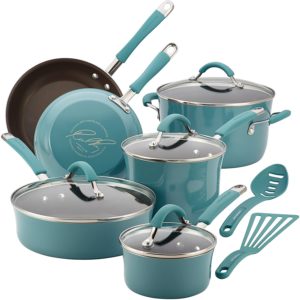 Rachael Ray Cuicina is popular for its products that match functionality and elegance. This Agave blue cookware is a lovely set that you will love using and expose in your kitchen. This set is also available in other rustic and lively colors that will give a relaxed and modern touch to your place. The set includes all pieces needed to almost all types of cooking ; 2 saucepans (1-quart and 3-quart) with lids, 2 fry pans (8.5 inch and 10-inch), 1 sauté pan (3-quart) with lid, a spoon and slotted turner.
The pans and pots, highly non-stick, are made of quality aluminum with the exterior made of enamel porcelain. These are products that will offer durability and functionality without failing for years. Its handles have double riveting and are rubberized for firm and safe grip. While cooking, you will be able to monitor the food through the shatter-resistant glass lids.
1. Granite Stone Pots and Pans Set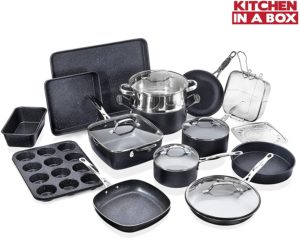 The perfect non-stick cookware set that you need to make your cooking experience perfect. This granite stone cooking set is a whole kitchen in one set. Your cooking will never be the same and rediscover the flavor and taste of your meals ! With a triple nonstick coating, the pans and pots have been reinforced with diamonds for a unique food release. There is no need to use oil or butter and this cookware promotes a healthier eating. Likewise, the granite stone used has been obtained from minerals making it free from lead, cadmium, PFOS and PFOA. The whole set promotes a healthier experience in your home.
Users will have every tool needed in this amazing set to try any recipe and let their cooking discovery journey prospers. It is also convenient for baking. The cookware set includes deep fry pans, fry pans, spoons, skillets, saucepans, baking pans, stockpots, steamers and more. This set will definitely be with you for years and will not fail to amaze you all the while. The coating made of diamond, strongest material available on earth, is resistant to metal spatulas, spoons, whisks and beaters. All in all, it is a superb cookware; durable, effortless cleaning, convenient and sturdy.
What to consider when buying
Items in the set
Depending on the type of cuisine and type of foods you will use; you need to consider the types of pans and pots included in the set. Likewise, if you have a big family where you do a lot of cooking, a whole set might be more adequate.
Convenience and comfort
In the kitchen, having comfortable and safe products is a must. You should check if the handles stay cool when the pans/pots are on the stovetop. Likewise, the material of the handle will indicate how easy and firm the grip is.
Having clear tempered-glass lids offers durability and also allows you to monitor your food while keeping all the heat.
Dishwasher Friendly
If you are a person who does not like hand washing kitchen utensils after cooking, you should make sure to pick non-stick cookware set that is dishwasher safe. Some products lose their nonstick nature when washed in the dishwasher for example.
Other features
If you keep your cooking utensils outside and visible to people, you might also consider the color and look of the items. The heat level the pots and pans can withstand also tells about its sturdiness and quality.