Do you wish to centralize the process of cooking your favorite treats with the help of just one device? Worry not because the Cuisinart griddler can help you solve this problem! The Cuisinart griddler allows you to cook up your favorite treats ranging from steaks, sausages, and paninis with just one appliance. It is easy to use and convenient cooking tool that serve as a one-stop device for cooking and preparing food that gets your taste buds tingling!
The Cuisinart griddler is designed to be multifunctional and allows you to cook meals with different cooking options. You can grill, griddle, and press food items easily. The appliance provides you with a perfect cooking experience across different dishes and treats.
List of the Top 10 Cuisinart Griddlers in 2023
1. Best Overall: Cuisinart GR-4NP1 Griddler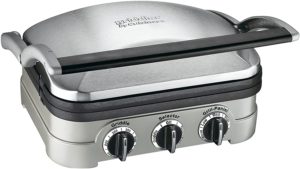 Colour/Material: Silver and Black/Stainless Steel
Measurements: 13.5 x 11.5 x 7.12 inches
Weight: 8 pounds
Buy on Amazon
Buy on Walmart
Go on to make some of your favorite dishes with the help of this 5-in-1 Griddler offered by Cuisinart. This Griddler comes with several options, including full grill/half grill and griddle, to name a few. It has a sturdy stainless steel body, which is supported by a panini-style handle. The Griddler is BPA-free and comes with removable and reversible nonstick plates. The in-built temperature controls are adjustable, and light features allow you to navigate the appliance easily. The griddler is also safe to wash with dishwasher and makes for easy clean-up. The selector knob allows you to choose from a set of different control features easily.
Features
Equipped with BPA-Free technology
Comes with 5-in 1 mode controls
Equipped with nonstick and reversible plates
Equipped with inbuilt temperature controls and light features which are adjustable
2. Best Runner-Up: Cuisinart GP-150P1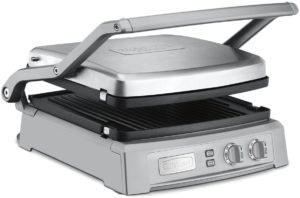 This Deluxe Griddler allows you to take your cooking and grilling functions to the next level! It provides you with a total of 6 cooking options; The Griddler supports a dual-temperature control feature, which is adjustable and convenient to use. You can easily use this grill to make sandwiches, pancakes, and even paninis. The capacity of the griller is ideal for making meals for both family and friends. The Griddler supports 1800 watts of power and is also equipped with safe dishwasher facilities. The plate can heat up to 500 degrees Fahrenheit and easily sear up different food items such as poultry, meat, fish, etc.
Features
Equipped with six cooking options for different dishes
It supports a dual-temperature control feature
Equipped with 1800 watts of power
Can heat up to 5000F
3. Best Under $: Cuisinart Electric Griddler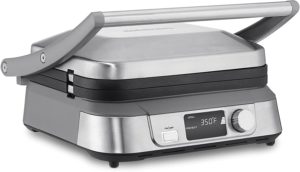 This griddler is equipped with several modern and innovative features while also supporting a stylish design. It boasts of an LCD display that conveniently displays different functions and temperatures. It has user-friendly controls and adjustable temperature nodes. The griddler supports five cooking modes: a full grill, panini press, and contact grill. The griddler also comes with reversible cooking plates, which are nonstick and dishwasher safe. The Griddler also has a floating cover which allows for easy functioning. The product also comes with an instruction manual that elucidates upon some gourmet recipes for your experimentation.
Features
Boasts of a sturdy and stylish design
Equipped with an LCD display which shows different controls and functions
Boasts of 5 cooking modes for different dishes
It also comes with nonstick plates, which are dishwasher safe.
4. Cuisinart GR-6S Contact Smoke-Less Mode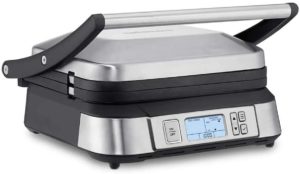 This model is equipped with all the innovative technology features, including its patent smoke-less mode setting, which can be employed for seamless cooking and grease drainage. The plates that come with the package are also reversible nonstick and provide improved grease management. The griddler also boasts of an LCD display that has digital control for easier navigation. The DuoControl Heating mechanism allows for easier and independent temperature adjustment features. Several modes for cooking are available with this model; some of them include a smokeless grill, panini press, contact grill, grill/half griddle, etc. It also supports a sear cooking function.
Features
It supports five temperature functions
Equipped with an LCD Display and Digital buttons
Independent and adjustable temperature controls
It supports six grilling modes and smokeless cooking
5. Cuisinart Griddler Elite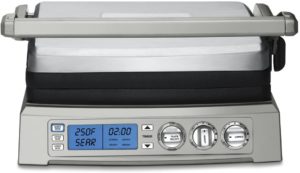 This model is a powerhouse, boasting six different cooking functions and a dual temperature control feature. The Elite griddler encompasses all aspects of functioning. The top cover of the griddler is adjustable with 6 preset options ranging from top melt to even locking features. It is also equipped with an inbuilt sear function that can heat up fish, meat, and poultry up to 500 degrees Fahrenheit. The griddler is impressive in built and function, and its stylish grill feature can easily tackle any task thrown its way. It allows you to customize your cooking with utmost precision at every step of the way.
Features
Equipped with 6 in 1 cooking options
Equipped with a stylish and high-functioning electric grill
It supports a SearBlast mechanism which provides stellar results
It also comes with nonstick grill plates, which are dishwasher safe.
6. Best Value For Money: Cuisinart GR-4N 5-in-1 Griddler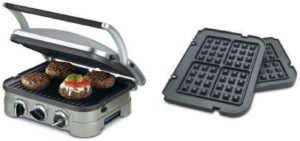 This powerhouse griddler offered by Cuisinart provides you with a one-stop platform for all your grilling needs. It consists of a stainless steel housing that is brushed, accompanied by a panini-style handling system. The baking plates that come with the griddler are nonstick, easily releasing food items like waffles and paninis. The waffle plates help in baking deep-pocketed waffles with four compartments, providing a seamless cooking experience. It also comes with adjustable temperature controls and scraping tools for easy food preparation. The griddler also comes with a user manual and recipe book.
Features
Equipped with nonstick plates for baking
Comes with deep-pocketed waffle plates
Equipped with adjustable temperature nodes
Provides a seamless cooking function
 7. Cuisinart Griddler GR-4N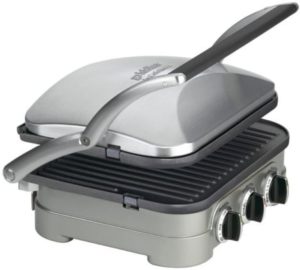 This model by Cuisinart is dynamic and versatile, providing you with a range of functions. The package comes with nylon flip tongs and heavy-duty grill brushes for a seamless and wholesome cooking experience. It supports six cooking options and dual-zone temperature control features for all-around performance. You can easily cook elaborate breakfasts, paninis, and fajitas with this cooking companion. The grilling surface is spacious and allows you to prepare enough food for your family and friends. It supports output of 1800 watts and is also dishwasher safe.
Features
Equipped with six cooking modes
240 square inch cooking surface for grilling
Equipped with SearBlast feature for proper heating/searing
Equipped with three different panini scrapers
8. Cheapest Among All: Cuisinart Griddler Gourmet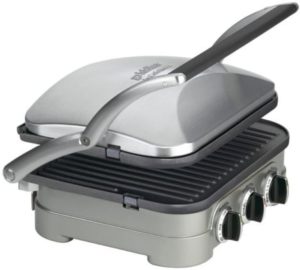 Colour/Material: Silver/Stainless Steel
Measurements: 16.69 x 9.65 x 12.64 inches
Weight: 10.65 pounds
Buy on Amazon
Revolutionize your cooking experience with the Cuisinart Gourmet Griddler. Boasting of 5 different cooking settings, this griddler versatile and dynamic in its function and performance. You can easily use a range of different cooking modes such as contact grill, full grill, full griddle, etc. Reversible and nonstick griddle plates also accompany the griddler to provide you with an all-in-one feature. It is multifunctional and easy-to-use, providing you with a range of features with simple controls. You can easily use this griddler to cook entire meals consisting of steaks, paninis, burgers, to even make waffles and pancakes.
Features
Equipped with versatile and dynamic functions
It supports five different cooking modes
It comes with nonstick griddle plates
It supports cooking a range of food items
9. Cuisinart GR-150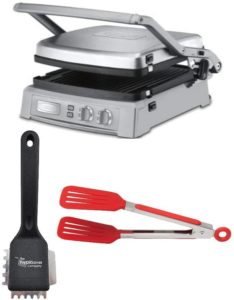 Colour/Material: Silver and Black/Stainless Steel
Measurements: 25.6 x 19.1 x 12.2 inches
Weight: 19.81 pounds
Buy on Amazon
Buy on Walmart
This Griddler by Cuisinart allows you to raise your grilling game and takes it to great heights. It supports six cooking modes and dual-zone temperature control features, giving chefs complete control over their cooking function. The griddler also supports a 240 sq inch grilling surface which proves to be ideal for cooking for large groups of people. The product is dishwasher safe and provides a power output of 1800 watts. The griddler is also equipped with the SearBlast feature, which allows you to prepare delicious steaks. The product also comes with a heavy-duty grill brush, flipper tongs, and panini brush scrapers.
Features
It supports a 6-in-1 cooking function
Equipped with a 240 sq inch cooking surface for larger portions
It has a power output of 1800 watts
Equipped with temperature control features
10. Cuisinart Griddler 240 Sq. Large Brushed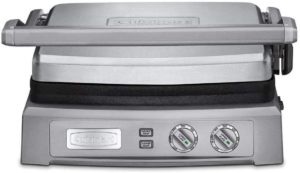 This model is equipped with all the advanced features of modern griddler technology. It boasts of a strong and sturdy body which ensures durability. The griddler comes with a large grilling area, which allows you to cook large portions of food. It supports several cooking modes, which allow you to make a range of dishes, starting from burgers to pancakes. The griddler comes with tongs and grill brushes which make it an all-around functioning product. The griddler has a capacity of 240 sq inch.
Features
Equipped with a sturdy and durable body
Equipped with a large grilling surface
Easy temperature nodes for cooking
It supports different modes for cooking different dishes
Frequently Asked Questions
What Are Some Of The Safety Precautions To Consider While Using A Griddler? 
It is important to keep certain safety precautions in mind while using a griddler. It would help if you remembered that when a griddler heats up, its accompanying components heat up as well and should be used with care. Similarly, it is important to use a big spatula to ensure proper functioning. You also need to keep an eye out for grease while cooking, as it can catch fire if it interacts with an open flame.
How Do You Clean A Griddle? 
You need to clean your griddle after every use. For this, you need to scrape off all the food residue and crumbs after cooking. You can even use a damp cloth for the same. Remember to wear protective gloves while cleaning since the grill can be hot. You can then use a thin layer of cooking oil, wipe it with the cloth and safely store the griddler for the next use.
What Are The Advantages Of Using A Griddler? 
Griddlers can go a long way in facilitating your cooking process. They provide a large cooking capacity and different modes to help you prepare a range of different dishes. Griddlers can serve as a one-stop place for all your fancy dish preparations. The large surface area provides enough place to easily flip food and ensure that no moisture is trapped to obtain crisp and nice dishes. The different cooking modes also facilitate a wide cooking experience.
Verdict
We hope that we were able to tell you more about the range of griddlers that Cuisinart offers. You can easily sear, cook and grill different dishes ranging from hash browns to steaks and waffles. Several such griddlers are present in the market today, and we hope that we hope that the list provided above can help you make an informed choice!