Good food is an emotion and for those who love cooking, the best food made is the great result ever produced. But, for that, you need the best Bakeware to make it. Thus, today we introduce you a few options of the best quality bakeware from Temptations. Temptations Bakeware can provide a convenient solution so that the process is not tiresome. Most of the bakeware can be used alone throughout cooking, so you don't have to handle a whole mess.
Also, rather than using products which have to be forced to adhere to your needs, it's better to use something which completely satisfies your needs, right? The Temptations Bakeware can also serve as multipurpose commodities adding more to the benefits, thereby an add-on benefit to your kitchen.
Although there are a large number of bakeware products available on the market., Temptations offers the best bakeware products for you, well established in every aspect such as quality, efficiency, use, design, and credibility. Their unique designs make the product look adorable. These products were built so that you should have a good gathering at dinner, with the presence of good food and beautiful commodities. The products are smooth and fine in texture and appearance, can go safe in the oven and best to serve. Customer satisfaction and a pleasant experience are best assured here.
List of the Best Temptations Bakeware in 2023
To help you choose the best bakeware and improve your cooking skills to a professional level, we have come up with reviews of the best Temptations bakeware. We have also added professional brands like OISII and Picnic at Resort to provide you with the best options. Here we go.
12. Temptations Set of 3 Loaf Pans with Plastic Covers & Wire Racks Stoneware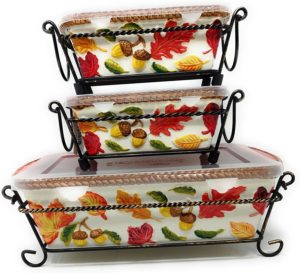 This is one of the most adorable bakeware accessories you can have in your kitchen, especially for people who love baking. This can mold the bed to the absolute shape and perfect loaf pieces. The product includes one 1.75 Qt and of two 12 oz mini loaf sizes. The large loaf has dimensions of 11⅛ in. L x 5¾ in. W x 3¼ in. H and mini loaf have dimensions of 6¾ in. L X 3⅞ in. W x 2½ in. H. All of them are covered with plastic covers and wire stands, with a creative, vivid design.
Why do we recommend this product?
Perfect size meatloaves can be prepared
Hand Painted and attractive design
Can be separated and sealed tight without damage
Avoid the use of different dishes throughout the procedure
Adequate space
Also check: Top 10 Recommended Glass Bakeware in 2023
11. Temptations 13″x9″ Cookie Sheet
The love of a foodie to baking and baked foods is never gonna end. So, Temptations has introduced a cookie sheet. The design reminds us of the beautiful floral art. The product has dimensions of 13″ x 9″ Lid-it 1-1/4″H x 15-3/4″L x 10″W. It can also be used as a replacement lid for a 4qt baker. Also, this can help you in baking cookies, rolls, etc. or can be used as a platter or a tray
Why do we recommend the product?
 Highly Versatile and multipurpose use
Fewer chances of breakage
Can go directly from freezer to oven
The cookies come out as well baked and perfect
Attractive and adorable designs.
10. Temptations 2.5 Quart Baker Lasagna Casserole Dish Replacement

This is an all in one product, where you can prepare, bake, serve, and store in the same. It comes with beautiful designs akin to the previous ones. The dimensions are 2.5 qt baker 7½ in. W x 13¼ in. L x 2¾ in. H, with the handles. It is apt for casseroles with concordant dimensions of the same.
Why do we recommend this product?
Multipurpose product
Can complete the whole procedure in the same
Less problem of chipping
Safe for use in oven, freezer and with dishwashers
Better lid replacement option for casseroles
Practical and reliable
Also check: To 10 Recommended Ceramic Bakeware to Buy in 2023
9. OISII Porcelain Rectangle Baking Dish Set of 2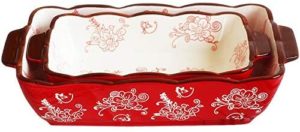 They come with a diameter of dimensions 11 x 7.6 x 2 inch, 7.5 x 5.1 x 1.8inch, of the upper and larger part respectively. The extravagant red glazing colors along with the handmade designs add more to its grace. The baking trays can fit inside one another for better storage. The product is made of standard materials. Can be used to bake pizza, heat chicken, storing veggies or other options, etc,
Why do we recommend this product?
Highly safe and maintains hygiene
Elegant and charming look with its ornamental designs
Suitable for gifting close friends or acquaintances
Best in quality
Other than baking, can also be used in cooking meat, roasting, etc.,
Acid and alkali resistant surface
8. Temptations 1.5 Qt Loaf Pan for Meat Loafs or Bread, Scalloped Edge, Tab Handles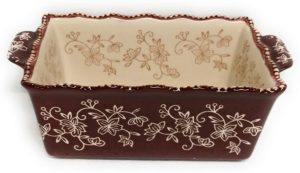 The product is a variant of Temptations' loaf pan and with added features. The dimensions are 1.5-qt baker 3 ¼ in.H x 5 ¾ in. W x 9 ¾ in.L. With adequate space and strong material to get the perfect shape, the product stands one among the best in the genre. This time the floral design comes along with the old world pattern. Useful for cooking as well as storing the baked products.
Why do we recommend this product?
Can handle all types of food including bread, meatloaf, etc.,
Can store extra meat, bread, etc., without damage
Works for regular size bread
Chances of damage are less
Easy to clean up
7.Temptations 4 Quart Baker with Insulated Tote and 2 Stoneware Trays, Plastic Cover, Utensil, and 2 Mitts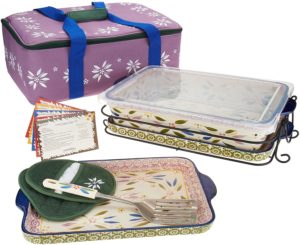 Here is a complete combo package for you to meet all your baking needs. The package includes 4 qt casserole dishes, insulated tote, 2 stoneware lid-its, plastic storage cover, serving utensils, 2 oven mitts, basket and, of course, recipes, which can make you know about the different varieties and help you cook well. Constructed of stoneware this product is safe in every type of situation. Can be closed airtight with the help of lids.
Why do we recommend this product?
Comes with a plastic bag to store leftovers in travel
The insulated tote bag keeps food hot or cold
Allows you to cook like a pro
Lid-its can be used as cookie sheets, therefore, really versatile
Can be cleaned by dishwasher
6. Temptations Loaf Pan for Meat Loafs or Breads 1.75 Quart

With the beautiful eggplant layers whirling down the surface, this product is a real eye-catcher both in beauty and performance. The product uses no plastic cover. The dimensions including handles are 11in. L x 5.5in. H x 3in. It has all the features of a loaf pan at its epitome. This product on your table will be an icon for a luxurious and class commodity.
Why do we recommend this product?
Adequate space for making bread or meatloaf
Bakes the bread evenly
Leaves no residue after baking
Eco-friendly
Does not consume much time in baking
Also check: Top 10 Recommended Disposable Bakeware in 2023
5. Temp-tations 9″ x 2″ Pie Pan, Fluted, Deep Dish Pizza or Quiche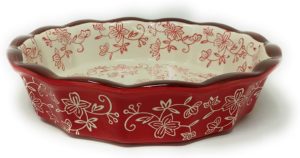 Buy on Amazon.com
It's time to develop yourself from the common containers to the newly refined pie pans. Easy to use, neat as crystal, and effective as a multipurpose, versatile breed, this stands apart in the game. The dimensions are 9in. Diam x 2in. H The outer and inner surfaces are marked by floral designs. And again the one-product concept throughout the procedure.
Why do we recommend this product?
The porcelain pan helps to beautifully cook the food.
A perfect gift
Rare design and pattern
Can withstand temperature up to 500℉
The surface is deep enough
4. Temptations Bella 8×8 Brownie Baker 1.5 Qt Square Casserole Dish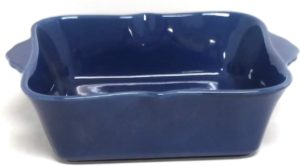 With the color of a variety of foods, they are indicating that the food made in the bowl will be finger-licking good. And that's true too. The dimensions are approximately 8in. W x 8in. L x 2.75 in. H. Safe in the oven, freezer, and dishwasher. You get the dish as a single package.
Why do we recommend this product?
Clear and well-built space
Perfect designing on the technical side
Great usage for brownies and also for casseroles.
Top in quality and durability
Lightweight
Better storage facility
3. Temptations Bowls with Tab Handles for Mixing or Serving Nesting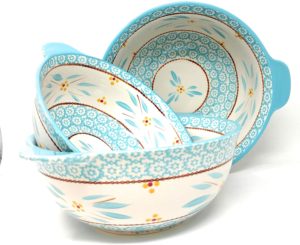 Simple, unique, and well crafted. It is quite a better addition to your modest kitchen accessories. This serves a dual function product, which can be used both for mixing and serving purposes. The surface is so smooth that ingredients won't stick to the sides. Besides that, they can also be used for baking in the oven, since the strong material helps withstand cooking in the oven.
Why do we recommend the product?
Simple and modest
Can cook large batches at a time
Convenience at its best
Easy to handle
The smooth and polished surface helps clean it easy
Can be the eye-catcher in gatherings and parties
2. Picnic at Ascot Original Insulated Double Layer Thermal Food and Casserole Carrier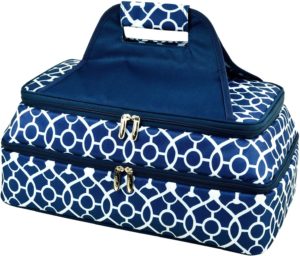 When we go for a picnic, delicious food is a must. But the stored food loses its freshness. This product is the best solution to your problem. They can carry and insulate your casserole, so that the food can remain hot or cold, according to the need. Lower section measures 16″ x 10.5″ x 4″ and will hold a 5 Quart 15″ x 10″ baking dish . Upper section measures 15″ x 10″ x 3″ and will hold a 3 Quart 13″ x 9″ baking dish. Made of 600 denier polyethene.
Why do we recommend this product?
Provide a high level of insulation
No problem of tipping
Attractive with the trellis blue and white interlaced designs
Lifetime warranty provided
No need to buy extra hot/cold pack
Best aid during picnics
1. Temptations Cookie Sheet, Platter, Deep Tray or Replacement Lid-It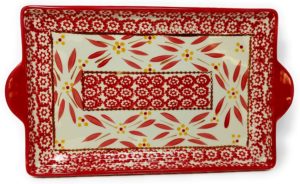 Thus, we are here at the top. Another multifunctional, highly versatile product from Temp-tations. A cookie sheet, with which you can bake perfect and mouth watery cookies. The same can also be used as a tray for placing cups or glasses and serving. Another application is it can be used as a replacement lid for a 2.5qt baker. Yes, a 3-in-1 product, simple in looks, but a king in functions. The dimensions are 13in. L x 7.5 in. W x 1 ⅛ in. H.
Why do we recommend this product?
Ideal and flawless baked quality food
Large surface area and can hold numerous pieces when used as a tray
Less friable and therefore, less chance of damage
Bewitching floral designs
Hard and reliable
Some FAQs related to choosing bakeware
Are the bakeware oven-safe?
Ans: Yes, they are suitable to be kept in ovens.
Will it be hard to clean the product?
Ans: Not at all, you can clean it with a dishwasher
Is bakeware very expensive?
Ans: No, bakeware is affordable with good value for your money
Conclusion
Good bakeware is an integral part of cooking. The best one can provide you with the most exciting foods and can completely fulfill your quench for cooking as a passion. So, we have given you the reviews of the best Temptations bakeware of 2023. This will help you buy the best you need. Grab your favorite pick!!