Last weekend I made a Walnut Pesto with Arugula and I've been reaping the benefits of this unique recipe all week. Typically, a pesto recipe contains basil and pine nuts, but basil is pretty expensive in large quantities and I'm a huge arugula fan, so I decided to make the swap. I knew walnuts could be a sub for pine nuts too, so I gave it a shot.
I originally made this Walnut Pesto for some pasta we were having the same night. It worked as expected – adding a fresh, garlicky flavor to the pasta. The recipe made 20 servings though, so I had a lot of pesto left to use. Slightly sick of pasta, I experimented with this flavorful pesto all week on pizza, garlic bread, breakfast sandwiches and turkey melts. It was delicious. Every. Single. Time.
Walnut Pesto Recipe: Ingredients and Instructions
Easy Arugula Walnut Pesto
This homemade Arugula Walnut Pesto is super easy to make, and has countless applications. Enjoy it on pasta, pizza, sandwiches and much more!
Ingredients
1/2 cup of walnuts
3 garlic cloves, peeled
3 cups of packed arugula
1/2 cup of parmesan cheese
1/4 cup olive oil (more as needed)
Salt and pepper
Instructions
Toast the walnuts and garlic in a pan over medium-low heat for about five minutes (brown them, but do not burn them!).
Add the toasted walnuts and garlic, along with the arugula, parmesan cheese and olive oil to a food processor. Pulse everything together. Add more olive oil as needed to reach the right pesto consistency you are looking for (you will probably need another tablespoon or two). Add salt and pepper to taste.
Serve with pasta, pizza, chicken or whatever recipe you want!
https://www.economicalchef.com/easy-arugula-walnut-pesto/
The arugula and walnut worked just how I expected them to in the recipe, but the toasted garlic and salty parmesan really shined through and elevated whatever it was used on. Here are my 5 favorites uses for this pesto (besides pasta):
Pizza – drizzle a small amount over a tomato, mozzarella and chicken pizza. It won't disappoint.

Breakfast Sandwich

– Add some as a "spread" on your breakfast sandwich in the morning. It goes great with eggs, cheese and sausage.
Grilled Cheese – I added some to a turkey melt I made and it was the star of the show.
Garlic Knots – We had leftover homemade pizza dough and made some awesome garlic knots with this garlicky pesto.

Baked Chicken

Pesto – When baking chicken in the oven, add this pesto on top for a healthy and delicious sauce.
Cooking Tools
You'll need a couple kitchen tools to make this recipe. The star gadget, no doubt, is the blender food processor – you can't make the Arugula Walnut Pesto without it. The Cusinart food processor below is the one I use at home, and it works like a charm if you are in the market for one. You'll also need a reliable pan and gas stove or electric stove to toast the garlic and walnuts.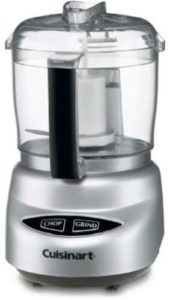 We know what we need, let's get to the recipe.
Cooking Process
The first step in making this Arugula Garlic Pesto is to toast the garlic and walnuts. This is a key step in the process – if you don't toast the garlic you'll be left with a potent, raw garlic taste that put nicely, is unappetizing. Toasting the garlic and walnuts give them a more appetizing flavor.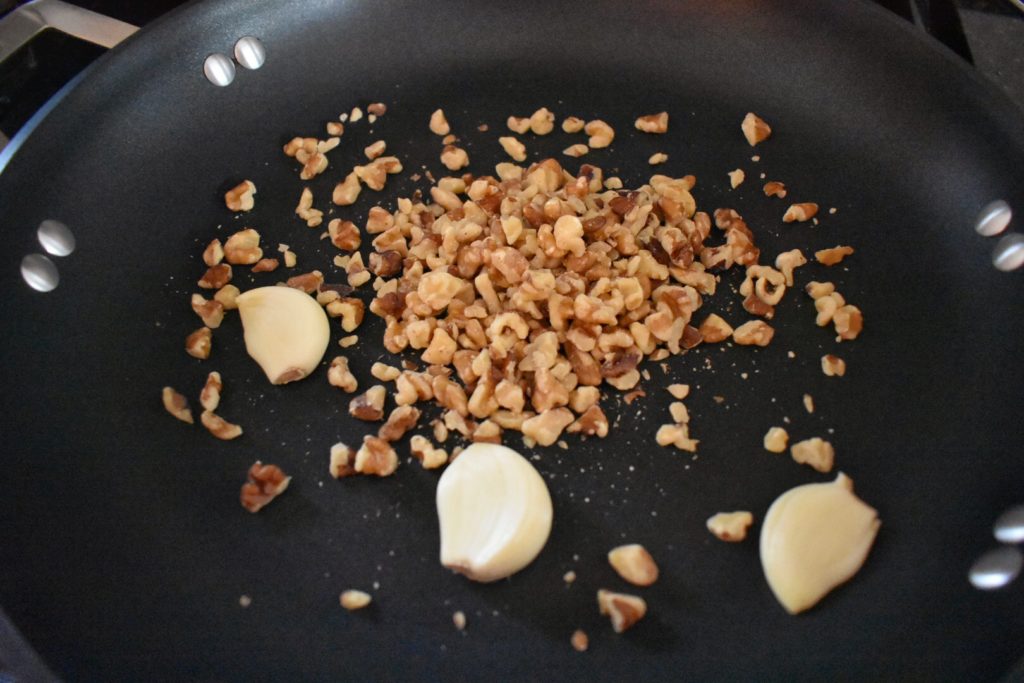 Once the garlic and walnuts are toasted and browned, the recipe is super easy. Just add everything to the food processor and begin pulsing it all together.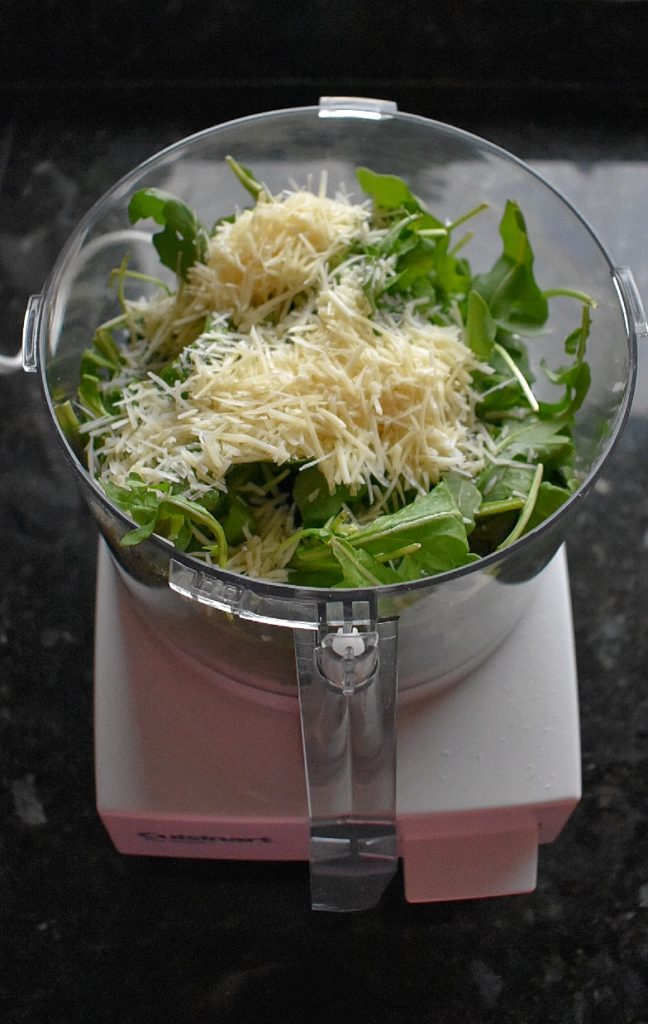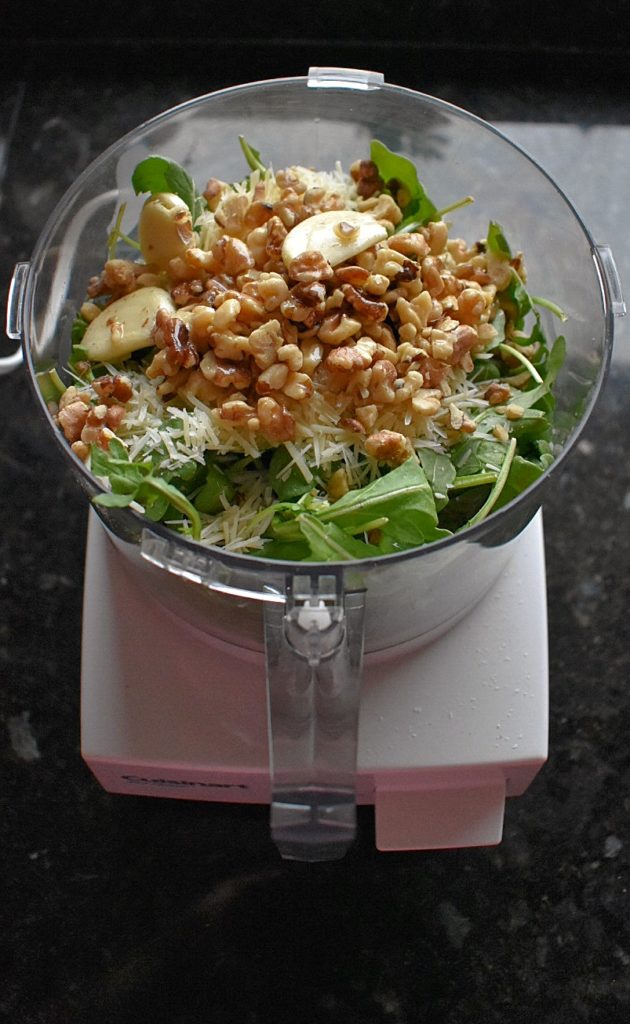 The recipe also starts to become a little bit of an art at this point though. I can say with 90% certainty that you will need a little more olive oil than the recipe denotes, and this is where you have to eyeball it. If the pesto looks too chunky, then keep adding olive oil 1 tbsp at a time until becomes the right, pesto consistency you're looking for.
You'll also want to poor some salt and pepper from your grinder to taste at this stage too.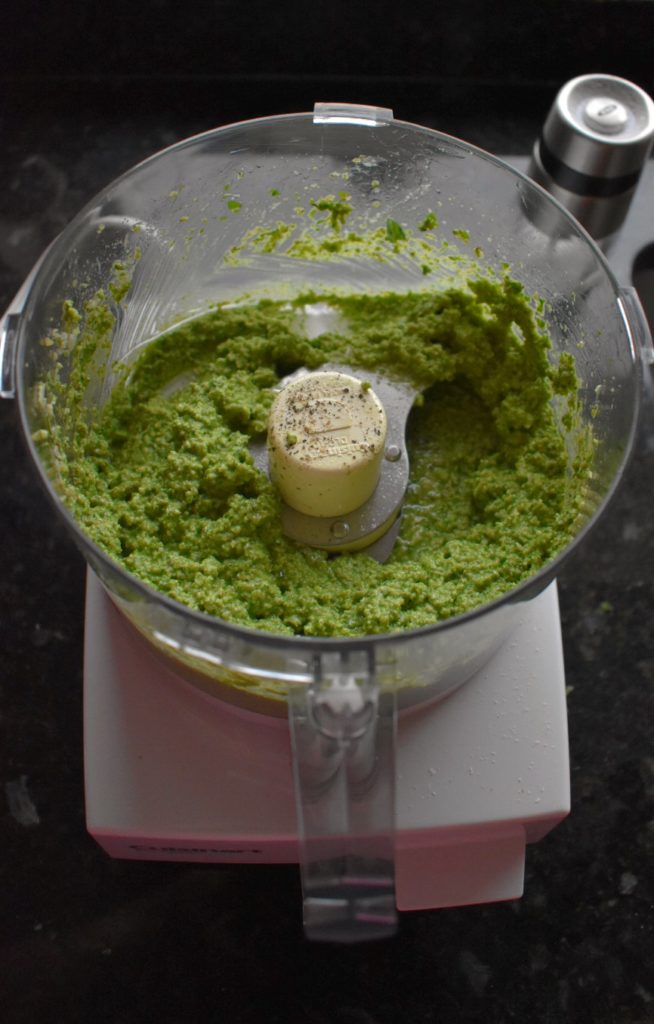 When the pesto is looking and tasting how you want it, you're done! Store it in your finest honey bear jar in the fridge and enjoy it with pasta, pizza, sandwiches or whatever recipe you can dream up.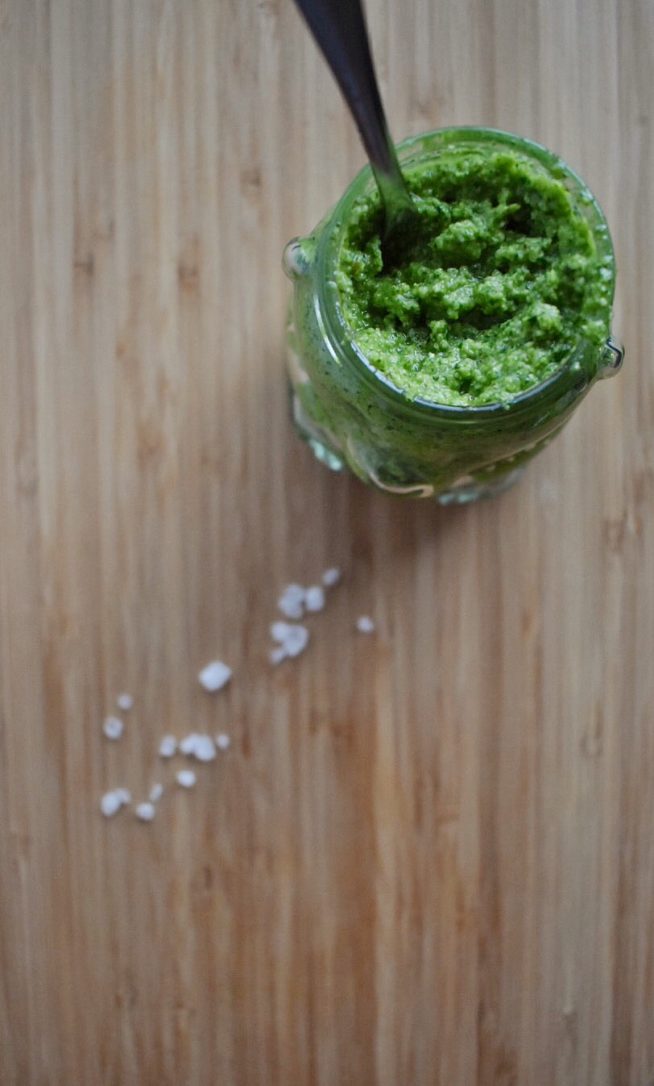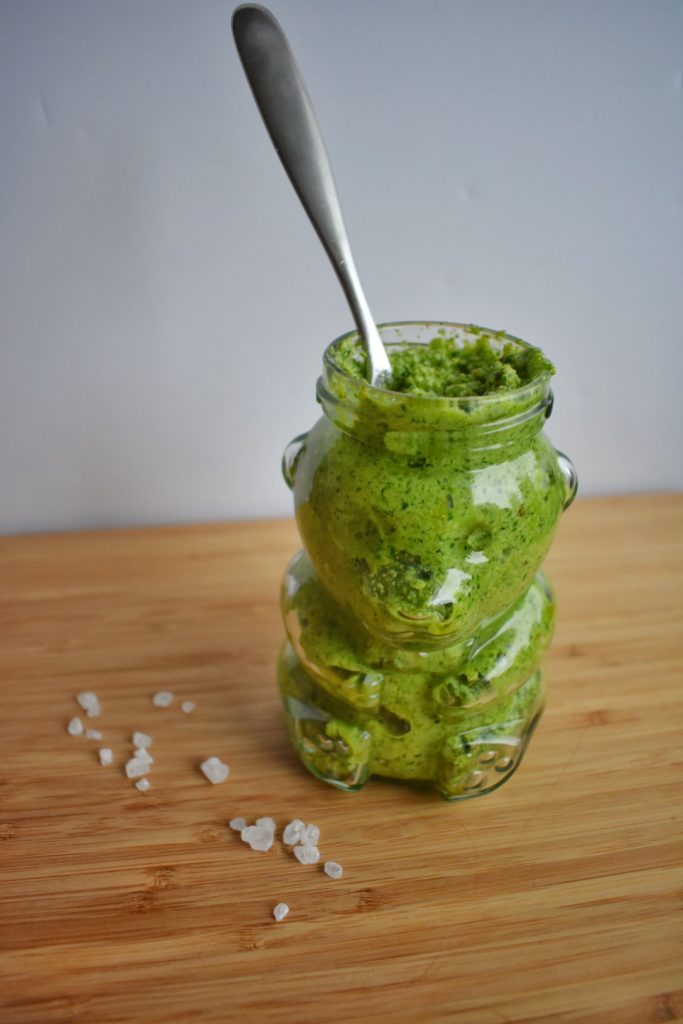 Nutritions of the Walnut Pesto
This recipe yields roughly 20 tablespoons of pesto. On average, I would say I was using about 1 tbsp of this Arugula Walnut pesto at a time, so here is the nutrition per 1 tbsp:
Calories: 56.3
Total Fat:  5.5 g
Total Carbs:  0.8 g
Protein:  1.6 g
Total Sugar:  0.1 g
This sauce is a perfect alternative to tomato sauce. Tomato Sauce has it's own health benefits, but this is a nice switch as it's super low in sugar and has a good amount of healthy fats from the walnuts and olive oil.
The Cost to Make This Walnut Pesto
Let's get economical with this Easy Arugula Walnut Pesto:
1/2 cup of walnuts – $1.99
3 garlic cloves, peeled – $0.30
3 cups of packed arugula – $3.00
1/2 cup of parmesan cheese – $0.54
1/4 cup olive oil (more as needed) – $0.68
Salt and pepper
The grand total is $6.51. Seems a little costly at first for a pesto, but keep in mind we packed in high-end ingredients like arugula and walnuts, and when you break it down by serving it's only $0.33 per tablespoon. Not a bad deal compared to the store bought version that usually contains canola oil instead of olive oil (along with other ingredient shortcuts).
Conclusion
I hope you enjoy this Walnut Pesto. If you like it, you can also share it with your friends, colleagues and others. The recipe is printable as well.