Traveling is a great way to explore, relax and fun have. Traveling can also be a strain on wallet, though. Between the flight, hotel, and many other expenses, I often forget to factor in how much I will be spending on food.
Eating out on vacation is usually part of the whole experience, but that doesn't mean you can't be smart about it and save a couple bucks by selectively "eating in" for a few meals. One go-to strategy that works well is to pack breakfasts when you travel. Packing on-the-go breakfasts will cut the number of meals you need to eat out for by one third, and not take away from exploring new places for lunch and dinner.
Easier said than done, I know. There are not usually a ton of resources to "cook" breakfast when traveling (unless you are camping or using Airbnb). Which is why I compiled a list of five healthy on-the-go breakfast ideas that are perfect for when you're traveling.
Five Healthy On-The-Go Breakfast Ideas – Perfect for Traveling:
1. Peanut Butter Breakfast Sandwich
The first of the Healthy On-The-Go Breakfast Ideas is a Peanut Butter Banana Sandwich from Hurry the Food Up. This is a solid recipe, but I would suggest a couple tweaks:
Don't toast the bread (makes it better for travel)
Add some jelly or sliced, fresh fruit if it's available (like strawberries)
Other than that, I like this recipe and think it's a filling and affordable breakfast. The peanut butter is filling, the cinnamon gives it a warming breakfast taste, and the banana is a great source of potassium. Speaking of bananas.
2. Banana and Crunchy Peanut Butter with a Granola Bar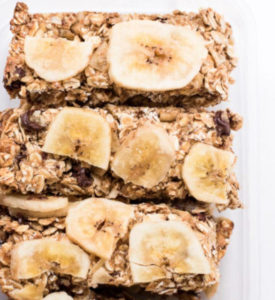 Banana and crunchy peanut butter is easily my favorite food duo of all time. It can be a little light on its own, so if you are looking for more substance I would add a healthy granola bar to the breakfast as well.
Be cautious when picking out a granola bar, as a vast majority of them are just candy bars in disguise. If you are going to check one thing on the label, just be mindful of how much sugar is in the Granola bar. Breakfast is breakfast, not dessert.
3. Yogurt and Granola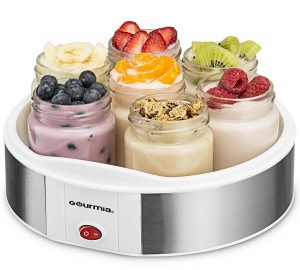 Yogurt and granola is a breakfast I enjoy almost every day. Once again, keep an eye on the sugar content with this one though. Individual yogurt containers can have 15+ gram of sugar, and granola can climb to 10+ grams per serving as well. Next thing you know your breakfast has more sugar than a Snickers bar.
Here are some easy tips to avoid a sugar overload:
Opt for plain yogurt if you can bear it, or at the very least Vanilla flavored. Most of the sugar in yogurt is hidden in the various fruit flavors.
When it comes to granola, keep an eye on the sugar content obviously, but also the serving size. Serving sizes vary from 1/4 to 1/2 cup, so 5-6 grams of sugar you're seeing might be closer to 10-12 grams depending on how much granola you eat.

Muesli

 can be a good bet if you cannot find a low sugar granola.
Here is a simple recipe from Fit Foodie Finds that I really like as a starting point for this on-the-go breakfast: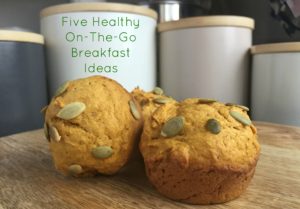 Note: Refrigeration is required on this one. So if you're traveling, just make sure you take that into account.
4. Overnight Oats
Overnight Oats were an overnight sensation. They came out of nowhere and are not a popular, filling, and healthy on-the-go breakfast. There are 5 necessary ingredients for overnight oats:
Oats
Milk (or other liquid)
Cinnamon
Nuts
Sweetener
There are a ton of varieties online, but Hurry the Food Up has some great, simple options that are perfect for traveling.
Note: Refrigeration is required on this one. So if you're traveling, just make sure you take that into account.
5. Healthy Muffins
Last on the list of Healthy On-The-Go Breakfast Ideas is a baked good. Baked goods are the classic on-the-go breakfast, and when packed ahead can be the perfect breakfast (or snack) while traveling.
One of my favorite muffin recipes is this Easy Pumpkin Muffin Recipe. The Pumpkin Muffins are easy to make ahead time and the perfect flavor for this time of year.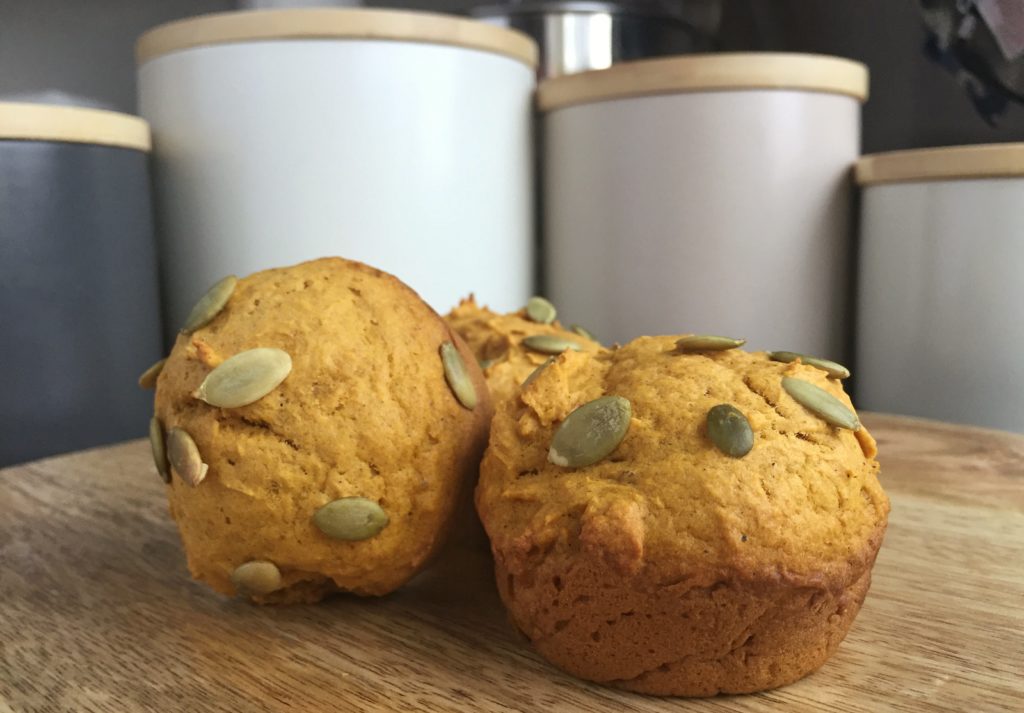 And that is the full list!
I hope you enjoyed these Five Healthy On-The-Go Breakfast Ideas!