Maintaining a healthier diet plan is challenging and needs much effort thus the best way to kick-start your fitness goal in 2023 is with this healthy and tasty Organic Juices Cleanses. As home juicing is time-consuming and can be costly thus comes these commercial juice cleanses that fit easily with your hectic lifestyles.
Although Organic Juice Cleanses sounds fancy, they have many health benefits. The organic and cold press juices from fruits and vegetables are a good start for a day, it will revitalize and detoxify the body along with improving the digestive system. To help you find the right juice cleanse to suit your lifestyle and body needs, here are the compilation of the 10 best organic juice cleanse for your consideration.
Here the list of Best Organic Juice Cleanses in 2023
9. Certified Organic Juice Cleanse OJC plus Berry Surprise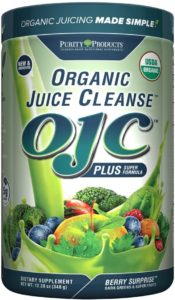 OJC stands for Organic Juice Cleanse and makes a product line of powdered juice drinks. This OJC plus Berry Surprise is made of 30 different organic vegetables, fruits, and berries making it an instant shot of vitamins, antioxidants, and minerals. This juice has a taste and flavors of tangy berries making the drink quite satisfying and robust.
Per serving this drink has 25 calories, 10-gram sodium, and 8-gram carbohydrates. Among all the ingredients, this organic juice has five grams of fiber that helps in improving the digestive system. This tasty detox juice is very helpful in boosting energy. This fruit juice is GMO-free and has no added artificial flavors and sugar. If you like, you can use your electric fruit juicer to mix with other additional fruits as well.
8. Juice from the RAW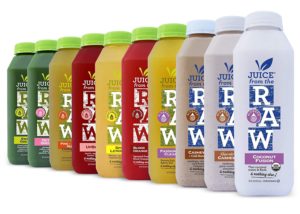 Juice from the RAW offers the option for 5 days Juice Cleanse. This comes in 20 packs altogether containing different mixtures including Coconut Fusion, Detox Green, Upbeet, Spicy Lemonade, Pineapple Mint, and Sweet Green considering fulfillment of the different nutritional requirements of the customers. These juices are made of 100 % organic ingredients through a cold-press process for preserving nutritional value. All the minerals, vitamins, and phytonutrients are meant for weight loss by boosting immunity and detoxifying the body.
Further for maintaining the juice's nutritional integrity of these beverages, RAW ensures that No preservatives are used while it's making. Thus, this fresh juice cleanse must be consumed within 3 to 4 days from its arrival. In case you want to make your own cleanse juice at home, you can grab the recipe and one of these reliable juicers from Omega to serve yourself.
7. Certified Organic Juice Cleanse (OJC) 8.46oz – Apple Surprise – 30 Day Supply by Purity Products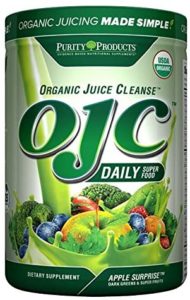 Apple Surprise is yet another Organic Juice Cleanse OJC by Purity Products. This cleanse powder is designed to save time and money. Every jar has 8.46 oz. of powder sufficient for 30 serving. This daily superfood has more than 25 organic fruits and vegetables making it a potential shot of dietary fibers, antioxidants, and healthy phytonutrients for a healthy body and mind.
Purity Products ensures products to be unadulterated and pure juice cleanses with no artificial flavors or color, low sodium, no added sugar, or preservatives. The vegan probiotic and enzyme help the body to extract nutrients, minerals, and vitamins from all the intake food.
6. Raw Generation 3-Day Skinny Juice Cleanse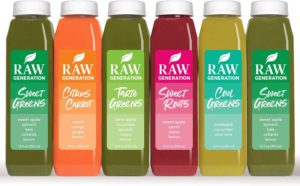 One of the best ways to start a day is by making the body alkaline is by drinking a glass of Juice Cleanse by Raw Generation. Cool Greens, Citrus Carrot, Sweet-Tart Greens, Sweet Greens, Sweet Roots are the 5 different delicious blends of flavors of Raw Generation 3-Day Skinny Juice Cleanse. These fresh juices not only nourish the body but effectively remove toxins enhancing the body's energy.
Juices from 100 % fresh and organic vegetables and fruits are collected through Cool press methods that ensure the effective preservation of natural enzymes and nutrients. All the ingredients of this Juice Cleanse are 100% plant-based with no artificial color, no chemicals, preservatives, or sweetener.
5. RAW Fountain 3 Day Juice Cleanse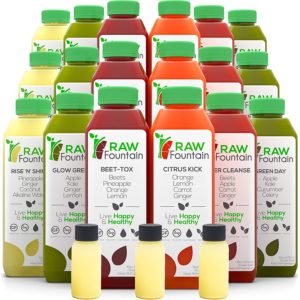 This 3 Day Juice Cleanse Package by Raw Fountain includes 18 bottles of fresh and cold press juice along with 3 ginger shots. This Juice Cleanse is made for vitalizing the mind and body. These drinks reduce hunger tendency, thus it is effective in weight loss.
RAW Fountain Juice Cleanse comes in six different flavors including Green Day, Beet-Tox, Liver Cleanse, Glow Green, Rise 'n' shine, and Citrus Kick. All these juices are freshly squeezed and special packaging is used for keeping them cold while delivering them to a specific address on order. For maintaining high nutritional value no preservatives are used while making the juices thus it is recommended that once the bottle is open, it must be consumed within 4 days.
4. Country Farms Super Cleanse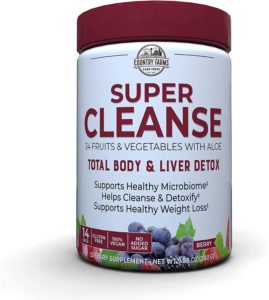 Super Cleanse consists of Juices Cleanse of 35 Fruits and Vegetables cold-pressed and truly Organic with Non-GMO, Gluten-Free and No additional Sugar added. It is rich in fiber and also has some proportion of Aloe Vera which supports the digestive system. It promotes detoxification and supports the immune system of the body.
Also, it comes with a quality parameter tested by Country's Farm which is a global brand known for Farm fresh supply. It is an affordable product supplied by Country's Farm with essential fruits, vegetables, greens, sprouts, seeds, and superfood to restore our daily requirements of health. It is very easy to prepare and anybody can enjoy the good taste only in a few minutes at a minimum cost.
3. 7-Select GO by 7-Eleven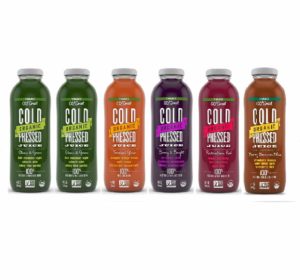 A quality product comes with USDA Certified organic fruits and vegetable Juices. Now available online, this 7- Select Go is a Smart Cold-pressed Organic Juice Blends with 100% Fruits and vegetables with No added Sugars, Gluten-Free Non-GMO product.
So, what taste do you like? It comes with separate options like Berry Banana Bliss, Bright and Berry, Clean and Green, Restoration Red, Tropical Glow, and more. The most important thing is it comes with USDA Certification complied and consists of lower calories than any regular juices. It comes with a 100% satisfaction guarantee and hence you can initiate a refund if you are not satisfied with the product. Don't wait for the fruit bar to extract the juice for you with sugar mix. It ensures no added sugar and preservatives.
2. 3 Day Juice Cleanse Detox by RAW Fountain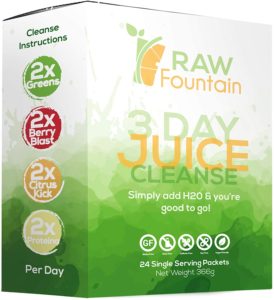 Overweight is no more a problem if you are using RAW Fountain's plant-based 3 Days Juice Cleanse. The product only uses high-quality ingredients like dandelion root extract, turmeric root extract, and ginger root extract, milk thistle seed extract, and monk fruit extract (a natural sugar substitute). It comes with four tastes: Berry Blast, Tasty Green, Citrus Kick, and Proteina with proven health benefits. 3-day cleanse only features natural ingredients and comes in 24 Juice Packets. Just mix with water and your drink is ready. The best-rated juice cleanses available in Amazon, known for Bloat reduction, weight loss, and increased energy levels. Specifically designed for detoxification, improve health, boost immunity, and also rejuvenate the skin.
1. RAW 3 Day Soup n' Juice Cleanse – 18
RAW 3 Day Soup n' Juice Cleanse certifies that it takes just 3 Days to restore your body by detoxification. This is Cold-pressed RAW Soup and Juices that are 100% Organic and Kosher Certified, made from Fresh Fruits and Vegetables, and can be delivered overnight or two. The manufacturer ensures these products to be 100% Non-GMO, Gluten-free, Vegan, low calorie, and USDA Verified product which is solely made in the USA.
These juices are now available for beginners, intermediate, and advanced. Juices come in a frozen state to maintain the freshness and should be kept in the fridge after receiving till ready to use. A general guideline of use will be available with the package with the 3 Days plan.
Who should buy a juice cleanse?
Juice cleanses are the best way to bring a change in your lifestyle and a step towards adopting a healthy diet routine. When you want to jumpstart a new and healthy routine, juice cleanse can help you in a great way. While they are not a solution to your health problems like vitamin-minerals deficiency, low antioxidants level, and treating obesity. If you are new to your diet or weight loss program, juice cleanses are the best way to start with, because the sharp restriction in caloric intake can help shock your body and mind into adapting to a change.
Things to consider while choosing Juice cleanse
Processing method: Vegetables and Fruits are the natural sources of many vitamins, minerals, carbohydrates, proteins, and fibers. To be packed and marketed as a juice cleanse they must be processed. Most of the juice-based products are pasteurized using a high heat commercial process which results in damaging its vital nutrients. However, for preserving the integrity of the juice a common alternative processing method is used by a producer while extracting juices known as "cold pressing".
Cold pressing retains the original nutrients of the vegetables and fruits as no heat or chemicals are used and the product can be referred to as raw. Raw juices are bottled and shipped refrigerated on order. There is some shelf-stable juice cleanse available in the market that uses a high-pressure process similar to that of pasteurization with minimal loss in their nutritional value and much safer drinks. Users must avoid pasteurized and hot-pressed juice cleanses too high.
Organic content: When people look for healthier food they mostly seek an "organic" label. This is the same with a juice cleanse as well. When a vegetable or fruit is certified as organic then it is assured that they have been grown under some strict and specific conditions like using only bio-fertilizer with no chemical pesticides etc. An organic juice cleanse is comparatively higher in cost. Powdered Juice cleanses can also be considered organic under USDA certification.
Price: The cost of any products plays an important role while choosing an item. Shelf-stable juices are inexpensive and they work efficiently in terms of juice fasting. A powered base real juice cleanses routine costs nearly $40. While juice cleanses blended with proteins, fibers, and nutrients for a long-term basis might cost up to $100.
Sugar content: Most of the Juice cleanse contains natural sugars while some might have artificial sugar added, it means they lack nutrients and can be harmful to teeth and body. Thus, it is recommended that one must check and avoid products having HFCS (high fructose corn syrup) or something similar.
Nutritional content: Juice Cleanse is developed under an intensive program that is meant to last not more than three days. These drinks are designed to be a meal-replacement diet. Thus, it is expected that these Juice Cleanse must have high nutritional content for retaining good health considering the diet routine. An ideal Juice Cleanse must contain no to little sugar or added flavors. Drinks with high protein content are also a good option as it effectively reduces hunger pangs. Fibers play an important role in cleansing the body by improving the digestive system thus drinks with both soluble and insoluble fiber are the best options to consider while choosing a Juice Cleanse.
Conclusion
All the while, you're getting a short-term boost to your vitamin and antioxidant levels, plus a quick drop in your blood lipids. If you need a change in habit, whether for a new year's resolution or just to turn over a new leaf and re-establish a healthy lifestyle, a short-term juice cleanse is a great way to do it