There is nothing better or healthier than drinking a glass of refreshing juice daily. Natural fresh juice comes with loads of nutrients that give you the energy to carry your day to day task efficiently. Therefore, you need to have a juicer at your place so that you incorporate a variety of fruits and vegetables into your diet, reduce trips to juice bars, and customize a perfect drink for yourselves.
Omega is a well-known company that has been manufacturing the best quality manual and electric juicers for nearly a decade. The company manufactures juicers that extract up to 30 percent juice from fruits or vegetables while keeping the nutrients intact. Plus, their machines have a reputation for being sturdy, reliable, and efficient. However, with so many Omega juicers available, it can be difficult to make a choice. Don't worry, as we are here to guide you make the right one. For your ease, we have reviewed and listed some of the best Omega juicers available in the market that performs excellently.
List of the 10 Recommended Omega Juicers for Your Kitchen in 2023
Video Review of Omega Juicer by Lina S
1. Best Overall: Omega J8006HDS Juicer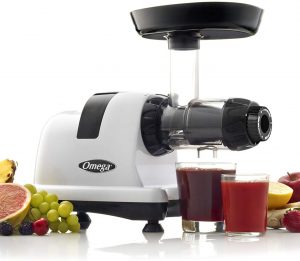 Item Weight: 13 pounds
Wattage: 200
Warranty: 15 years
One of the best Omega juicers available in the market, J8006HDS is simply incredible and functions extremely well. This juicer will extract all kinds of vegetables from soft to hard and will give a fresh, nutritious, and healthy drink. Plus, being a masticating juicer, it will work efficiently without creating much noise. It will also preserve the natural flavor as well as nutrients of the fruits and veggies. The engine works at a speed of 80 rpm and does not strain.
Moreover, this powerful juicer can be used to grind coffee beans, herbs, and garlic, process almond milk, peanut butter, and more. Being an all-rounder, it has four main parts, which are easy to assemble and disassemble. On the whole, this product is a great long term investment that will boost your healthy lifestyle.
Key Features:
Reliable and durable
Powerful work engine
Produces less noise
Can be used for more than juicing
Ejects pulp automatically
2. Best Runner Up: Omega NC900HDC Juicer Extractor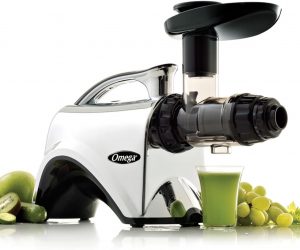 Item Weight: 13 pounds
Wattage: 150
Warranty: 15 years
The next one on our list is the Omega NC900HDC juicer extractor that lives up to its brand name. For those who like making a daily juice cleanse, it is a fantastic juicer with a quiet motor and attractive design for that. It minimizes oxidation and heat built up. Plus, with the help of the auger system, the fruits or veggies are grinded and pressed to get the maximum amount of juice. It also comes with a bigger chute that reduces your time in cutting and preparing the juice. The Omega juicer has stainless steel hard-wearing body that can be cleaned by wiping away the stains through a cloth. Amazingly, the juicer comes with five settings and allows to produce a lot more edible things than a glass of juice.
Key Features:
Quiet motor
Minimizes heat build-up and oxidation
Features a bigger chute
Easy to assemble
Well-sturdy
Offers warranty
3. Best Value For Money: Omega J4000 High-Speed Pulp Ejection Juicer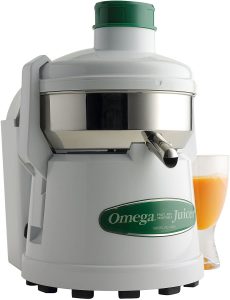 Item Weight: 11.5 pounds
Wattage: 250
Warranty: 15 years
The Omega J4000 is a high-speed juicer extractor with a stainless steel blade that works at a speed of 5200 RPM and is pocket-friendly. The strong commercial-grade motor also extracts juice in half time as compared to other juicers. Plus, the juicer will handle almost all veggies and fruits except the green leafy. Additionally, it is easy for you to clean the juicer without going through much trouble as the pulp ejects automatically into the bin at the back of the juicer. You can simply dispose of the pulp when the bin becomes full. Overall, it is an economical juicer that is available at a reasonable price.
Key Features:
High-speed juicer
Pocket-friendly
Easy to clean
Pulps ejects automatically
Simple use
Offers warranty
4. Best Under $ 250: Omega Vertical Low-Speed Juicer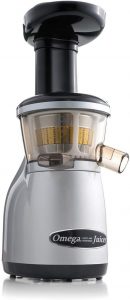 Item Weight: 17 pounds
Wattage: 150
Warranty: 5 years
This is a vertical- masticating style low-speed Omega juicer that squeezes instead of grinding fruits and veggies. Doing this will allow you to maintain the natural taste, color, vitamins as well as nutrients of your juice. It is a dual-stage juice- first, the juice is squeezed by crushing the veggies or fruits, and then during the pressing stage, the pulp is squeezed out. This will give you a fresh and rich juice as well as a dry pulp. Plus, you can easily store the juice for 72 hours, and it will not degrade the taste. One of its unique features is that it offers three settings- on, off, and reverse which you can use if some food item gets stuck.
Key Features:
Dual-stage juicer
Fresh and tasteful juice
Store the juice
Offer three settings
Prevents oxidation
It comes with a warranty
5. Cheapest Of All: Omega H3000D Cold Press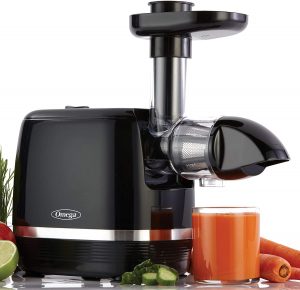 Item Weight: 11.58 pounds
Wattage: 150
Warranty: 5 years
If you are looking for an efficient, low-priced juicer with a robust and smart design, then invest in Omega H3000D. It gives you a healthy, delicious glass of juice by extracting fruits, vegetables, and leafy greens that will boost your healthy lifestyle. In fact, cold pressing your juice is one of the best ways to easily get nutrients and vitamins. Besides, this machine comes in a compact size and takes up less space in your kitchen. You can also easily use and clean the machine.
Key Features:
Simple to clean and use
Good-looking juicer
Compact in size
Produces less noise
Ensures nutritional value
Easy to assemble
6. Best Compact Juicer: Omega Compact Slow Speed Multi-Purpose Nutrition System Juicer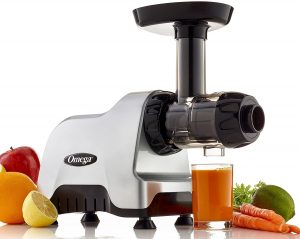 Item Weight: 13 pounds
Wattage: 200
Warranty: 15 years
The Omega CNC80S is one of the most compact juicers out there. It is ideal for traveling as it comes in a compact size and takes limited space in your kitchen slab.  It has the ability to squeeze everything from vegetables, including leafy ones and wheatgrass, to fruits. Plus, you can also create frozen desserts, peanut butter, almond butter, grind coffee beans, and other things. You can easily store your juice for up to 72 hours, and still, its taste would remain the same. It is a masticating style extractor that works at a low speed and minimizes oxidation and build-up of heat. Simply put, it is a great machine available at an affordable price that will boost your immunity.
Key Features:
Masticating juicer
Compact size
Store up the juice for 72 hours
Minimize oxidation and heat build-up
Practical to use
It comes with a warranty
7. Best Masticating Juicer: Omega MM900HDS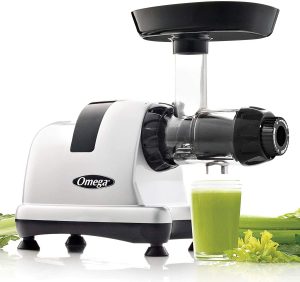 Item Weight: 17.16 pounds
Wattage: 200
Warranty: 15-year warranty
Omega is a prominent manufacturer of juicers in the market. All of its juicers work in a productive manner to deliver refreshing glasses of juice. Omega MM900HDS is no exception and precisely extracts juices and other edible things for you. One of its unique features is that it comes with a celery juice end cap that allows for a tighter squeeze so that you can get more juice. By using this machine, you can pursue a healthy lifestyle. It is a practical and straightforward machine that is super easy to use and clean.
Key Features:
Precisely extracts juice
Super easy to use
Easy to assemble
Strong blending power
Quiet motor
Slow speed but works well
8. Most Easy To Use: Omega NC800HDS Juicer Extractor and Nutrition System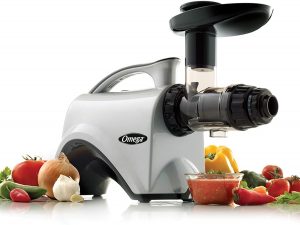 Item Weight: 18.7 pounds
Wattage: 150
Warranty: 15 years
This is an easy to use Omega NC800HDS juicer extractor that yields high juicing at a limited speed. With a 15 year warranty, you can use this juicer without any worry. Made from premium materials, it is nicely designed and produces fresh juice. Basically, it helps you to create baby food, pasta, nut milk, and other healthy snacks. Being a masticating style juicer, it has an auger system that releases the materials into a dense chamber, where the food is ground and pressed to extract juice from them. Simply put, it is an amazing juicer that works admirably and preserves essential nutrients.
Key Features:
Features a quieter motor
Durable and long-lasting
Masticating style
Produces more than juice
Minimizes oxidation
Effortless to clean
9. Most Powerful Juicer: Omega VSJ843QS Vertical Slow Masticating Juicer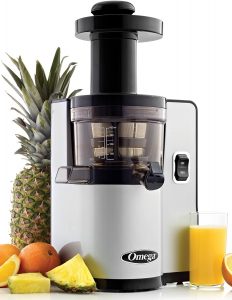 Item Weight: 11.5 pounds
Wattage: 150
Warranty: 15-year
This is one of the best masticating style juicer available in a compact size that works efficiently. It efficiently juices soft and hard veggies and fruits in no time while leaving behind a dry pulp. Further, it is the first juicer that utilizes slow squeezing technology (SST). This juicer squeezes out the maximum nutrients and vitamins from foods. Besides, it has a heavy-duty design, which means that you can use this machine for a considerable time. This machine is quick to disassemble as well as assemble. Plus, it has a quiet operating and auto cleaning function. On the whole, it is a nice juicer that offers optimum functionality.
Key Features:
Compact design
Utilizes SST
Heavy-duty design
Quick to assemble and disassemble
Quiet operation
Auto-cleaning system
10. Most Quiet: Omega NC1000HDS Juicer Extractor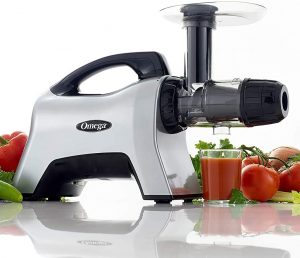 Item Weight: 21 pounds
Wattage: 200
Warranty: 15 years
This Omega NC1000HDS lives up to the company's motto and works extremely well. It features an adjustable cap at the end with five different settings to get the right results. Plus, rather than processing only fluids, it makes fresh baby food, extrudes pasta, and creates more edible fruits. Being a masticating juicer, it operates slowly yet powerfully while producing less noise. This means you can use it in the morning to squeeze out a fresh glass of juice. It features an amazing auger system that reduces oxidation and builds less heat. Plus, it is easy to maintain and won't disappoint you with its functionalities.
Key Features:
Amazing auger system
Five different settings
Extracts more juice
Minimizes oxidation
Reduce noise
Operates powerfully
Verdict
Omega has been in the business of manufacturing juicers for nearly decades, and all its products are trusted for being reliable, durable, and effective. All the above-listed Omega juicers are no different and deliver excellent results. They come with a 15 years warranty and extracts juice from hard as well as soft veggies and fruits. Also, some of these machines can be used as a baby food processor, food blender, frozen dessert, almond milk, extrude pasta, grind coffee beans, and many other things. They all are pretty straightforward to use and simple to clean. Plus, while working, they create less noise and extract more.
FAQs
What Are The Different Types Of Juicers Available For You?
Omega manufactures different types of juicers, and the three main types are as follows.
Centrifugal juicers– This type of juicer utilizes a cutting blade that flatly cuts the fruits and vegetables. It has a high speed and therefore processes the juice quickly.
Masticating juicers– They are different from centrifugal juicers as they operate at a low speed. Plus, they make use of an auger to extract the juice.
Twin gear juicer– This type of juicer uses a gear to extract juice from fruits and veggies.
What Are The Omega Juicer Advantages?
Omega Juicer is a well-known manufacturer of juicers that offers a lot of benefits to its users. First, it manufacturers different types of juicers such as masticating, centrifugal, vertical style, and more. Second, they are reliable and safe to use. Third, they deliver incredible performances.
What Should You Keep In Mind While Purchasing Juicer?
First and foremost, you need to keep in mind how often the juicer will be used. If you want a glass of juice daily, then you should go for one that is easy to clean and produces less amount of waste. Next, you should figure out what type of juice you want to drink. Lastly, you should also check the price and warranty of the machine to make an informed decision.