Most citrus fruits are juiciest when the winter arrives. So, when it does arrive, you'll start seeing them piled up high in the supermarkets. Being wintertime, when our immune systems need that extra boost of Vitamins, citrus juices are here to help!
Having the best electric citrus juicer will help you squeezed a fresh citrus juice which gives you a fabulous way to start your morning. They are easy to make and give you a necessary healthy immune boost to kick start your day. Are you ready to make the easiest and tastiest fresh and frisky morning citrus juice around? Then buckle-up for some of the best electric citrus juicer reviews below. Your thirst for citrus juice might have made you surf the internet for hours just to find the best citrus juicer. Now you don't have to worry about it anymore because here we are with all the information you need about the best electric citrus juicer in 2023.
List of the Best Electric Citrus Juicers in 2023
Related: The 10 Best Omega Juicers in 2023
Reviews
10. Breville 800 CXPL Motorized Steel Press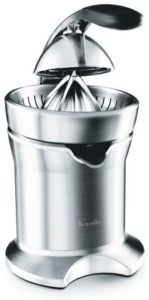 If you are looking for a juicer to impart professional touch to your kitchen, this is the one for you. From a small grape to a large orange you can make any type of juice with this. Believe me, you get the maximum extract with this apparatus, as a consequence of its design. Moreover, you can extract juices without much effort, owing to its active-arm press, aided with a lever.
Generally, most juicers make large sounds and may feel irritating. In contrast, this one is completely noise-free, with a whisper-quiet motor. Also, the juicer is fully safe of dishwashers and protected from corrosion. To sum up, the juicer contains all the features which can satisfy your needs of making a tasty juice.
Features
 Automatic universal cone
110W motor
Automatic active-arm system
Soft grip ergonomic handle
 2 filters for variable pulp Drip-stop juice spout
Die-cast metal stainless steel and BPA-free plastic design
 Dishwasher safe plastic parts
Cord storage
1-year warranty
Also check: Top 10 Best Electric Fruit Juicers in 2023
9. Eurolux Electric Orange Juicer Squeezer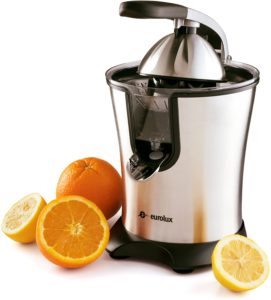 This product helps you extract the juice clean, without any solid residue. Also, the extract is richer in content, owing to its integrated filter. The rubber handle has a soft grip and can be controlled comfortably. To sum up, you can get your clean product without much effort. Hence, it helps in using the juice directly without filtering it again.
Moreover, you can easily use the functions such as start and stop. This makes it undoubtedly suitable for anyone to handle the usage, irrespective of age. The parts are detachable and can be removed. Consequently, you can disassemble the parts for proper cleaning and usage. Besides, the base will stand firm indeed on the table, due to the suction pumps. In short, this juicer can help you provide clean and clear juice, which is equally healthy and tasty.
Features
Automatic universal cone
160W motor
Automatic on/off the pressing handle
Soft grip ergonomic handle
 Integrated filter
Anti-drip spout
Dishwasher safe
1-year warranty
8. Proctor Silex Alex's Lemonade Stand Citrus Juicer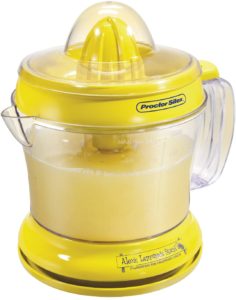 In case you need an affordable juicer with an apt value of money, then we think this is the product you are looking for. The alluring look can attract everyone from small children to adults, to pulp out their favorite fruits.
The juicer can be detached from table to table, For this reason, they are made lightweight and compact. The decreased noise level, in comparison with others, produces less disturbance. Besides, you can serve your full family at a time with this large juicer of 34 fluid ounce volume capacity.
The package also comes with a recipe book. So, you can go through it and make different varieties of lemonades and juices of good quality. So, this is indeed a product you can rely on with your tastes.
Features
Auto-reversing cone
30W motor Auto-reverse feature
Large and small reamers included
Pulp control dial
34-oz. detachable pitcher
Dishwasher-safe parts
BPA free
Full-color recipe book included
1-year limited warranty
7. Hamilton Beach 932 Commercial Citrus Juicer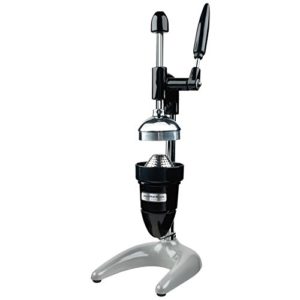 This one is completely different in its working and structure, in comparison to other home juicers. With its efficient extractor arm and simple lever, you can exert a larger force on the fruits, and thereby take the complete extract. In other words, you won't be dissatisfied with the overwhelming quantity you get from this juicer. You don't have to worry about the occurring damage on the product, owing to its acid-resistant material.
Furthermore, the cup clearance allows you to keep an 8-10 ounce cup smoothly. You can also take the juice of one lime or orange, according to your preference. Also, you can add the fruits easily without any parts obstructing your way. So, technically sound in quality and performance, this set is a good use among home as well as commercial appliances.
Features
Manual operation
Acid-resistant finish
Multifunctional cup with swing-out arm
Has strong base stability
Stainless steel strainer cone and funnel
5.5-inch cup clearance
1-year warranty
6. LUUKMONDE Electric Citrus Juicer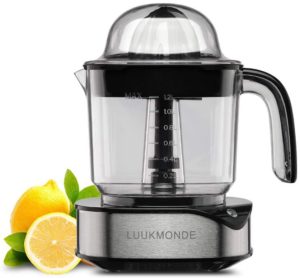 This product ensures a healthy drink with no loss of nutrition and other by-products. With the auto-reverse function of the cone, you can manually pulp out every single drop from the fruits. When we say 'manually, we mean that as 'according to your need'. That is, the leftover pulp can be used later for adding to any other recipe.
Also, the 40 ounce capacity of the juice makes it useful in parties, picnics, gatherings, dinners, etc., despite being a household machinery. However, you don't have to worry about setting up the machine, as it comes up with the instruction manual. Finally, you can choose specific cones for orange and lime, whatever you use. So, this juicer is a perfect user-friendly product for every consumer, as revealed by its benefits.
Features
Auto-reversing cone
40watt powerful noise-free motor
Unique design
1.2-liter capacity Cup
Easy to use and clean
BPA free material
5. Breville BCP600SIL Citrus Press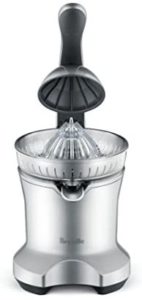 If you need a juicer with less effort to work on it, you can pick this. The juicer can be operated on one hand, even to take out a maximum of the juice. Precisely you can use it with minimum struggle. In the same way, you can use the juicer without much hassle, whether it be taking the pulp out or let it be cleaning. It is indeed easy to assemble and disassemble the product. Hence, you can clean it accordingly. You will be satisfied with its overall performance. The product is dishwasher safe, in particular.
Also, you will be able to prevent drips after juicing, because you can just turn the spout upwards. With this, you will be able to make different types of juices, meeting the favorites of every person in your family.
Features
Multi-Purpose citrus juicer
One-handed juice press operation
110-watt power
BPA free material
Smoke parts are Dishwasher safe
Safety locking system
Built with heavy grade polymer
4. Pohl + Schmitt Deco-Line Citrus Juicer Machine Extractor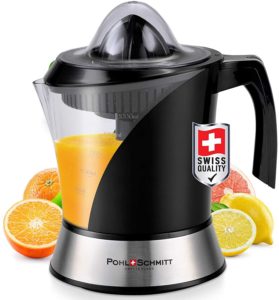 This product can serve your kitchen needs despite its compact size. With a fluid capacity of 34 ounces, you can make a large amount of juice according to the situation. The container is transparent and allows you to view the quantity of juice as well as dripping. This helps you to ensure the amount as well as prevent drips, in case.
In addition to all these, the dual-purpose cones help in extracting both smaller and larger fruits. You don't have to go for any protective accessory as it comes with a highly protective cover on its own. This product is dishwasher safe. Moreover, you can decide the amount of pulp you need, as a feature of the pulp control system. So, the attractive look, good performance, and the features can make it a good add-on to your kitchen commodities.
Features
1-liter capacity removable juice container
2-year warranty
Automatic On/Off
2 interchangeable juicing cones
Simple and elegant design
3. BLACK + DECKER Citrus Juicer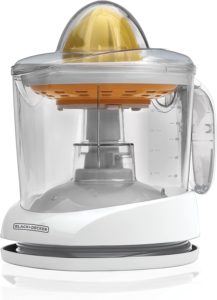 This product is made of high-quality plastic and ensures you complete safety and performance with its use. It is food-grade plastic and you can rely on it. Other features include the adjustable pulp control system, the double con system, etc, which can give you the best homemade juice.
Through the container you can see inside the whole process, owing to its clear visibility. Also, you can measure the juice with the help of measurements engrossed in the container. Furthermore, wastage is reduced by the easy-pour spout.
Instead of leaving the cord untangled, you can wrap the cord within the integrated cord wrap system. Hence, it ensures less damage and long life to the cord. Also, it comes with a storage cover for protection against the atmosphere. The product is here, all the way form U.S.A and provides 2 years of warranty against any defect.
2. Cuisinart CCJ-500 Pulp Control Citrus Juicer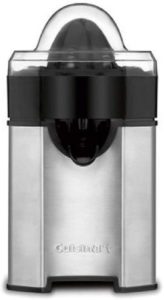 If you are looking for a product, not too large, but has all the features, you have the right pick. This juice is compact and small in size and you get 3 pulp control settings on which you can select any of them, as your wish. More juice can be extracted along with auto-reversing and final-spin features.
Also, the stainless steel design makes it stylish and protects it from the external atmosphere. So you don't have to run around for its maintenance. However, it comes with a user manual, evidently tutoring the consumer on its setup and usage. The product comes from the U.S.A and provides a 3-year warranty for the item.
Features
Auto-reversing and Final-spin feature
3-year warranty
Made in the USA
30-watt motor
Adjustable pulp control with a basket
Drip-free pour spout
1. Juiceman Citrus Juicer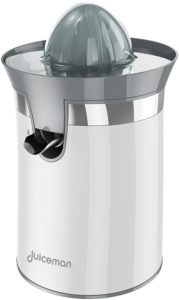 The main specialty of this juicer is that it can be pressure activated. Once you press the fruit onto the cone, the juicing starts, evidently, a new face of technology. Significantly, you can use this for a long time, in case of hectic work for parties and gatherings, Since the motor has large power, it can withstand the above.
Additionally, the pulp can be separated using the pulp strainer, from the juice, to reuse it again. Also, all the parts are dishwasher safe and can be cleaned neatly to maintain hygiene. Therefore, this product can serve you fresh and tasty juice, undoubtedly.
Features
Adjustable Reamer
3 pulp control setting
Auto-reversing and Final-spin feature
Stainless steel design finish
Parts are dishwasher safe
BPA free material
Extra-long snap-up spout
Conclusion
Depending on your needs and budget, you can consider any of the citrus juicers from the above-mentioned list where we have reviewed the top rated electric citrus juicers. We suggest you invest in a citrus juicer that caters to your everyday juicing needs and comes within your budget.