Grain grinding job is never an easy thing, especially if you still follow the old traditional way of grinding. However, nowadays, thanks to the invention of electricity, the electric grain grinder is also created to help the grain grinding job much easier and more efficient to accommodate your demand. This grain grinding machine utilizes the electricity power to break any solid grains into smaller pieces by grinding, crushing, or cutting with just a press the button. It will help save a lot of your energy and time to have if grain grinding is your regular job.
List of the Best Electric Grain Grinders in 2023
Related grinding devices: Manual Meat Grinders, Electric Meat Grinders & Electric Pepper Grinders in 2023
10. Homend Stainless Steel Electric Grain Grinder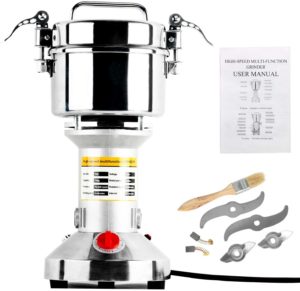 To start with, we have this grain grinder machine from Homend. It is equipped with a powerful motor with the standard speed of 36000r/min. The capacity of the grinder is up to 700g, while the operation time is measured at 5 minutes. The grinder is built from stainless steel, which is both durable and food grade safe for daily usage.
It comes with a buckle structure to offer a good sealing layer to prevent spilling. The blades are also made from 3 layers of stainless steel to offer a complete and thorough milling job. Moreover, after using, the cleanup is also easy since you can use only a piece of cloth or brush to do the cleanup.
To top it off, this machine is compatible with a wide range of applications, including soybean, corn and black rice. It is also suitable for milling the herbal medicines. You can compare with the manual grinder here to see the differences of the two devices and which one fits you better.
9. WONDERMILL Electric Grain Grinder for Home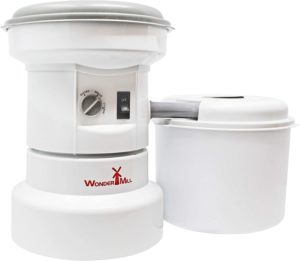 Next, we are going to take a look at this grain grinder from WONDERMILL. Thanks to the 1250-watt motor, it is designed to be faster and more effective than any other grinders or miller on the market. It is made from heavy duty materials, and it is capable of grinding up to 100lbs in only one hour.
In addition, the standard of this grain grinder machine has already been tested and certified by UL, CSA and CA to offer you with the best peace of mind. Therefore, it offers up to lifetime warranty to be a qualified part of your household appliance. Moreover, the grinder is composed of 5 parts, and you can disassemble the parts to create an easy cleaning process.
This grain grinder can work for more than 10 hours, and it will never overheat itself. Also, the operation is guaranteed to be quiet enough to prevent you from getting distracted from the noise. With this grain grinder, you are allowed to have a healthy lifestyle with the healthiest food choice.
Video demonstration by RawNutrition
8. BI-DTOOL Compact Electric Grain Grinder for Herb, Spice, Pepper, Coffee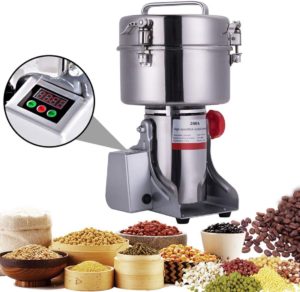 Moving onto the next grain grinder machine from BI-DTOOL. It comes with three capacities for options, including 1000g, 2000g and 3000g. The power of this grinder is as high as 35000 watts, while the capacity is about 4.4lbs. The speed of the motor is measured up to 25000 r/min. With these great features, the operation time is as short as only 5 minutes.
The grinder is built from stainless steel, and it is compact and portable in size. Even with such a small size, it is highly efficient to accommodate your demand. For the operation, there is a manual control that you can set the time for crushing a big amount of any herb, spice, pepper and even coffee. Also, you can allow it to determine the process for you, so that you do not need to wait.
Besides, it also comes with an additional layer of security protection to secure it against all kinds of overload. If the problem happens, it automatically shuts the power off to prevent all kinds of accidents from happening and causing you a huge disaster.
Video testing by Deanna H. Richter
7. CGOLDENWALL Safety Upgraded Electric Grain Grinder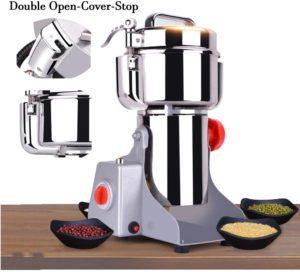 If you prefer a high speed powered grain grinder, you should consider this machine from CGOLDENWALL. It is designed with the best safety and the open, cover and stop type. It is equipped with special features to prevent the machine from overloading while grinding the grain, beans and other crops. If overwork is detected with the machine, it will automatically shut itself down to prevent burning the machine.
It is designed in a swing type style, and it is made from copper to produce fine power to mill the material such as soybean, herb, grain and more. Within just one minute, you can get everything ready and move onto the next grinding job. It is equipped with triple blades, and therefore, you can choose your own preferred fineness level, which ranges between 30 and 300 meshes.
What's more this unit also includes a timer function, which is very desirable for you to make customization to the fineness. The longer it takes, the finer the grinding result.
6. WONDERMILL Powerful Electric Grain Grinder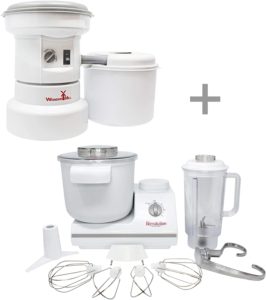 Here comes another powered grain grinder from WONDERMILL. It enables you to make your own flour from grain within only a few minutes in order to start making your bread. The quality of this product has been tested for several times, and it has proved to perform well with heavy loads. It is responsible for mixing, milling and grinding the grain for you to make a variety of recipes.
In addition, it features a versatile use, and therefore, you can maximize its value by using it with a wide range of applications, from making a dough to mashing potatoes. WONDERMILL comes with more than 20 years of experience in this grinding field, and as a result, the quality is guaranteed to be 100% leading, and it offers all the safety standards, including UL, CSA and CE to provide the best peace of mind for this one particular purchase.
Thanks to the use of a 1250-watt motor, the grinding process can load up to 100 pounds in only one hour to guarantee you a fast and efficient result in real life usage. If you prefer a manual one, we also have the list of the Best Manual Grain Mills for you here.
5. SLSY Iron Electric Grain Grinder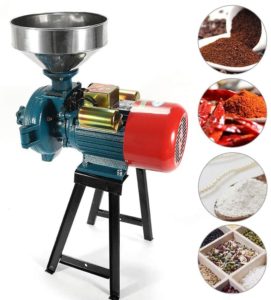 This powered grain grinder from SLSY is designed ideally for farm use thanks to the powerful motor of 3000 watts. It is responsible for a wide range of grinding and milling jobs, including bean curd, corn and rice flour. The drill diameter is measured at 150mm, and the direction of the rotation of the blade is in the counterclockwise position.
In the package, besides the grinder machine, there is also a funnel included for you to use. It comes with a capacitor shell in order to make storage and transportation easy and convenient. Other than these, this product is made from iron, and therefore, it almost takes the whole lifetime period to rust or break this grinder.
What is even more impressive about this piece of electric powered grinder is that within 30 days, if you are not satisfied with the quality of the product, it guarantees to give you money back or a replacement to provide you with a worries-free experience.
4. NAIZEA Cast Iron Electric Grain Grinder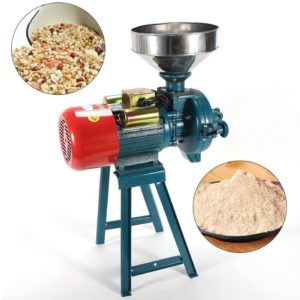 NAIZEA also offers us one of the best electric grain grinders on the market. It is made from super materials to provide both durability and quality in real life usage. It comes with a capacitor shell that is built from cast iron to prevent both rust and corrosion. With this shell in the outer part, the transportation process must be easy and convenient.
The grinder is designed to be both powerful and efficient in the milling process. This saves you a lot of time and energy if compared to the traditional way of milling. The finest result is about 80 meshes to provide you a healthy lifestyle.
This grinder is compatible with all kinds of grains and ingredients, including bean, rice and corn to make a variety of recipes. The supporting power of the motor is as high as 3000 watts while the speed is between 1400 and 2800 r/min. Moreover, to ensure you with the best consumer satisfaction, there is a 100% warranty for the refund.
3. KitchenAid Metal Electric Grain Grinder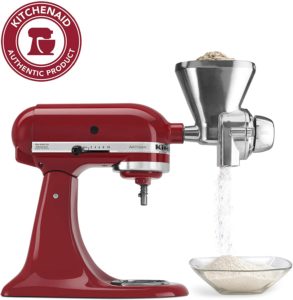 If you are looking for a helpful assistant in the kitchen, never forget this electric grain grinder from KitchenAid. It is built with the best sturdiness since all parts of the grinder are made from high quality and heavy duty metal. It is compatible with most types of grains that come with low moisture levels, including corn, rice and wheat.
In addition, the product comes with multiple fineness levels that you can choose from the options of coarse, fine and even extra fine. It is also compatible with the stand mixer that you can use to attach to one another in order to produce greater results in the grinding process.
For one time of the grinding process, it can support up to 10 cups, and therefore, it largely reduces the amount of grinding time to save you a lot of time and energy from waiting.
2. Ridgeyard Electric Grain Grinder with Vibration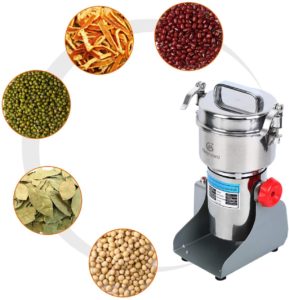 This electric grain grinder from Ridgeyard is also worth taking into consideration. It comes with a large capacity of 700g, and the motor power is as high as 1800 watts. The fineness level produced by the machine varies, which ranges from 70 to 300 meshes. The working time of this machine is as low as only 2 minutes.
It provides a very fine structure thanks to the compact and portable size. It is also lightweight enough, allowing you to work with it easily. During the operation, the noise level is minimized to the least to prevent you from all kinds of distraction. It also excludes the vibration for you to work with it easily.
The machine also works well for dispensaries, and it can also be responsible for powder processing. Therefore, it is suitable for various cereals, including herbs and grains.
1. ABORON Electric Grain Grinder with Funnel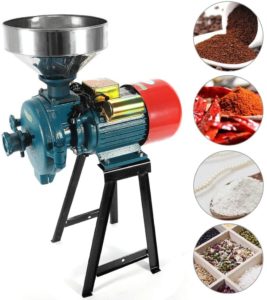 Last but not least, we have this electric grain grinder from ABORON. It is a farm design of electric grain grinding machine with the power of 3000 watts at the maximum. The machine is capable of a variety of grinding jobs, including rice, wheat, soybeans and many other kinds of ingredients. It is protected by a solid capacitor shell which is made from iron to ensure that it will not crush or break in daily usage.
In the package, there are 2 things included. One is the electric grain grinder machine, while it also includes a funnel for you to work with easily and conveniently on a daily basis. What you should keep in mind is that the operation noise of this grain grinder depends on the power and speed of the motor.
Last but not least, rust and corrosion is never a problem for this piece of heavy duty grain grinder.
What to consider before buying
If you want to spend your money worth purchasing a good grain grinder for daily usage in the kitchen, we would like to recommend you with the following points.
Construction materials
The milling and grinding job is very tough, and therefore, to ensure a long term investment, the construction should be durable and heavy duty. Regularly, a good grinder is made from stainless steel, metal or iron. Some grinders may also come with a capacitor shell to protect the body of the machine.
Power of the machine
The higher the power, the faster the grinding speed. The power of the grinder is seen between 1000 and 3000 watts. If it is for home uses, the recommended power is about 1250 watts. The 3000-watt motor is designed for farm use.
Capacity
The capacity also varies. The range is between 700 and 3000g. It depends on how much grain you need to grind each time.
Overload protection
This is another special feature since it is responsible for offering the best protection to you and the machine. The overload protection is to prevent the machine from overworking.
Conclusion
We have just explored the top 10 best electric grain grinders that we found for you. They all come with heavy duty construction, outstanding features and functions and high capacity for loading. Therefore, if you are demanded to do the grinding job, never forget an electric grain grinder to help you with it.