Understanding which cocktail drink goes with what type of glass is the knowledge that you should have to acquire, especially if you own a bar business. To save your time, we have organized a list of cocktail glass sets and what drink that they were designed to accommodate. Without further delay, let's check out the top 10 recommended cocktail glass sets that guarantee to elevate your cocktail drinking experience below.
List of the 10 Best Cocktail Glass Sets in 2023
Other glass accessories you may need: Best Wine Glass Holders | Wine Glasses | Wine Glass Storage | Glass Measuring Cups
Reviews
10. Riedel Diamond-Shaped Cocktail Glass Set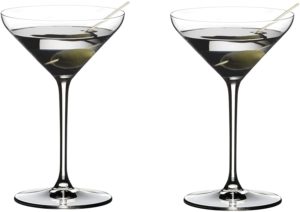 Here we have a set of 2 diamond-shaped martini glasses from Riedel. This is the type of glass for serving martinis to present its refined look. This type of glass is often served for classic cocktails with no ice and has a measure of around 3 to 6 ounces. This glass was made using a machine that made its construction very thick and durable to ensure long-term use. It has a height of 6 7/8 inches, and it can store up to 8 ounces of liquor which is ideal for serving martini.
Talking about its presentation, this cocktail glass set has extreme contour and steeply rise on both sides which prevent spillage when handling. This combination makes this eye-catching set not only a nice collection for bars and pubs, but it can also serve as a great cocktail glass to add an air of sophistication to your home bar. Most importantly, you do not have to manually wash this glass as it can be put in the dishwasher for cleaning purposes.
9. Riedel Lightweight Cocktail Glass Set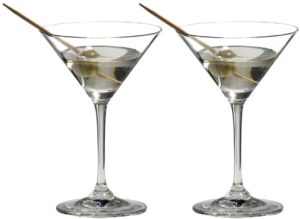 If you are planning to serve Martinis, we recommend this fine crystal cocktail glass set of Vinum collection from Riedel that comes in a set of 2 glasses. This brand has been delivering the best stemware for 300 years and is also known as the first ever company to find out that the shape of glass could affect the taste of the drink. Specifically, this crystal glass has a cone shape presentation with a height of 5 7/8 inches and a maximum capacity of 4 5/8 ounces which is a perfect size for Martini serving.
In addition, this machine-made glass has a very elegant look, super durable but lightweight which is convenient for handling. On top of that, this glass is dishwasher-safe, so you can just toss it in the dishwasher and let the machine do its job. You can purchase this set for your home bar to give it a playful feel or it can also be a great gift to your friend or family for special occasions such as housewarming parties.
8. A29 Cocktail Glass Set – 4 Glasses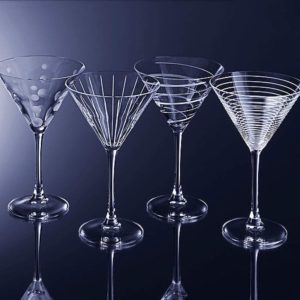 If you notice, cocktails are also being served in copper mug as it can keep the drink chilled for a long time. This set of moscow mule copper cocktail mug from A29 was made of food grade copper that was tested by a third party and tagged as a safe dietary equipment. Most importantly, this was handcrafted meticulously by the experts using a hammer to give it a very refined look and shape. Its package comes in a set of 4 copper glasses, copper straws, one shot copper glass including a mini cocktail recipes book. The copper glass has a capacity of 16 OZ, this big capacity is suitable for the type of cocktail that you drink with an ice cube. It comes with a brass handle to secure your grip accompanied by the smooth lip that was designed for comfort and endurance.
This shiny cocktail mug has a beautiful exterior design that glimmers your whole kitchen. Its gorgeous look makes it a perfect set to impress your guests during their visit. For care instructions, companies recommend hand wash with a little bit of copper cream to make it look new even after a long period of use.
7. Red Rocks Cocktail Glass Set

let's take a look at this cocktail glass set from red rocks. It comes in a set of 4 glasses, each one has a square base and slightly wider at the top with a length of 10.5 inches which is very stylish and also very durable to accommodate your day-to-day use. This type of highball glasses is often used to serve mojito, gin fizz, and other liquor that is served with ice. The materials used in the making were proven lead and BPA-free which is safe for health. In addition, this type of cocktail is often made right in the glass, so it was constructed with a refined and crystal-clear presentation to let you see the texture and the beautiful colors of your drink.
Beside using it as a cocktail glass, its simple design allows it to fit for many other occasions. In this sense, you can also use this highball glass to serve water, wine or juice. For care instruction, you can wash your glasses using dishwasher without worrying about clouding or scratching as it was made of superior glass material to accommodate long-term use.
6. Rolf Crystal Clear Glass Cocktail Glass Set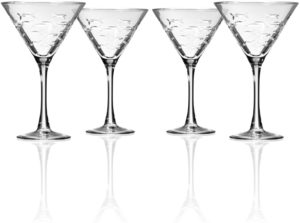 Here we have another Martini cocktail glass set from Rolf Glass which is a product of the USA. The design of this glass is very unique with a swimming school of fish engraved to its crystal-clear cone shaped body accompanied by its slender stem making it very elegant and sophisticated to be served at your home bar. This glass has an angled curved bowl which helps in adding more ecstatic feel to your drink. It comes with a length of 7.5 inches and has the capacity of 10oz to hold your liquor which makes it a perfect barware for serving Martini and the classic cocktails that are served with no ice.
Talking about the quality of its material, this set was made of lead and BPA-free glass, so you do not have to worry about it causing any health concern. The construction is super sturdy and durable that can serve you for years. For hassle-free cleaning, simply place this glass inside the dishwasher and your glass will come out fresh as new for the next use.
You may also need these Red Wine Aerators and Red Wine Racks for your home!
5. Schott Zwiesel Cocktail Glass Set, Set of 6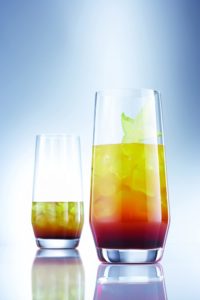 Schott Zwisel presents you a set of 6 tumblr style glasses for cocktail drinks. It is the product of Germany and it has the look that is similar to highball glass but slightly taller, its length is approximately 5.7 inches and 2.8 wide allowing it to accommodate up to 12.1 ounces of drink. Its big capacity was designed specifically for drinks with low ratios of alcohol and usually served with ice and fruit decoration on the top. Moreover, it can also be used to serve water and other beverages. This glass was manufactured with safety in mind, using only high-quality titanium and other non-toxic material to ensure the safety of the users and also its durability.
This contemporary design has a geometric presentation with sharp lines that gives off an excellent balance to its look. Moreover, the zirconium that was used in the making allows this piece of barware to have a crystal-clear surface so you can view the beautiful colors of the drink as it is being made. This product is also designed for dishwasher-safe so it will not burden you with manual washing.
4. Libbey Cocktail Glass Set, Set of 8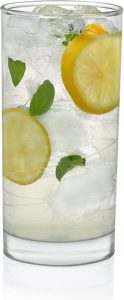 If you are looking for tumbler style glasses, check out this one from Libbey. It is a big package that includes 8 glasses on the inside. This set was designed and manufactured in Mexico; each glass has an etched pattern design from the bottom to the middle of the glass to add a little touch of lustrousness to the set. This glass has the capacity of 16 ounces which is a perfect size for drinks that are served with ice in order to give it more room and prevent spillage. The durability of this glass was guaranteed, it will not break even when it clinks or spills as it was made of lead-free material. Moreover, this glass is fit for use in other occasions other than for serving cocktails.
For handling instruction, this cocktail glass set is not stackable for storage purposes, so you need to keep them separately. However, it is perfectly safe to wash this glasses set using the dishwasher. If you have any more concern you can contact the customer care team so they will respond to your questions in a timely manner.
3. Dos Sueños Mexican Cocktail Glass Set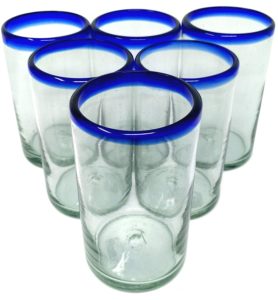 Let us walk you through a hand-blown cocktail glass set from Dos Sueños. This set was hand-crafted with attention to detail by the skillful artisans with the qualified technique that was passed down from the previous generations. If we take a closer look, it was made of a thick and high-density recycled glass material which is also free of lead for safety of the users. Those materials make the construction of these glasses very sturdy to ensure long periods of use. In addition, it has blue rimmed design which represents the iconic style of Mexican.
The glass has a length of 5.1 inches tall and a width of 3.15 inches and has the capability to hold the liquid up to 14 ounces. This measurement makes it an ideal glass for serving muddling ingredients such as Sazerac. Before purchase, it is important to note that this is a hand-crafted product which means each piece might have a slight difference in tone of color or size that make the package even more unique.
2. Orrefors Tonic Cocktail Glass Set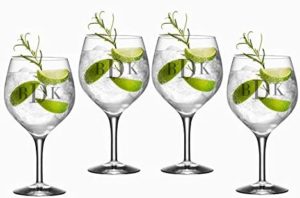 Do not miss this great cocktail glass set from Orrefors. It is a set of 4 tonic glass that was manufactured using crystal with a long-standing stem. This glass has a length of 8.6" tall and approximately 8.2" diameter in width with a maximum capacity of 22oz. this round and broad bowl was designed to accommodate drinks with more ice but it has a slimmer top so the aromas of your drink will stay inside allowing you to smell it as you drink. This thoughtful design makes it an essential glassware for gin and wine and other drinks with aromas.
What is so special about this glassware is you have the option to personalize your own luxurious crystal glass by engraving names or initials of your preferred font and style on the set you purchased.
1. Libbey Blue Ribbon Cocktail Glass Set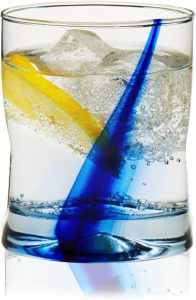 This is a four-dimpled shape glass from Libbey. The purpose of this design is to make the glass fit perfectly to the grip of your palm for convenience in handling. Adding to that, it has a thick glass on the bottom to ensure extra stability and durability. The design of this glass comes with an oval cross-section in the middle with a stripe of blue streak infused vertically but not parallel to both sides of the glass making this set very elegant to be served on the table.
For its measurement, this glass has a length of 4 inches and has the capacity of 5 ounces which make it ideal for liquor serving. In addition, it was made of dishwasher-safe glass so you can simply toss it in the dishwasher for cleaning purposes.
Buying Guide:
Appearance: when it comes to getting cocktail glass set, too simple and old-fashioned design can be too boring to impress your guests. On top of that, to find the right match you should also consider the type of party you are preparing and also what drink that you will be serving in that event.
Material: Thin material is not a very favorable option as it could be fragile and cannot accommodate you for a long time. In addition, you should also look for material that is free from toxins such as BPA or lead so it is not harmful to your health.
Convenience in handling: it is great that your glassware is convenient for cleaning purposes, however it is a big problem if the size or design make it difficult for you to handle when drinking.
Conclusion
It is very enjoyable to stock up your home bar with a new collection of glassware. With the above recommended product and the buying guide, we hope it helps to give you inspiration on which glassware to choose for your next party or gathering events.