Whether you're on a diet, or you need just the right amount of ingredients for a recipe, the digital food scale is the most helpful kitchen device to help you measure the amount of meat, vegetables, and ingredients for your cooking. The scale also helps you to measure the volume of food and divide them more accurately for your diet and physical health. Utilizing the digital technology, the scale shows you the volume in number, making it easier to use than the traditional scale. It you are now on the hunt for a food scale, let me bring you to various models of digital food scales below.
List of the Best Digital Food Scales in 2023
10- Nicewell Food Scale: Digital Weight Grams and oz | 22lb Kitchen Scale for Cooking & Baking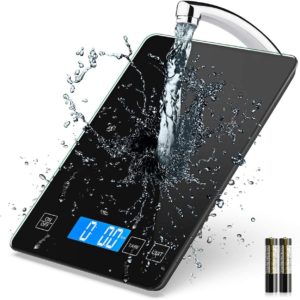 Nicewell digital food scale measures very accurately as it has four built-in load sensors and high sensitivity touch units that display measurements in no time. It has a big platform of 9"x6.3", so you can even weigh large food items without any complications. The food scale is strong and durable so it won't break easily no matter what. The water-resistant quality of Nicewell's Food Scale makes it easy to wash and clean. It also has a tare button for calculating the weight of a container separately and subtracting it from the total weight later on. This assures accurate and precise measurements of meat, veggies, fruits for cooking and food processor and more.
Pros
Easy to use
Easy to read
Waterproof
Accurate measures
Reasonably priced
Lightweight
Measures in a variety of weights
Cons
ON/OFF button is sensitive, can turn off with the slightest touch
9- Etekcity Food Kitchen Scale | Digital Grams and Ounces Scale for Weight Loss, Baking, Cooking, Keto and Meal Prep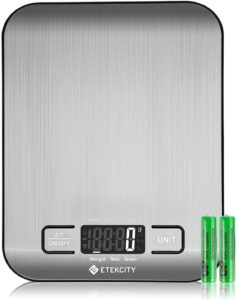 Etekcity Food Scale is a stainless steel digital scale use for weighing a minimum of 3g-5g. That's very good for measuring small grams of food and meal. The scale is multifunctional and it can also be used to measure in oz, g, mL, and ib oz. It has a stainless steel platform that allows easy cleaning and maintenance. It is not good for measuring big items, as its measuring capacity is only up to a maximum of 5kg. The digital display is okay, but not as big as compared to Nicewell's Food Scale. However, it can be a good company for measuring power and fruits for your pasta maker or juicer at home.
Pros
Affordable
Provides accurate measurement
Small grips on the bottom help it stay on the same place
Sleek and well designed
Durable, easy to clean
Cons
Drains battery even while not in use
8- Ozeri ZK14-S Pronto Digital Multifunction Kitchen Food Scale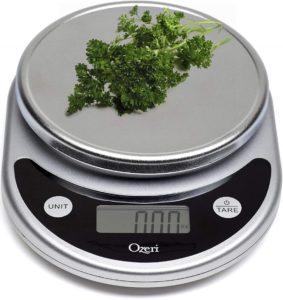 Ozeri's digital food scale is very cheap and accurate. It is easy-to-use and has a user-friendly design. The LCD screen is easy to read. Like all other digital scales, this one also features a tare button that promises precise calculations. The weighing platform is large and so can hold heavy items as well. The best feature of this digital scale is that the 2AAA batteries inside it are automatically powered-off after two minutes of shutting down, to preserve battery life.
Pros
Cheap
Precise measurements
Easy to use
Consistent results
Tare option works great
Cons
Fluctuates sometimes
Turns off if you don't use it for 30 seconds
7- Nicewell Food Scale, 22lb Digital Kitchen Scale Weight Grams and oz for Cooking Baking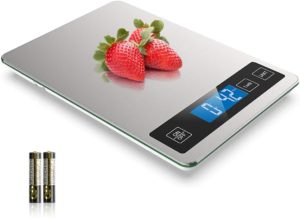 If you're looking for a digital food scale that not only gives quick and accurate results but also has a large platform, you should go for Nicewell Food Scale. It has four built-in sensors that give precise measurements in no time. The large LCD display allows the measurement to be read easily. The design is strong, sleek, and durable, as the food scale is tempered with glass. The stainless steel design allows easy cleaning.
Pros
Accurate and precise
Sleek
Space-saving
Easy to use
Compact and durable
Batteries are convenient to replace
Easy to clean
Cons
6- Etekcity Food Kitchen Bowl Scale, Digital Ounces and Grams for Cooking, Baking, Meal Prep, Dieting, and Weight Loss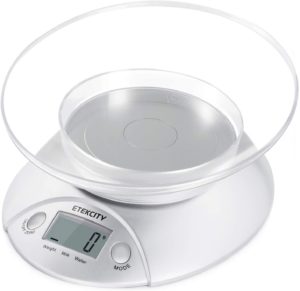 How cool would it be if you could buy a digital food scale that comes with a bowl? Well now, you can! Etekcity's Food Scale comes with a bowl and gives precise measurements. It can weigh a minimum of 3g and a maximum of 11 lb. The diameter of the bowl is 10 inches and it can hold up to 27 oz. Do you want to remove the bowl? Then go ahead and remove it, as the bowl is detachable and you can detach it whenever you want. This one also includes a tare function as in all other digital food scales. The results are fast and accurate.
Pros
Accurate
Durable
Performs perfectly
Inexpensive
Small and versatile
Has multiple functions for water, milk, and solid food measurement
Cons
Does not use the metric system
5- Etekcity Food Kitchen Scale Bowl, 11lb/5kg Digital Ounces and Grams for Cooking, Baking, Meal Prep, Dieting, and Weight Loss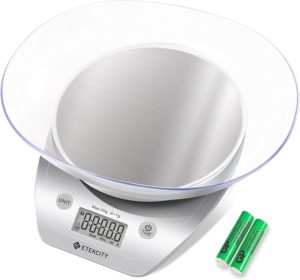 This is another food scale from Etekcity that has a bowl attached to it. Although it may seem similar to the one mentioned above, it isn't. Etekcity's Food Scale with Bowl is smaller in size and comes with a wider bowl. Its weight capacity ranges from 2g to 5000g. The removable bowl has a convenient shape and is multifunctional: it can be flipped upside down to cover the scale. It has a stylish and sleek design and does not take up much space. Also, it is marked as Amazon's choice, so it'll probably be worth your money.
Pros
Affordable
Easy to use and clean
Lightweight
Does not take up much space
Attractive design and color
Sturdy bowl
Cons
Tiny letters (units of measurement) are hard to read
No backlight
4- Etekcity Food Scale with Bowl, Timer, and Temperature Sensor | 2.06 QT Digital Kitchen Weight for Cooking and Baking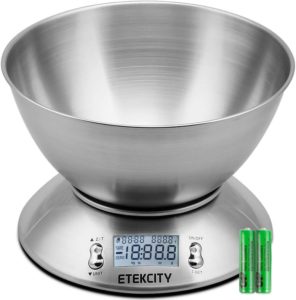 We know that this is the third digital food scale from Etekcity that I'm reviewing and recommending, but that's because of a reason- quality. Etekcity's Food Scale is a number 1 bestseller on Amazon. So this clearly shows how useful it is. This one has high precision sensors in it that promise accurate results. It also includes a temperature sensor and an alarm timer (wow!) so that more tasks can be done with less clutter. The scale has a sleek and steady design and comes with a detachable bowl. The LCD has a backlight and is easy to read. It also gives alerts for low battery and indicates overload. It's the best company of the stand mixer in your kitchen.
Pros
Great price
Accurate
Easy to use
Sleek
Durable
Easy to clean
Cons
Temperature sensor does not give exact results
Turns off very quickly
3- Escali Primo P115C Precision Kitchen Food Scale for Baking and Cooking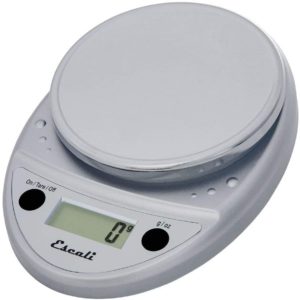 Are you fed up with the same old design of all the digital food scales? Are you looking for a food scale that has a new and attractive design? If yes, then you should buy an Escali Primo Scale. The scale is 8.5"x6"x1.5" and has a storage capacity of 11lb. It is spill-proof and has an easy two-button operation. It is also lightweight and durable. Other than that, this digital food scale comes in 10 different colors, which is surely a very awesome thing. It is also marked as Amazon's choice.
Pros
Accurate
Consistent
Lightweight
Durable
Easy to use and clean
Comes in a single piece
Spill-proof
Convenient tare function
Cons
The reading is a little hard to see if you have a large bowl placed on the food scale
Some glitches
2- GreaterGoods Digital Food Kitchen Scale | Multifunction Scale Measures in Grams and Ounces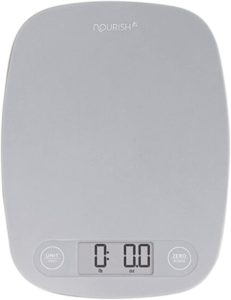 Wanna buy simple, efficient, yet inexpensive? Then you should go for GreaterGoods Digital Food Kitchen Scale. This multifunction Scale is a very good option for your home and is also marked as Amazon's choice. The minimum measurement is 1g and the maximum storage capacity is 11lb. Also, its numbers are easy to read. The minimal design and high accuracy are loved by most customers. It is also the cheapest digital food scale in this whole list: and easily available on amazon.
Pros
Lightweight
Cheap
Sleek and slim
Easy to use
Accurate results
Simple
Easy to clean
Compact
Cons
Battery dies quickly
Doesn't measure small increments in grams
1- Homever Food Scales Digital Weight Grams and oz for Cooking Baking Weight Loss, 33lb/15kg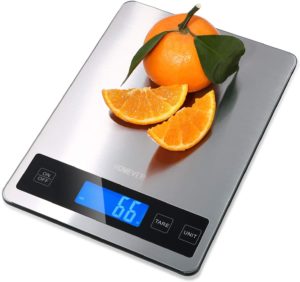 And now for the winner- it's Kitchen Scale, Homever 15kg Food Scale. Why, because this scale provides 5 measuring units, and can measure up to 15 kg! Among all the other digital food scales in the list, this one has the highest capacity. It has four sensors and can detect a minimum weight of 2g. It is waterproof and is easy to clean with a wet cloth. It also has a low battery and overload indicator.
Pros
Accurate and precise
Good looking
Easy to use
Lightweight
Big screen
Good price
Robust
Durable
Well-assembled
Cons
Not useful for small measurements
Conclusion
So this was the list of the top ten best digital food scales of 2023. The list includes various kinds of digital scales from different companies. They all are very helpful in measuring baking items, recipes, and even pets! Although not all of them are perfect, they are quite useful.
Always keep in mind a few things: Even though some of the digital scales listed above are waterproof, never wash them. This may cause the scale not to function properly. If the scale can be cleaned with a wet cloth, then clean it with a wet cloth, you don't need to wash it. Also keep in mind that quality matters more than price, so instead of buying a cheap scale, buy a quality one.