Electric Stand Mixer is a very useful kitchen appliance that is designed especially for helping you mix, whip, and churn powder and other ingredients to make your favorite breads, banana pancakes and many other types of cakes. It helps making your household activities easier with utilization of electricity power rather than human labor. Even though this electric stand mixer is heavy on the budget in comparison to the hand mixer, some prices are worth paying. To help you save time and effort, we have brought the several of the best stand mixers that will be helpful for you to make the proper choice before buying one.
List of the Best Electric Stand Mixers in 2023
Stand Mixer Reviews
9. Hamilton Beach Electric Stand Mixer, 4 Quarts, Dough Hook, Flat Beater Attachments, Splash Guard 7 Speeds with Whisk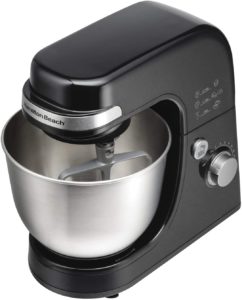 Hamilton Beach Electric Stand Mixer is a budget-friendly mid-range appliance. This stand mixer comes along with an efficiently large enough stainless bowl of 4 Quart that can handle almost any recipe for a cake, bread, and cookies. The three attachments included with this appliance are: a flat beater, whisk, and a dough hook. And all the 3 attachments are dishwasher safe, meaning you can clean it with either integrated dishwashers or tabletop dishwashers depending on which one you have.
The mixer has a 300 Watts motor and comes with 7-settings for speed, this offers the user to have greater control and more precision. Additionally, the tilt-head design of this electric mixer enhances the ease-to-use while changing attachment or adding different ingredients.
Features
Mid-range electric stand mixer
The motor is of300 Watts and has 7 settings for speed control
Comes with 4 Quart Bowl, whisk flat beater, and a dough hook
8. Dash Stand Mixer, Electric Mixer for Everyday Use: 6 Speed Stand Mixer with 3 Quart Stainless Steel Mixing Bowl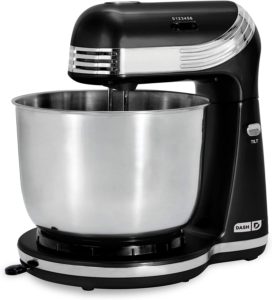 This versatile six-speed electric stand mixer from Dash will efficiently support your cooking skills. Using this blender making dough for cookies or batter for cakes becomes very easy. This unit comes with a 3-qt stainless steel mixing bowl along with a recipe book, 2 mixer beaters and 2 dough hooks.
This is a very lightweight and compact design of the stand mixer that can be placed in any kitchen space making it best for everyday use. The 250-watt motor and 6-speed option of the mixer helps the user to beat, whip, and neat consistently. Additionally, this mixer comes with a manufacturer warranty of 1 year.
Features
It comes with a motor is of 250-watt and 6-speed option
Comes with a stainless steel 3qt bowl, 2 mixer beaters, 2 dough hooks, and recipe book
Lightweight.
7. KUPPET Stand Mixer, 8-Speed Tilt-Head Electric Food Stand Mixer with Dough Hook, Wire Whip & Beater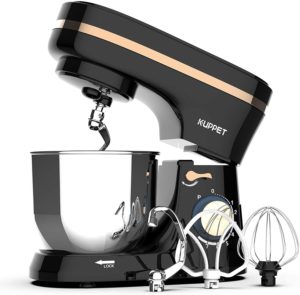 Making your cookie dough and cakes becomes easy and hustle-free with this very effective, powerful, and compact Stand Mixers by Kuppet. Its stainless steel 4.7 qt bowl is sufficient enough to hold various ingredients and meet different kitchen needs. Moreover, whipping, kneading, and mixing different ingredients becomes easy with its 8-speed setting and 380 Watt motor.
The overall operational noise made by this mixer is less than 76 dB that is quite considerable. Additionally, the versatility of the product is enhanced by including different attachments for serving different purposes.
Installing and uninstalling the mixing bowl is relatively easier than many of the stand mixers with its tilt-head design. The mixer has a beautiful esthetic with a shining body with one layer painting, an LED blue light indicator, and a stainless steel belt for decoration.
Features
Noiseless operation (76 dB) electric stand mixer
Come with stainless steel 4.7 Qt bowl
The motor is 380 watt and has 8-speed settings
Also consider one of these 10 Best Manual Meat Grinders & Electric Meat Grinders in 2023
6. KitchenAid KSM155GBAZ 5-Qt. Artisan Design Series with Glass Bowl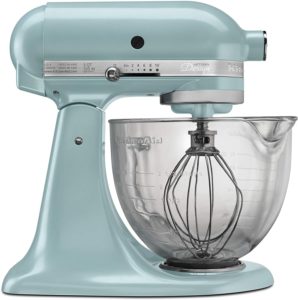 KitchenAid is one of the highly renowned brands producing mainly professional kitchen products and appliances. High-class quality, beautiful design, and advanced technology make their product stand alone in this competitive market.
KitchenAid KSM155GBAZ is yet another successful product. This unit is compatible with more than 15optional attachments. The product also includes some burnished metal attachments like a dough hook, beater, and a wire whip that will help the user to mix different ingredients effortlessly.
This electric stand mixer is value for the investment made. It comes with a glass bowl of 5 Qt that has visible marking like a food scale to ease up your cooking experience. Moreover, a 1-year limited warranty is offered with this product ensuring its trustworthiness.
Features
Comes with burnished metal attachments: beater, dough hook, and wire whip.
It also includes 5Qtglass bowl having measurement marking
Comes with a 1-year warranty
5. VIVOHOME Stand Mixer, 650W 6 Speed and 6 Quart Tilt-Head Kitchen Electric Food Mixer with Beater, Dough Hook and Wire Whip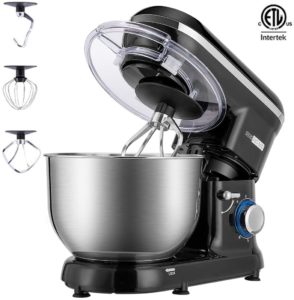 VIVOHOME electric stand mixer comes with a very powerful motor of 650 Watts. This unit also comes with a 6-speed option for control along with a pulse function that suitably permits the user to select the most appropriate speed for the appliance considering the need for a recipe. The stainless steel bowl included with this unit not only has a large capacity of 6 quarts but is also durable.
In addition to this mixer unit, there are various attachments added to the product comprising of a mixing beater, whisk and dough hook making it value for the money paid. Adding ingredients and placing or removing the mixing bowl is easy with the tilt-head design of this electric mixer along with extra overhead clearance best for any small to medium size kitchen.
Features
It has6-speed options for control
Has a powerful motor 650 Watts
The attachment includes beater, whisk and dough, and 6 quarts stainless steel bowl
4. Sencor 6 Speed Stand Mixer with Pouring Shield and 4 Specialized Metal Attach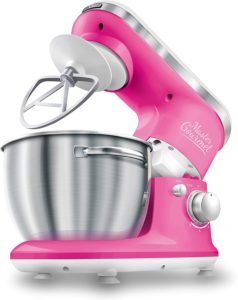 The key elements of this beautifully designed tilt head electric Stand Mixer are the 6 variable speed option, a mixing bowl of size 4.2 Qt, and a powerful motor of 300 Watts. The speed setting helps simplify your food preparation.
The mixing bowl is spacious enough to mix different ingredients delivering superb results. The 4 metal attachments along with this unit support in performing different functions like kneading, pureeing, mixing, and beating.
Unique tilt-head electric stand mixer offers hassle-free and easy access for attaching bowl and beater, additionally, the ingredient can also be added safely. The base of the mixer has anti-slip suction cups that ensure that the appliance does not move and stays stable for enhancing convenience and safety while operating.
Features
Powerful 300 Wt. Motor
It comes with 4 Metal Attachments, Pouring Shield, and 4.2 Qt. Stainless Steel Bowl
Anti-slip suction cups for stability
3. COSTWAY Stand Mixer, 6-Speed 7.5 QT Tilt-head Electric Kitchen Food Mixer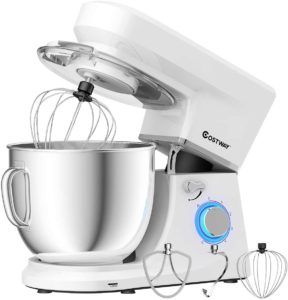 If you want an economical yet an electric stand mixer with the large container then thus model by COSTWAY will serve you the best. This unit comes with a stainless steel bowl of capacity 7.5 Quart. This versatile mixer has a powerful motor of 660 Watt and 6 different speed settings with easy-to-use knobs can be used efficiently for catering most of the kneading and baking needs.
To enhance its versatility the product is featured with different attachments a whisk, dough hook, and beater. This electric mixer has a tilt-head design that allows the user to easily install and remove the bowl making using and cleaning an easy process.
Features
Economic and budget-friendly mixer
Comes with stainless steel bowl of capacity 7.5 Quart
3 attachments whisk, dough hook and beater
660 Watt motor and 6-speed settings
2. Sunbeam MixMaster 350 Watt, Soft-Start Technology Stand Mixer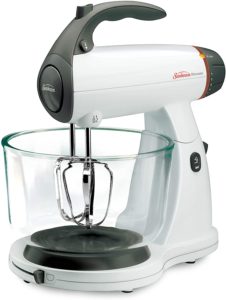 Sunbeam MixMater Electric Stand Mixer is one of its kind, its design is featured with double beaters for mixing ingredients. Additionally, this machine comes along with an easy boost button on its handle. This mixer is very easy to operate, unlike any handheld mixer. This unit has a motor of 350 watts together with 12-speed settings with slow startup integrated with Soft-start technology for avoiding mess in the counter. The bowl tends to rotate along with the rotating attachments, however in the opposite direction for offering a thorough mixing to the ingredients paced.
The unit comes along with a 2- Quart and 4- Quart glass bowls and two attachments: a dough hook and a beater for offering effective functionality. Moreover, this electric mixer comes with a manufacturer warranty of 2 years, so replacing it in case of anything going wrong is easy. This multipurpose mixer is one of the best stand mixers available offering values for the price paid.
Features
Comes with 2 glass bowls of (2- Quart and 4- Quart) and a dough hook and a beater
Warranty of 2 year
12-speed settings with Soft-start technology
1. Stand Mixer, Sincalong 8.5QT 6 Speed Control Electric Stand Mixer with Stainless Steel Mixing Bowl and 3 Attachmented Food Mixer for Mix, Blend, Whip and Knead, Champagne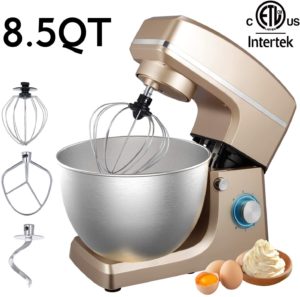 This Sincalong electric stand mixer model is designed uniquely for ensuring minimum kitchen mess. Additionally, the tilt-head design of this mixer will help the user to add ingredients directly to the bowl without any trouble. The most attractive feature of this product is its large capacity of 8.5 qt. This electric mixer comes with 6 controls along with an extra plus option that helps the user to select the suitable speed considering the need for recipe and ingredient mix.
The three attachments included with this product are Y-shape Flat Beater, C-shape Dough Hook, and Whisk that makes this Stand Mixer versatile. Moreover, for product assurance, the manufacturer offers lifetime support and a 2-year warranty with this mixture. So in case of any damage, the mixer is easily replaceable.
Features
It comes with 3 metal attachment Flat Beater, Dough Hook and Whisk
It has a Large capacity bowl of8.5 Qt.
Comes with6 controls option, and an extra plus option for speed
Things to consider before buying an Electric Stand Mixer
Tools: Generally, electric stand mixers come along with three standard tools, a whisk for light mixtures and whipping cream, a dough hook for kneading dough for cookies and bread, a beater for a general mixer. Additionally, the mixers can also include a splash guard that minimizes the mess in the kitchen due to the vigorous mixing of ingredients.
Material Type: Mixers are mostly built with a combination of plastic and metals. However, if you are searching for more durability that Mixers primarily made of metal will be preferable. But, mixers with such design tend to make more noise. While a plastic modeled mixer is comparably less durable but makes very less or no noise while functioning.
Price: One of the most important criteria while choosing a stand mixer is its cost. A mixer with more attachment, capacity, and power will be higher on price. But considering the requirements for the long run, it is always expected to spend some extra amount to obtain a mixer with high versatility and durability.
Ease of cleaning: Cleaning a stand mixer is not less than a nightmare for every cook. Thus, it's better to check if the attachments are safe for the dishwasher.
Speed setting: Presently electric stand mixers come with speed settings from 3 till 12. For domestic use speed setting less than 6 is more than enough. However, if you are a professional baker then it is suggested that the user must opt to choose a mixer with 10 to 12 settings for speed.
Noise level: It is quite inevitable that every stand mixer makes some amount of noise when functioning. So before buying any appliance, it is recommended to check the level of DbA, less is the DbA less will be the noise made by the motor.
Appearance: Lastly the aesthetics, electric stand mixer comes in different colors. You can either opt for the basic white or black or can even choose a colored mixer to brighten up and compliment your kitchen.
Conclusion
An electric stand mixer is one of the best investments to be made if you love baking. A stand mixer will help to save both your time and energy without making less mess around. However, it is quite obvious that choosing to buy a product that suits you the most is quite difficult when the market is flooded with many similar products. This review will help you to find the most suitable mixer that will meet your baking needs and support to streamline your kitchen work. If these mixers do not fit in your kitchen, you can check out other stand mixers from Cuisinart here.