Do you also want to ease up your whipping, stirring, and whisking tasks without going through the laborious and repetitive process of manual mixing? Then, the Cuisinart mixer is the right tools for you!
Cuisinart mixers are very widely used and found products in the market today. They can help to ease the load of heavy and repetitive tasks involved during cooking. They allow you to automatic stirring, whisking, and beating, while some also boast of kneading options. On the whole, they have made the task of preparing food enjoyable and convenient.
Cuisinart offers a wide range of such mixers, each boasting of several different features and functions. The sheer choice available in the market can be overwhelming. Thus, we are here to provide you with a list of the top 10 models of mixers offered by Cuisinart for you.
List of the 10 Best Cuisinart Stand Mixers in 2023
1. Cuisinart SM-55BC 5-1/2-Quart 12-Speed Stand Mixer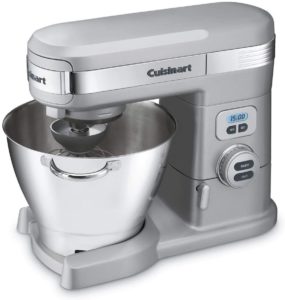 Colour/Material: Brushed Chrome/Stainless Steel
Measurements: 15.5 x 10 x 12.5
Weight: 22.05 pounds
This model offered by Cuisinart comes with a wide range of features. It supports an 800-watt power structure and is housed with an extensive and durable metal casing. The mixer comes with a total of 12-speed modes, including start and gentle-folding functions. It supports a timer and also boasts of 3 power outlets- auto-shutoff and title-back mechanism. The design of the mixer is sturdy, boasting advanced and innovative features. The mixer is also safe to get washed with the integrated dishwasher, making for a convenient clean-up process.
Features
Equipped with 800-watt power
Have 12-speed modes
Equipped with 15-minute countdown timer
Boasts of 3 power outlets
2. Cuisinart SM-70BC 7-Quart 12-Speed Stand Mixer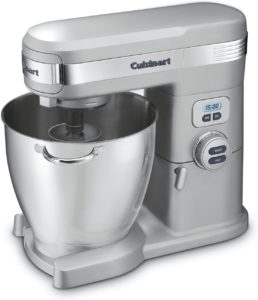 Colour/Material: Brushed Chrome/Stainless Steel
Measurements: 15.5 x 11 x 14.5 inches
Weight: 25.1 pounds
This mixer offered by Cuisinart is equipped with all the advanced and dynamic features of modern technology. It boasts of 1000-watt power support, which is placed in a durable and sturdy die-cast setting. It supports 12-speed modes. The model supports three power outlets that allow you to connect whenever you want easily. It also boasts of a 15-minute countdown timer, which aims to make your work significantly easier and more convenient. The mixer's dynamic features integrated with the technological functions make it one of the best brand kitchen products to go for in the market.
Features
Equipped with 1000-watt power feature
It supports 12 different speed modes
It supports three power outlets
It has a 15-minute countdown timer
You may need one of these cushioned kitchen floor mats to help release the stress on your feet as you're gonna stand for a long period of time doing your mixing chores.
3. Best Value For Money: Cuisinart 5-1/2-Quart 12-Speed Stand Mixer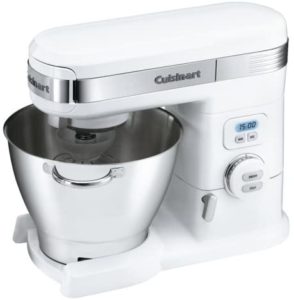 Colour/Material: White/Stainless Steel
Measurements: 15.5 x 10 x 12.5 inches
Weight: 21 pounds
Cuisinart's standing mixing tool is dynamic and versatile, housed in die-cast metal which boasts of durability and sturdiness. It supports an 800-watt power motor which can easily accommodate large capacities. There are 12 mixing-speed modes, giving you many options to choose from. The functionality of the mixer is enhanced with the help of different speed power outlets. Accessories such as a whisk, mixing paddle, and dough hooks are also in-built in the mixer, providing you with a wide range of functions. However, you may need another scale to measure the volume of your ingredients if you need accuracy for your diet.
Features
Equipped with large 5-quart capacity and built-in stainless steel
Pouring spout and splash guard are inbuilt
Dishwasher safe
It comes with a limited 3-year warranty
4. Cheapest Among All: Cuisinart HM-50 Power Advantage 5-Speed Hand Mixer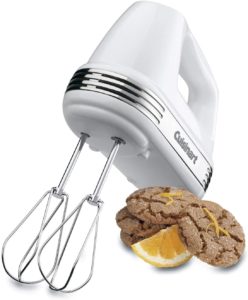 Colour/Material: White/Plastic
Measurements: 4 x 8.25 x 8. 75
Weight: 2.2 pounds
This HM-50 Cuisinart model is equipped with a diverse set of features. It supports a 5-speed hand mixer, which can easily mix the modest heaviest of ingredients. The mixer is designed to provide maximum comfort with an ergonomic design and a stress-free grip. It boasts of an electronic feedback mechanism which becomes exceptionally handy. The extra-long beaters provide a faster and more convenient mechanism for aerating, mixing, and whipping. It also comes with an easy-cleanup mechanism and wipes stains easily. The beaters can also be easily ejected with the help of a convenient location.
Features
Equipped with easy to use speed control
Self-cleaning beaters for easier usage
It comes with a product manual and a recipe book
Swivel chords also make for flexible usage
5. Hand Mixer Electric, Cusinaid 5-Speed Hand Mixer with Turbo Handheld Kitchen Mixer Includes Beaters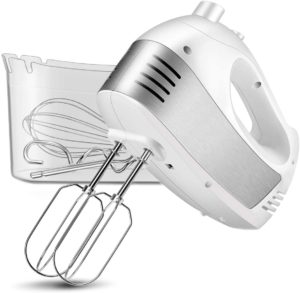 Colour/Material: White/Stainless Steel
Measurements: 8.3 x 5.9 x 3.9 inches
Weight: 2.2 pounds
Equipped with a range of attractive features and an ergonomic design, the Cuisinart hand mixer is one of the best electric mixer appliances. It is equipped with fixed stainless steel beaters which can easily be used across all functions, and the easy eject mechanism allows for further convenient usage. The mixer is comfortable to use and provides a safe user experience. It also boasts of an inbuilt snap-on storage case which adds to the durability of the mixer. The mixer is increasingly lightweight and also comes with easy-to-clean features. Complimentary items like hooks, whisks, storage cases and user manuals are also present in the package.
Features
Equipped with 250 power wattage and 120V
Easy to clean and use
Equipped with wide dual beaters and curved handles
Equipped with One-button eject design
6. Best Under $: Cuisinart CHM-3 Electronic Hand Mixer 3-Speed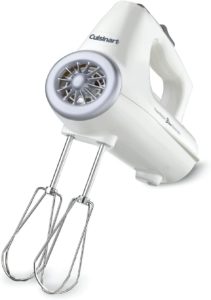 Colour/Material: White
Measurements: 3.25 x 8 x 5.25inches
Weight: 2.5 pounds
Equipped with a power of 220 watts, this hand mixer is a powerhouse performer and comes equipped with several features. It consists of automatic feedback mechanisms and easy-to-use speed control features. The beater comes with an easy to eject mechanism. There are many speed modes that you can choose from, giving you an option of choice. The beaters are equipped with self-cleaning mechanisms which do not require a center post. The inbuilt feedback mechanism provides you with more power whenever needed. Swivel chords and handles are also provided.
Features
Equipped with a power structure of 220 watts
Equipped with automatic feedback mechanism
Boasts of different speed control modes
Designed with ergonomic and durable properties
7. Cuisinart Power Advantage Hand Mixer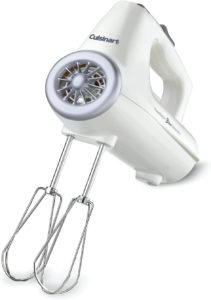 Colour/Material: Yellow/Stainless Steel
Measurements: 9 x 8.39 x 4.25 inches
Weight: 3.12 pounds
This hand mixer offered by Cuisinart comes with a range of functions and features. It has an attractive outer look, which boasts of an ergonomic design and easy-to-use features. The mixer has several diverse features which make for convenient usage. It has different speed modes as well as efficient beater functions. The mixer is dishwasher-safe and easy to clean. The range of uses offered also makes this mixer a one-stop product in the market.
Features
Equipped with 200-watt power source
Easy to use and operate
Equipped with different modes and speeds of usage
Easy to clean and dishwasher-safe
8. Cuisinart HM-8GR Handheld Mixer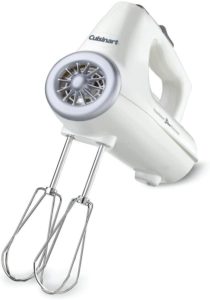 Colour/Material: Gray
Measurements: 5.63 x 8.63 x 13.13 inches
Weight: 4.3 inches
The HM-8GR mixer comes with a range of unmatched features and functions. It supports an extra-outlet function for blending and chopping mechanism. It can support 250 watts of power and also boasts of a SmoothStart function. The LED-Speed display provides a one-step stop for easy use and navigation. The center chord provides balanced usage across right and left-handed usage. The beaters are easy to clean and operate, preventing clogging of ingredients. Complimentary items like whisks and hooks are also provided. The automatic feedback mechanism also makes the usage more simple and efficient.
Features
Boasts of a 250-watt power function
LED-Display for easy usage and navigation
Complementary whisks and hooks add to the overall function
The beaters are easy to clean and operate
9. Best Runner-Up: KitchenAid KHMB732DG Cordless Hand Mixer, 7 Speed, Matte Charcoal Grey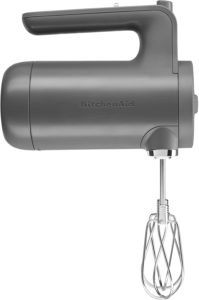 Colour/Material: Matte Charcoal Gray
Measurements: 10.4 x 7.7 x 5.1 inches
Weight: 2.89 pounds
Powered with lithium-ion batteries, this cordless hand mixer delivers stunning performance across all spectrums of usage. It boasts of an optimal run time and a range of diverse functions. It boasts of a soft-start feature and seven-speed modes for different kinds of ingredients. The mixer can hold many ingredients, allowing you to make around 200 cookies in a single go. Lithium-ion batteries are rechargeable, and a convenient charging mechanism is in place. The mixer also comes with beater accessories and cordless cup-food choppers. It is easy to clean and dishwasher safe.
Features
Supports and optimal run-time and diverse performance
Easy to clean and can be used in dishwashers
Provides seven-speed modes for use
Can hold large quantities at one go
Powered by lithium-ion batteries
10. Best Overall: Goodful by Cuisinart HB400GF Variable Speed Mixer and Hand Blender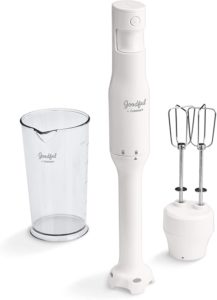 Colour/Material: White/Plastic
Measurements: 7 x 9 x 10 inches
Weight: 3.49 pounds
This mixer allows you to make quick work of all your blending activities while also delivering top-notch performance. The mixer boasts of a pressure-sensitive function and is also equipped with speed control. It is illuminated with an LED display and lighting, making your tasks simpler and more convenient. It supports 400 watts and 15,000 RPM of power, making it a powerhouse product. The mixer has a double beater attachment feature, which makes it a convenient product to use. It also boasts of a simple lock/unlock switch.
Features
Easy to use and install
Boasts of pressure-sensitive mechanisms
Equipped with in-built LED display and speed controls
Boasts of 400-watt power
Attachments like double beaters are also available
Frequently Asked Questions
What Recipes Can You Make With A Mixer? 
Mixers can be easily used to create various food ingredients, depending on their settings and modes. Hand mixers tend to specialize in dough and batter mixes.  The twin beaters allow you to easily set mixtures for light, fluffy and airy batters and thin creams. Similarly, the mixers can also be used for purees, chutneys, and other Indian-based powders. You can easily whip up idli batter in your mixer for quick morning breakfast!
What Are The Different Attachments That Come Along With Mixers?
Different attachments come along with the mixers and can be used for a variety of things. Whisk attachments allow you to easily beat and whip things, allowing you to make meringues and frostings easily. The paddle attachments can be employed for creaming and mixing different products, including meat. On the other hand, dough hook attachments can be used to make high-fat doughs like brioche and pizza doughs. It also allows you to adjust your dough as per your requirements.
What Should You Consider Before Buying A Mixer?
There is a range of things you need to consider before buying a mixer. It would help if you understood the different types of mixers available in the market, such as traditional, stand and hand mixers. Other things such as holding capacities and jars should also be taken into account. If you have many family members, you should go for a heavy-duty mixture with at least three jars. Power and speed are other factors that should be taken into account before going for a mixer. You need to ensure that the mixer can hold an optimal amount of power for use.
Verdict
We hope we were able to provide you more information about the mixers that Cuisinart has to offer. You can set up different speed modes for different ingredients such as cream, cookie dough, and juices, to name a few. You can also whip up easy breakfast batters with the help of the same. A vast variety of such mixers are available in the market, and we hope that the list provided above can help you choose one that aligns with your needs!