I'm now three recipes in since buying tahini a couple months ago (yes, it does last that long in the fridge). The first two recipes were a salad recipe (Basil Quinoa and Chickpea Salad with Tahini Dressing) and vegetable recipe (Roasted Tahini Ginger Carrots), so I decided it was time to switch it up and make a dessert recipe – No-Bake Maple Tahini Cookies.
I like this recipe for a couple reasons, it's:
Simple – This recipe has no baking or cooking required. It's perfect for summer and will keep you from heating up your house or apartment during the hot weather.
Healthy – there are only 7 ingredients, and all the flavor comes from healthy fats and natural sugars.
Economical – it costs only $0.35 per cookie!
This recipe is really similar to my No Bake Peanut Butter Balls recipe as well, except the tahini and maple syrup give it an interesting twist.
Resources:
The best thing about a no-bake recipe is it's easy to make and easy to clean up. The only tool you need for this recipe is a solid mixing bowl, and below is an affordable set of 3 if you are in the market: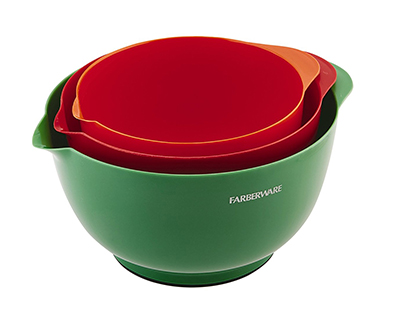 Alright, let's get to the recipe.
There are seven ingredients needed to make this simple and delicious recipe:
Old fashioned oats
Tahini
Cream peanut butter
Maple syrup
Vanilla
Dark chocolate chips
Almond slices
One note on the ingredients – I was actually out of dark chocolate chips, so I was forced to get creative. I mashed up (yes, mashed) some Ghiradelli squares instead. It worked out great!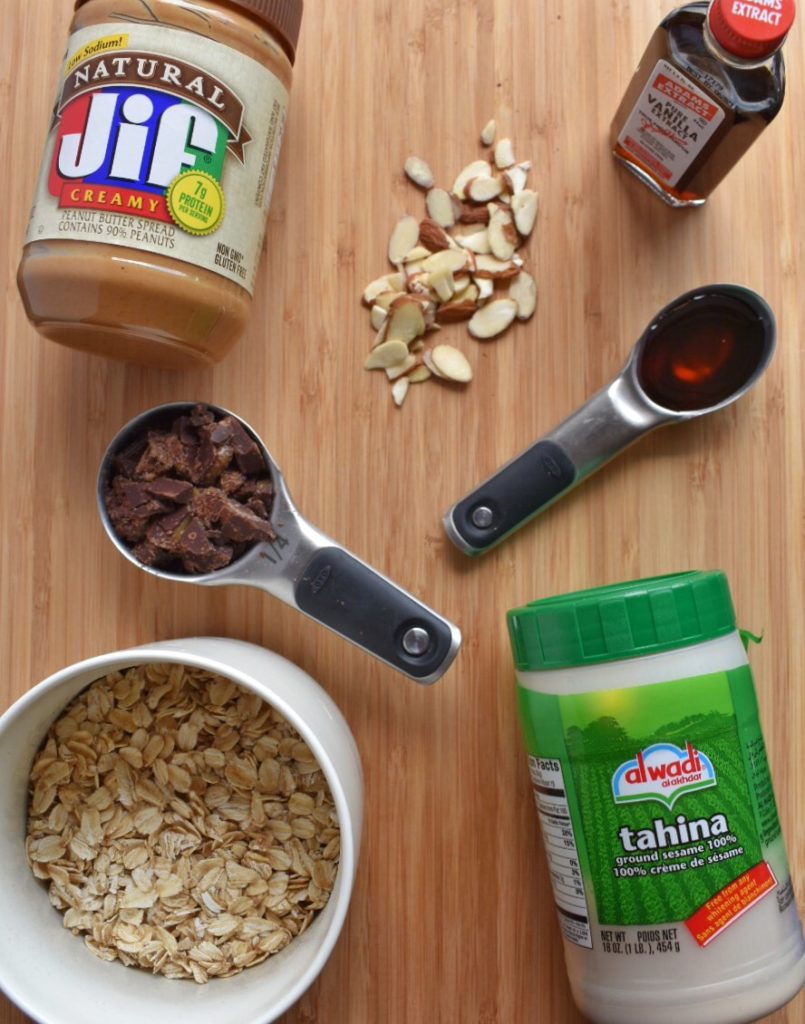 Melting the peanut butter is the only step you have to take before putting all the ingredients into a large mixing bowl. To melt peanut butter, simply put it in a small bowl and into the microwave for about 15 seconds. Then, dump all the ingredients into the bowl, including the melted peanut butter.
Mix all the ingredients in the bowl thoroughly with a spoon (or your hands). You want all the cookies to have an even amount of each ingredient.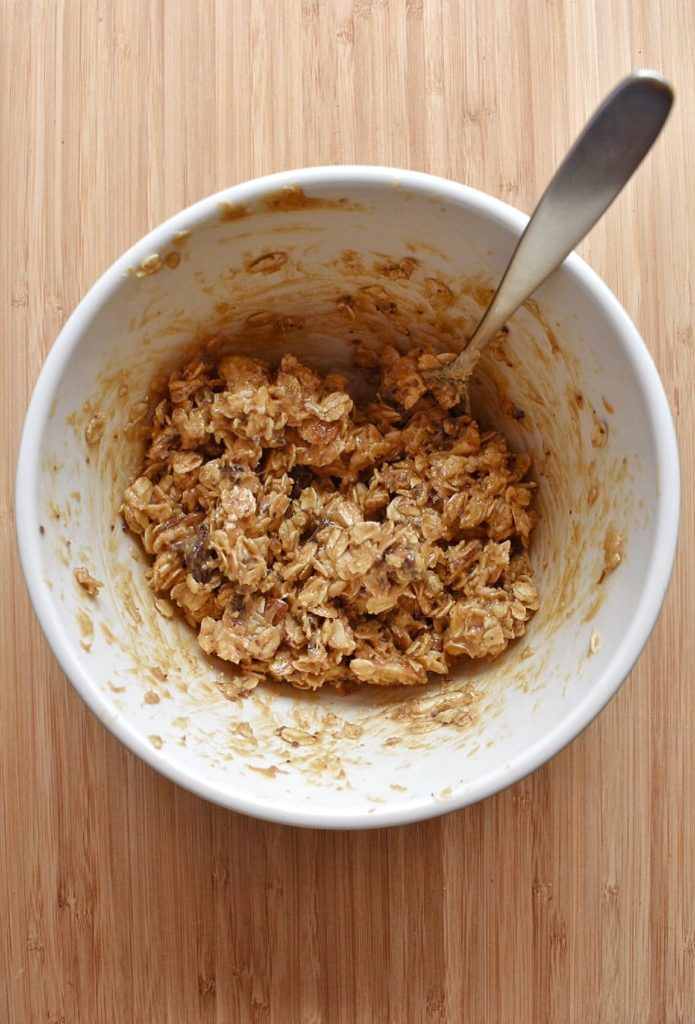 Once the mixture is combined, place it in the refrigerator for about 5-10 minutes to allow it to firm up. The mixture will be easier to work with and form 12 even cookies (balls).
Another quick tip: putting a little bit of water on your hands will help to prevent the mixture from sticking when forming the cookies!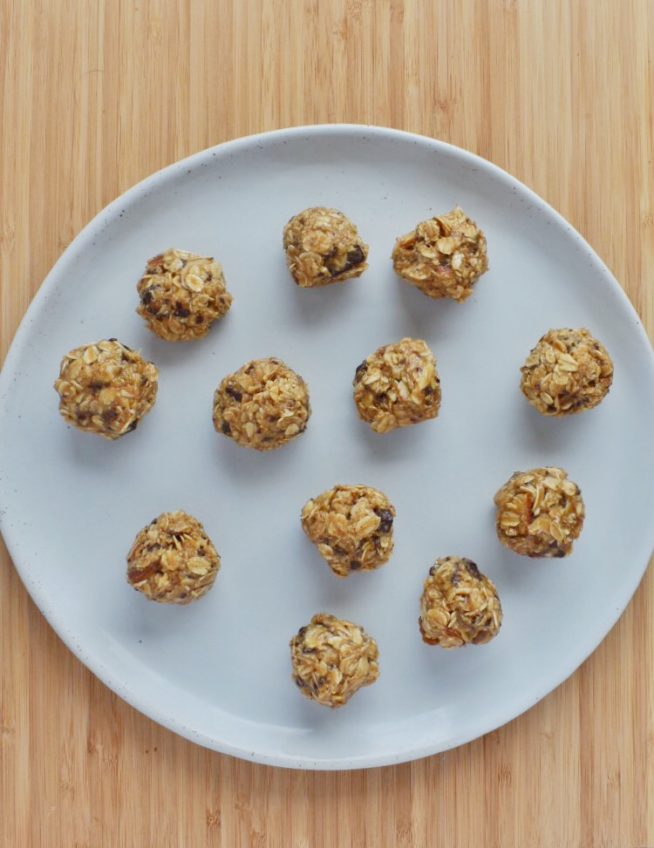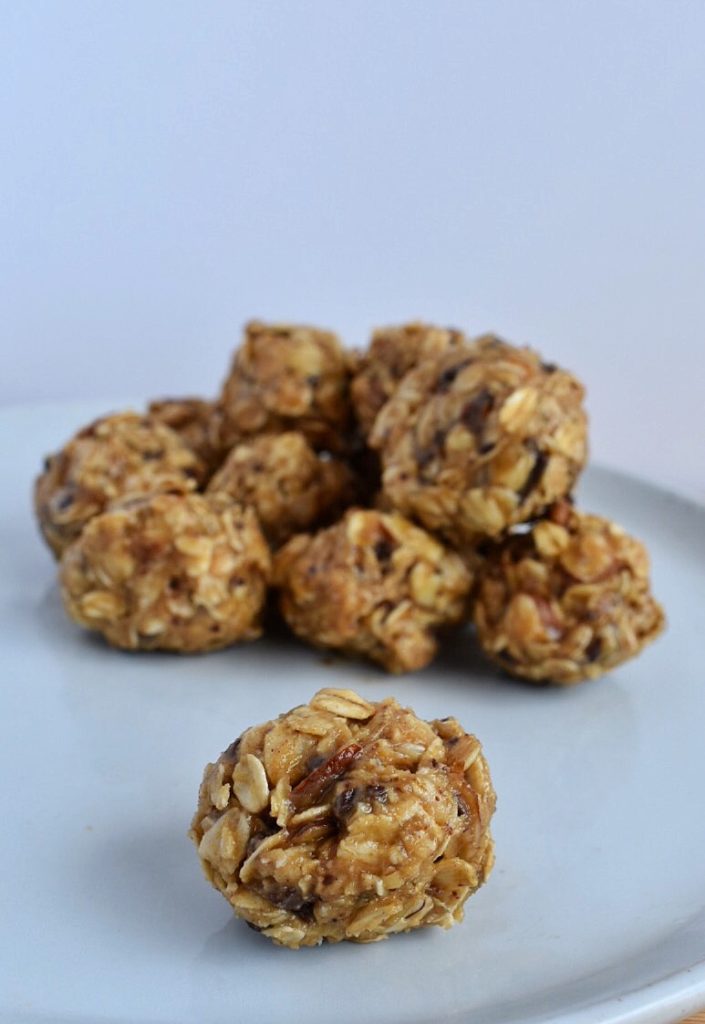 Nutrition:
As I mentioned, this recipe will yield 12 small cookies. Here is a look at the nutrition per one cookie:
Calories: 123
Total Fat: 7.3 g
Total Carbs: 13.2 g
Protein: 2.8 g
Total Sugar: 6.0 g
Take in the nutrition info with perspective as this is a dessert! It's relatively high in fat and sugar, but the fat is coming mainly from healthy nuts and seeds, and the sugar from a "natural" source (maple syrup).
There are a lot of ingredients in this dessert that we can spotlight too:
Tahini – tahini is made up of sesame seeds. It is high in healthy fats, vitamins, and minerals that help fuel your body.

Maple Syrup

 – Maple syrup is sugar, so it must be used in moderation. However, pure maple syrup contains a good amount of antioxidants, vitamins, and minerals, and in general is a much healthier sweetener for you to enjoy.
Peanut Butter – Peanut butter is an all-time favorite snack food of mine. It contains healthy and filling fats as well as a decent amount of protein.
Economics:
Let's get economical with these No Bake Maple Tahini Cookies:
1 cup old-fashioned oats – $0.39
1/4 cup tahini – $0.87
3 tbsp cup melted creamy peanut butter – $0.23
3 tbsp maple syrup – $1.31
1 tsp vanilla – $0.50
1/4 cup dark chocolate chips – $0.42
2 tbsp almond slices (or other nut/seed) – $0.50
The grand total is $4.22.
That breaks down to $0.35 per cookie.
No Bake Maple Tahini Cookies
These No Bake Maple Tahini Cookies are the perfect summer dessert. They're full of healthy fats and natural sugars, and have only 7 ingredients!
Ingredients
1 cup old fashioned oats
1/4 cup tahini
3 tbsp cup melted creamy peanut butter*
3 tbsp maple syrup
1 tsp vanilla
1/4 cup dark chocolate chips
2 tbsp almond slices (or other nut/seed)
Instructions
Melt the creamy peanut butter by scooping it into a bowl, and then placing it in the microwave for about 15 seconds.
In a large bowl, combine the oats, tahini, creamy peanut butter, maple syrup, vanilla, dark chocolate chips and almond slices. Stir everything together thoroughly with a spoon and then place the bowl in the refrigerator for 5-10 minutes to let the mixture firm up.
Using your hands, roll out about 12 cookies (balls) onto a cookie sheet or platter. Place the cookies into the fridge for at least another 15 minutes to solidify, and enjoy!
https://www.economicalchef.com/no-bake-maple-tahini-cookies/
I hope you enjoy these No Bake Maple Tahini Cookies!