Kitchen electronics are an essential part of the household. Some gadgets are crucial to have if we want to cook food efficiently. Cuisinart Food processors are such types of devices. They are necessary to have in the kitchen. These food processors are used to make soups, juices, purees, or chop vegetables, and more. They fulfill many purposes. You can make tomato puree for pasta, mix ice-cream and milk to make a milkshake, or make perfectly smooth apple juice.
The Cuisinart food processors are like a combination of a grinder, mixer, juicer, and dicer. So, it is the most efficient device to have. You don't need to buy multiple gadgets if you buy a food processor. It is one device that fulfills all purposes. Nowadays, many food processors are available in the market. You may be wondering which is the best food processor to buy according to your needs and budget. To help you figure it out, here is a list of the top 10 Cuisinart food processors for your consideration.
List of the Top 10 Cuisinart Food Processors in 2023
1. Cuisinart DLC-10SY Classic 7 Cup Processor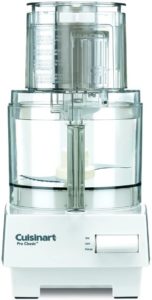 Material- Plastic
Color- White
Warranty- Lifetime
The Cuisinart Classic 7 cup processor has many features. It is a food processor that can process all kinds of fruits and vegetables. The extra-large feed tube allows us to process both small and large items. It is a good quality food processor, with the latest technology and style. It has a flat cover as a bonus. You can get creative with your food and make any dish you want. It has three kinds of replaceable blades that dice, grind, and also knead your ingredients.
Key Features
It includes a slicing disc in the additional components.
It has an extra-large feed tube.
It is durable and compact so that you can carry it easily.
2. Best Value For Money- Cuisinart DFP-14BCNY Processor Brushed Stainless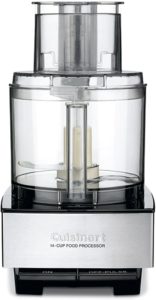 Material- Stainless Steel
Color- Silver
Warranty- 3 Years
This food processor has three stainless steel blades for slicing, chopping, and mixing. It also has a spatula for mixing, adding, or removing food from the processor. It has a disc stem that you can attach when required. It also has push buttons for "on" and "off" functions. You can choose your desired settings with the push of a few buttons. All the parts of the processor are dishwasher-safe. You can also read the user manual to know all the features and how to use the processor.
Key Features
It has a 14-cup work bowl, which is very large.
It has 720 Watts of electric power.
It also has a recipe book and a booklet containing processor instructions.
Related: 8 Best Cuisinart Waffle Makers for Your Kitchen in 2023
3. Cheapest Amongst All- Cuisinart DLC-2ABC Processor Brushed Chrome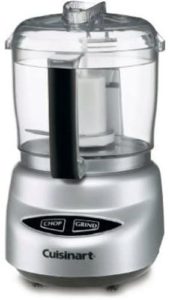 Material- Plastic
Color- Brushed Chrome And Nickel
Warranty- 18 Months
This is a mini food processor that was designed in Italy. It has a durable yet flexible design. It has an attractive chrome finish to it. If you are someone who cooks occasionally or likes to have a sleek kitchen with simple devices, this is perfect for you. You can also use it if you live with roommates and need kitchen appliances for emergencies.
The blades are made of stainless-steel material. It also has a handle for efficiency. You can also use this for recipes in small quantities. You can chop vegetables or grate cheese. You can also make smooth tomato puree for soup.
Key Features
It is durable and affordable. Hence it has a simple yet dynamic design.
It has a stainless-steel blade for chopping and grinding.
It has a spatula that makes the processor more convenient for use.
4. Cuisinart DFP-14BKSY Custom 14 Cup Processor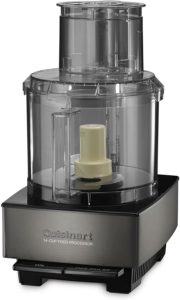 Material- Plastic
Color- Black
Model- DFP-14BKSY
This is a classic Cuisinart food processor. It is used for many purposes. It has three different blades for chopping, slicing, and dicing fruits and vegetables. The Lexan work bowl is extensive, with a 14-cup capacity. It can hold all kinds of ingredients.
The blades work efficiently, giving you quick results. You can cook for many people on weekends or important occasions using this processor. It also has easy "On" and "Off" buttons. You can follow your creativity and cook all your favorite recipes using it.
Key Features
It has a stainless-steel disc for slicing, grinding, and chopping.
It is a 14-cup large food processor with 720 Watts of power.
It has push buttons for On and Off settings.
5. Cuisinart CFP-9GMPCY Processor 9 Cup Gunmetal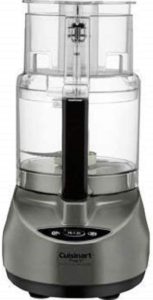 Material- Stainless Steel
Color- Gunmetal
Warranty- 3 Years
This is a 9-cup food processor by Cuisinart. It is dishwasher safe. The Lexan bowl is made of shatterproof material. It has a large feed tube that can hold vegetables and other ingredients of large sizes. You can knead dough in this as well. It has a unique technology for it where the blades' speed is automatically adjusted while kneading dough. This makes the processor one of a kind. It has an instructions book and a removable stem. It contains a spatula as well.
Key Features
It automatically adjusts speed for making dough.
It has a 9-cup efficient work bowl.
It has a Supreme feed tube that has a large size.
6. Best Runner Up- Cuisinart DLC-4CHB Mini Prep 4 Cup Processor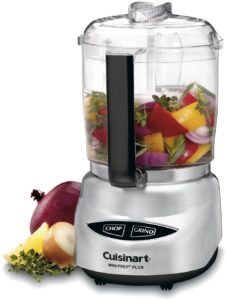 Material- Stainless Steel
Color- Brushed Stainless
Warranty- 18 Months
The Cuisinart 4-cup mini processor is great for cooking small quantities of food. It can chop, slice and dice all kinds of food. You can do all this at the touch of a few buttons as it has smooth button controls. It is handy and easy to use. If you like to use durable and lightweight appliances, this will be perfect for your kitchen. It is easy to clean as it has dishwasher-safe parts. This processor has 18 months of warranty. It has a stainless-steel blade which is both sharp and blunt.
Key Features
This is another mini processor.
It has a special SmartPower blade for robust processing options.
It has an attractive brushed stainless silver color.
It has easy touchpad controls.
7. Cuisinart CFP-24DCNPC Collection 12 Cup Processor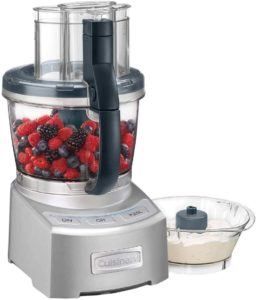 Material- Stainless Steel
Color- Silver
Warranty- 3 Years
This has both 12-cup and 4-cup work bowls. It can hold many ingredients, and thus it can allow you to cook for a crowd. It has an electronic touchpad for all functions. They are easy to clean. This processor has a high strength of 1000 Watts. You can blend or slice your ingredients very quickly. It has removable and dishwasher-safe parts.
It also has a blue pulse light to indicate on and off settings. The processor also has a spatula and an instruction book included in it. The adjustable and reversible disks give you the benefit of having multiple processors in one.
Key Features
This is an Elite Collection food processor.
It has a strong motor with 1000 Watts electrical capacity.
It has a SealTight system where the blades remain intact in all conditions.
8. Best Under 100 $- Cuisinart FP-11GMFR Elemental Processor Refurbished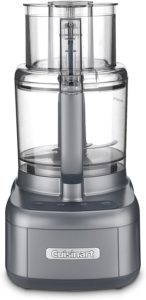 Material- Stainless Steel
Color- Gunmetal
Warranty- 90 Days
This is another great Cuisinart food processor. It has an 11-cup work bowl. You can easily make large amounts of food. It has a wide mouth so that you can juice whole fruits or cut whole vegetables. It has a touchpad made of rubber so that you can quickly change the settings and clean it easily. The processor has removable parts. They are also dishwasher safe. It has a reversible shredding blade. This blade is sharp and blunt. It has a mixing, slicing, and also a dough blade. These blades are stainless-steel as well.
Key Features
This has a seal-tight system that seals the bowl and the blades tightly.
The wide mouth tube allows you to put whole fruits and vegetables.
It has a slicing disc that you can adjust as well.
9. Best Overall- Cuisinart FP-11SV Elemental Processor Silver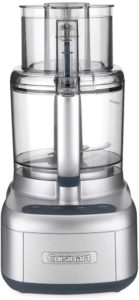 Material- Plastic
Color- Silver
Model- FP-11SVP1
This is a popular and efficient Cuisinart Elemental food processor. It is robust and versatile, with 550-Watts of power. You can cook meals in large quantities. You can easily shred or slice whole foods. It is perfect for making juices and purees. You can also knead dough without any manual efforts. It has three blades for specific purposes. You can chop fine nuts or shred cheese easily. You can also wash the parts of the processor easily as they are dishwasher-safe.
Key Features
This has an 11-cup bowl capacity.
It also has a Supreme mouth tube for containing whole foods.
It has a 550-Watt motor for great results.
10. Cuisinart SmartPower Processor Blender Attachment
Material- Plastic
Color- Transparent
Model- SmartPower
This is a blender that can be attached to a food processor. It is compatible with all kinds of processors. Hence, this blender attachment is a very useful item. You don't have to buy an entire processor if you misplace or lose your blender. You can buy this instead. It is lightweight so that it can be attached easily.
It has a large size so you can cook for a large number of people- whether it is for a weekend party, a birthday or any momentous occasion. You can chop, dice, or grind all kinds of food. You can remove this blender and clean it with ease. It is also dishwasher-safe.
Key Features
This is a blender attachment.
It can be attached to all kinds of processors, including BFP, SPB, etc.
It is very lightweight, and it is durable.
FAQs
What Are The Uses Of Food Processors?
Food processors are used to chop and grind food. It is mainly used to blend food and make juice. It is also used to chop and dice vegetables in certain shapes and sizes. Thus, food processors have many purposes.
What Are The Things To Consider Before Buying A Food Processor?
Before buying a food processor, you should check the reviews for it. You should also check things like the price, manufacturing date, design of the processor, types of blades, etc.
Which Are The Best Food Processors?
There are many food processors in the market. Cuisinart is a brand that provides many types of processors, and you can choose the one that best suits your taste. The best food processors by Cuisinart are the 7 Cup Processor, the Mini-Prep 4 Cup Processor, the Elemental Processor, etc.
Verdict
Cuisinart is a popular American brand that is manufactured in China. They make electric home appliances. Cuisinart food processors are one of the best appliances. They are sold all over the world. They have many features, and they are very user-friendly. You can control precisely how you want to chop or grind your ingredients. They have a big size so you can cut all types of vegetables and fruits- both large and small.
They are good in quality and have many additional features. It has a wide price range, so it caters to all people. You can chop, shred, slice, puree, and also knead using these food processors. Hence, these are multipurpose devices. You can especially use them when you don't feel like doing too much work and let the processor do all the work for you. There are different settings you can control. So, you can get exceptional results by simply pushing a few buttons.