Are you tired of paying for overpriced cocktails at a bar? Well, now you can create restaurant quality cocktails at your very own home. Instead of spending dollars upon dollars on outings, you can invite your friends and family to your home, and impress them with your cocktail making skill.
And to help you do that, here are ten of the best stainless steel cocktail shaker sets of 2023. With one of these, you'll be paying half the price of what you used to pay for a shot of drink. Well, if you are the owner of the restaurant or a pub, this set is best for your business as well.
List of the Best Stainless Steel Cocktail Shaker Sets in 2023
---
You may also check the best set of the Glass Cocktail Shakers, Gold Cocktail Shaker Sets & Top 10 Best Copper Cocktail Shaker Sets in 2023
---
10. Cresimo Cocktail Shaker Set – Made of Stainless Steel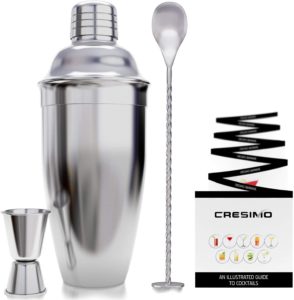 Cresimo stainless steel cocktail shaker set is made out of premium 304 stainless steel with mirror finish. It is a built-to-last product that has strainer with a perfect seal built in. It is BPA-free, dishwasher safe, balanced and user-friendly. It will not leak your drink while shaking or deteriorate its quality overtime. Not only that, but it has a beautiful and exquisite look as well. It can contain up to 24 ounces of liquor, which is an equivalent of 2 or 3 shots of drinks.
Cresimo offers additional items to give you a full bundle set. It includes a jigger as a measurement tool that will allow you to pour that exact amount of liquor you would want. The jigger has two sides with one has a capacity of 1oz, and the other has 0.5oz. Added to this, there's a twisted bar spoon, ideal for mixing or layering your cocktails. And the final bonus, if you are new to making cocktails, there will be a recipe guide provided that features a variety of delicious drinks. This will certainly give you that helping hand you need if you're a beginner.
9. Highball & Chaser Bartender kit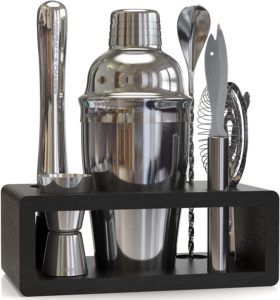 The stainless steel cocktail shaker set from Highball & Chaser has a rustproof 304 stainless steel construction. It features weighted bottoms to prevent tipping. It can be washed with a normal dishwasher, making cleaning less of a problem. And not to mention, it can hold up to 18 ounces of liquor.
If you are looking to have a bar at home, this product will provide you with everything you need with its full set of bartender tools. It offers a muddler, a bar knife, a cocktail spoon, a strainer, and a cobbler shaker. There is also a jigger that has 7 precise measurements to help you pour the correct amount. Moreover, you will be getting a stylish-looking bar mat that has one of the highest quality out there. It also offers a free E-book that contains over 30 cocktail recipes. And to top it off, you can store all of these cocktail making tools in a lovely bamboo stand. This will not only promote tidiness but will also display your tools handsomely.
8. Barillio Bartender Kit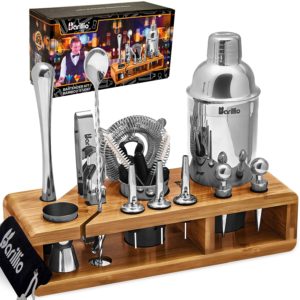 Barillio stainless steel cocktail shaker set features a 304 stainless steel shaker. Its top-grade inner does not leach harmful chemicals into your beverages. It is anti-rust, dishwasher-friendly, and is capable of containing 24 ounces of liquor.
Moving on to other items for mixing cocktails, it also provides you with a jigger, a mojito muddler, a twisted spoon for mixing, a Hawthorne strainer and ice tongs. As for the bottle equipment, there are 2 brushers, 3 liquor pourers, 6 pourer caps, 2 stoppers, a corkscrew and a utility cap. Not only that, but there's a pocket booklet that has tempting cocktails recipes that you can try making. All of these tools will give you the complete kit you need for a home bar. Furthermore, to help organize the equipment for you, there's a stunning-looking bamboo stand that will help prevent tools loss and steel scratches. And if you ever need to take the tools with you to a friends or family's house, you can easily do that with the bonus item velvet bag.
7. FineDine Stainless Steel Cocktail Shaker Set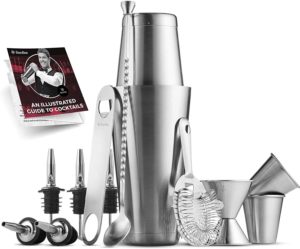 FineDine offers a cocktail shaker set that is constructed from top-quality stainless steel with a brushed finish. It is smudge and fingerprint resistant, durable enough to last for many years. It comes with a pair of cocktail shakers that are leak-proof, dishwasher safe and anti-scratch. One of them can hold up to 28 ounces of liquor while the other has a capacity of 28 ounces. And not to mention, it has modern and elegant looks as well.
There are many other items provided as well, to make it a full set for a home bar. It includes a double jigger, with one side containing 1oz of liquor capacity and the other is 2oz. There are 6 bottle pours, 2x3oz shot glasses, a steel twisted spoon, a muddler, a flat 2-sided bottle opener, a Hawthorne strainer, and a strainer cover. For cocktails making beginners out there, you will be given a guide book that holds basic recipes to get you started.
6. Appolab Cocktail Shaker Set – Stainless Steel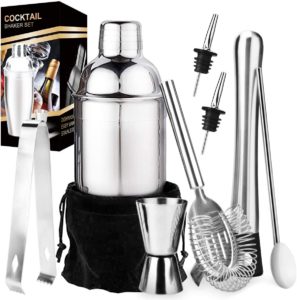 Appolab stainless steel cocktail shaker set is manufactured using durable premium 304 stainless steel. It has a mirror finish, with rust, scratches and dents resistance. They can easily be cleaned in a dishwasher, so you won't be the last one left washing the tools. Its martini shaker can hold 18 ounces of liquor.
Moving on to the rest of the kit, there's a double-sided 0.5oz and 1oz jigger. Added to this, there's a muddler for crushing your fruits, brown sugar or ice chips efficiently. Moreover, 2 pour spouts for you to pour the liquor more accurately with less spillage and mess. In addition, ice tongs, a strainer, a self-contained filter, and a spoon for mixing your drinks. All of these bartender tools are designed with delicate looks that will certainly give your home-bar that sophisticated appeal. And if you are looking for a gift for your cocktail enthusiast friend, this kit will definitely make his day.
---
You may also need one of these Best Cocktail Glass Sets, Wine Glasses & Glass Holders in 2023
---
5. Barillio Stainless Steel Cocktail Shaker Set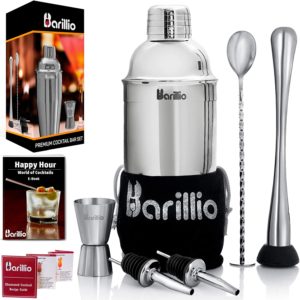 Here is another stainless steel cocktail shaker set from Barillio. All items from this bartender kit are made out of robust 304 stainless steel, with stunning silver finish. It is FDA approved and dishwasher-friendly. The 24oz 3 piece shaker from this kit is built with a strainer. It will neither leak during shaking nor rust after a long period of usage.
As for other tools that come along with the kit, it has a twisted user-friendly mixing spoon, a nylon grooved head muddler, a double 0.5oz and 1.0oz jigger and long breath tube liquor pourers. There is a "Happy Hour" E-book and a pocket-sized booklet provided, that contain many tips, techniques and recipes for beginners out there who want to try making cocktails at home. And just like the previous Barillio set, you will also be offered with a velvet bag as a bonus item, allowing you to bring along the whole kit when you're going to a party.
4. Top Shelf Stainless Steel Cocktail Shaker Set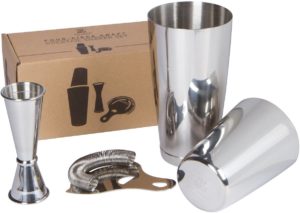 Top Shelf Bar Supply offers you a 2-piece 304 stainless steel made shaker. It has a polished steel finish that will not go rusty. Its watertight seal will guarantee no leaks whatsoever. Its high-quality weld makes it a built to last product that will not break. What's more, it is well-balanced and dishwasher safe.
Added to the shaker, you will also be provided with a Hawthorne strainer. It has an ergonomic design with a mirror finish. Its high-density spring is compact enough to offers flawless strains. Moreover, there's a Japanese jigger with 8 measurement markings that you need to get that accurate amount poured. The marks include 1/4oz, 1/2oz, 3/4oz, 1oz, 1 1/4oz, 1 1/2oz, and 2oz. They are stamped clearly and are easily readable. Added to this, it is polished with mirror finish as well. And if you haven't gotten the hang of making cocktails, there are easy-to-follow instructions provided as well, along with recipes that you can try out for yourself.
3. Cresimo Stainless Steel Cocktail Shaker Set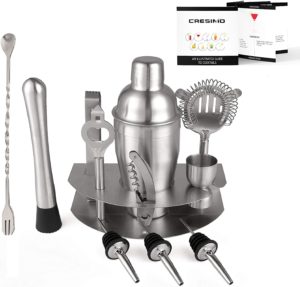 If you like the previous Cresimo product, then here comes another one. This bar set comes with all the tools you need to have a bar-like experience at home. Each tool is constructed from stainless steel that will not rust overtime. It features an 18oz shaker that can make over 4 shots every shake. It has a high-grade inner part that will not cause any harmful chemical leech. Additionally, it is dishwasher safe, making cleaning a breeze.
Moving on to other items featured in this kit, there is a muddler, a bar spoon, a Hawthorne strainer, ice tongs, a corkscrew, a wine-opener, 3 pour spouts, and a double-sided jigger that comes with a capacity of 1oz on one side and 0.5oz on the other. There's an illustrated guide book as well, that also contains tons of recipes. Capping it off, you will also be given a storage rack that you can put your entire bar tools in, so you can loss any of the equipment while also keeping things in an organized field.
2. X-cosrack Stainless Steel Cocktail Shaker Set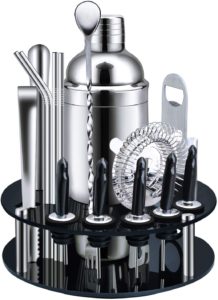 X-cosrack bar set will take your cocktail making game to another level. All items of the set are made from 304 stainless steel and are all dishwasher-friendly. There is an anti-rust and leak-resistant shaker in the set that is capable of holding 24 ounces of liquor, allowing you to make more shots in one go. Its high-grade inner will not affect the taste of your drinks with any leeched bad chemicals. In contrast, the chilling effect of the metal actually improves the textures and flavors of your beverage.
The set also comes with a pair of double-sided jiggers. One being 15/30ml and another is 20/40ml. There are 5 pourers as well, along with a corkscrew, a mixing spoon, ice tongs, a muddler, straws, a strainer, and a wine-opener. And to make it convenient for you to store all the items, X-cosrack offers a 360o rotating stand made out of acrylic material. It has a stylish look with specific slots for each item. It is easily accessible, organized and prevents your tools from going missing. All of these will be packed into a gift box, a perfect present for any occasions.
1. Koviti Stainless Steel Cocktail Shaker Set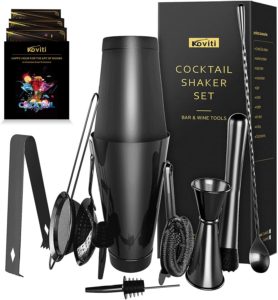 Koviti Bartender Kit provides you with a full set of bar tools. They are constructed from 304 stainless steel, with an attractive mirror finish. The package includes high-quality weighted shaker tins that have watertight seals, incapable of leaking as you shake away your beverage. One tin has 18 ounces capacity, while the other one has 28 ounces. They are balanced and ergonomic, allowing you to make more shots in one go.
The kit further consists of a mixing spoon, ice tongs, 2 liquor pourers, a Hawthorne, a julep and a mesh conical strainer, a cocktail muddler, and of course the double-sided jigger. The jigger has precise measurements for 2, 1.5, 1 and 0.5oz. Added to the kit, you will also be getting a recipe booklet that you can try making at home. The set comes with its very own gorgeous gift box, an ideal present to offer to your loved ones on special occasions.
Buying Guides
Tools Provided
Every cocktail shaker set comes indifferently. Some may not provide all the things you need. That is why it's wise to check what tools the kit provides. The three important items you normally need and should definitely look for is a shaker, a strainer and a jigger. As they are the main tools in order to get that tasty shot of cocktail.
Quality
Another essential thing to look at is its quality. You definitely wouldn't want your shaker to be all rusty with bits of metal mixing in with your drinks, would you? The best shaker set is the one that has anti-rust, leak-resistant, dishwasher safe and long-lasting quality.
Storage Rack
This one may not be as important compared to other aspects. However, it's still a good idea to get the Stainless Steel Cocktail Shaker Set that has a storage rack or a stand. Putting all the tools in your cabinet can be messy and sometimes it may even go missing. As such, you would want to get the set that will provide you with the rack for storing your items.
Conclusion
Instead of going to the bar, let the bar come to you. So get yourself well-equipped with these necessary tools for an amazing home-bar experience. So with all these top 10 best stainless steel cocktail shaker sets, you should be able to make an informed decision.