No matter if you are a restaurant owner, a chef, a housewife, or you are preparing your own meal, you can change the game by getting a new set of ceramic plates to make your dining table more inviting. Commonly made from high quality ceramic material, the ceramic plate does not only serve your meals but also add pleasant feeling to your dining table. Therefore, if you are looking for a set, in this article, we will introduce you to the top 10 ceramic plates that are currently popular in the market.
List of the Best Ceramic Plates in 2023
You may also want a set of these Top 10 Best Ceramic Bowls for Ramen, Soup, Salad and Mores in 2023 to fill your kitchen.
10. AmazonBasics 6-Piece Ceramic Plate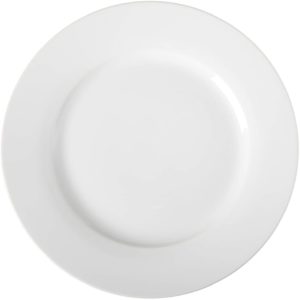 AmazonBasics presents to you a plain white set of round shape ceramic plates that come in 6 pieces and each one has a size of 10.5 inches. This set is very simple and elegant to accommodate both domestic kitchen and restaurant. Talking about material, it is made of AB-grade porcelain which means it is very durable for supporting long-term use and you can hardly find any flaw or imperfection in this set. On top of that, the material is proven BPA free which is safe for use.
Beside normal use, this plate can be placed in the freezer to store your leftover food and then reheat in the microwave or even oven. We guarantee your plate will come out undamaged as the construction is very durable to withstand different temperature levels from a minimum 5 degrees up to 572 degrees Fahrenheit. After use, you can simply toss them in the dishwasher and let the machine do its job of cleaning. For convenience of storage, you can simply stack the plate on top of each other to save the space in your cupboard.
9. Sweese Fluted Ceramic Plate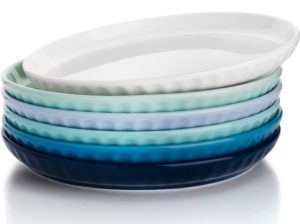 Here we have a set of 6 elegant fluted oval ceramic plates with assorted colors from Sweese. It has a size of 7.4 x 7.4 x 0.8 inches. The design of this set is specifically tailored for desserts or dishes with sauces as it has high edge design to prevent the sauce or its liquid texture from spilling. In addition, the fluted design also makes the plate more convenient to hold than a flat plate. Its style design with a combination of the diversified colors really add a touch of classiness to your dining table.
The set does not consume much storage space as it can be stacked up and easily stored in your cupboard. For cleaning purposes, it is suitable for manual washing and you can also use it in the dishwasher. This top-grade porcelain plate is very durable and highly resistant to chipping so you can use it in the freezer, microwave and oven. In addition, this stoneware is proven toxic and lead-free, so you do not have to worry about health issues when using this set. If any defect is found upon unpacking, Sweese will offer you a refund or replacement to ensure customer satisfaction.
8. Sonemone 4-Piece Ceramic Plate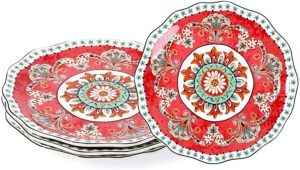 Here comes a farmhouse floral pattern set of 4 plates from Sonemone. Each ceramic plate has a round shape and a size of 11 inches. Its floral design makes it ideal for the main course, pasta or salad and it also gives off an antique vibe to the dining table. In the making of this set, the porcelain was fired at a maximum temperature in order to ensure its strength and the durability. The strong construction of the porcelain makes it more appealing than ceramic as it is highly resistant to chipping, stains and scratches.
This set was manufactured in a BSCI certified factory, so it is perfectly risk-free for your daily use. In addition, it is also dishwasher-safe, so you do not have to wash it manually. This set is not only perfect for your household use but also acts as a great gift to your loved ones as it comes with a warranty and refund providing there is any defect.
7. Gibson Elite Ceramic Plate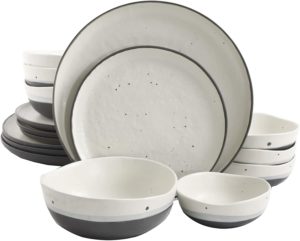 This set of New York style Rhinebeck dinnerware is a product of Gibson Elite. This ceramic plate has a white matte color featuring gray shade and black highlight with a reactive glaze outer cover. It consists of 16 pieces of plates in different sizes including artisan bowls and fruit bowls. The design of this set is very unique, natural and charming, at the same time it is also very functional to the user.
Although the plate looks thick, the material is very lightweight which is very easy for handling. Its tranquil design with its gentle color offers the user with peace and calmness when the food is being served using this set. What makes it even more outstanding than a regular plate is it was handcrafted instead of using mass production. Therefore, it has super high quality and also very environmentally-friendly. The user will also get to appreciate the hand work and the uniqueness of this set.
6. Xingyun Marble Green Ceramic Plate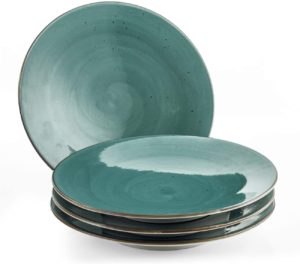 If you are looking for a high-quality ceramic plate, Xingyun got you covered. This stylish set has a smooth marble green color with a tiny black dot. It is very functional as it can be served for various types of food including desserts, salad, stew and cereal. The thoughtful but simple design makes this set suitable for many occasions whether as a kitchen decoration, party, restaurant, or daily use. This set plays an important role in adding an artisanal vibe to your dining table. Talking about construction, it was made using premium ceramic approved by FDA to be non-toxic and safe for use.
Ceramic is a great material that is highly resistant to odor and bacteria. On top of that, it is also lightweight and easy to handle. For care instruction, it can be washed in the dishwasher although the brand recommends manual wash to ensure a prolonged use. It is also safe to use in oven or microwave that allows you to heat up your leftovers with ease.
5. Miicol Dessert Ceramic Plate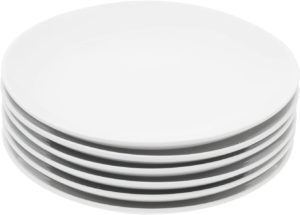 Here is another reasonably priced set of plain white ceramic plates from Miicol that comes in 6 pieces. This white set of porcelain plates were mainly used by most restaurants because it is more appealing than the patterned ones as it helps to enhance the presentation of your food by giving a clear background that does not conflict with the colors or the design of the food that is being served. Each plate has a size of 6 inches which is perfect for the main dish.
Talking about the quality of the material, the porcelain was tempered up to a maximum of 1300 degrees in order to make the construction of the plate durable to sustain long-term use. A special feature of this porcelain plate is it has a non-porous surface that allows the stains and grease to come off very quickly after washing. Furthermore, it is also great in preventing the odor of food from lingering which is very hygienic for your daily use.
4. DELLING Ultralight Ceramic Plate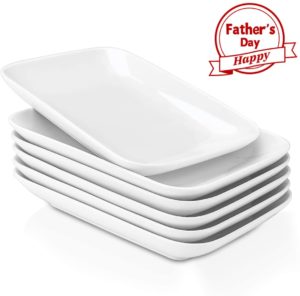 If you are looking for a rectangular shape plate for small serving, check out this incredible set from Delling. This ceramic plate set has 6 pieces with a plain white color and a size of 5 x 8 x 1 each. The construction of this set is super robust as it was made of beef bone which makes it resistant to chipping and discoloration allowing it to last over a period of 10 years. Its sleek and small rectangle design makes it an ideal dish for appetizers, desserts, fruit or salad. It is also very easy to organize, as it can be stacked up on top of each other to save storage space. In addition, it is very light that even children can effortlessly handle it.
Most importantly, this stoneware from Delling received certification for safety internationally. It is known as a handmade set that is more environmentally-friendly than the comparable products. You can also use it in a microwave or oven as the set can handle up to 590-degree Fahrenheit and it is also dishwasher-safe. With this purchase, you are backed by a 45 days refundable warranty.
3. Lenox Butterfly Meadow Ceramic Plate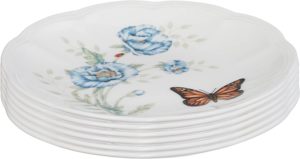 This floral ceramic plate set of party plates is the product of Lenox from a collection of butterfly meadow. Lenox is a well-known brand of America that has been delivering high quality stoneware since 1889. This set comes in a box of 6 pieces with a white color background and a unique artistry design in the center. The design has round scalloped edges with exquisite blooms and nature inspired by an artist Louise Le Luyer.
This delicate design gives off a very elegant and delightful look to the dining table and also helps to make the food appear to be expensive and classic.The material is very durable and resistant to chipping to ensure the set will last a very long time. For cleaning instruction, it is suitable for cleaning in the dishwasher to save you time from manual washing.
2. Corelle Chip-resistant Ceramic Plate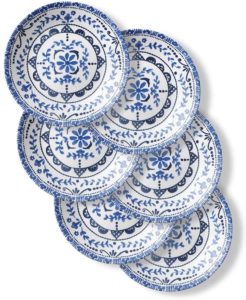 This durable set of 6 appetizer plates is the product of Corelle. This set has a unique design which was inspired by Portofino, a village in Italy. It has super strong construction that is also crack and chip resistant as it was made using 3 layers of high-quality glass. It was designed with hygiene and safety in mind, the surface of the plate is super smooth as the glass material is non-porous making it very easy to clean because the stain and grease cannot absorb with the material.
On top of that, the ceramic plate is lightweight which is very convenient to move from the kitchen to the table. Talking about storage, it takes up only half of the space that a regular plate would consume which is very ideal if you have a compact kitchen or cupboard.
With this set, you can use it with a microwave, oven, freezer and dishwasher as its construction is very robust and can withstand different temperatures. You can purchase with a peace of mind as it offers you up to 3 years of warranty.
1. Certified International Tunisian Ceramic Plate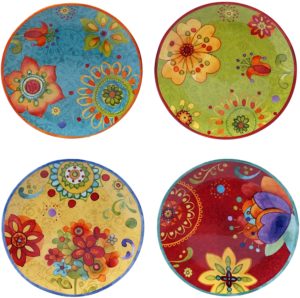 For Tunisian design inspired plates, we recommend this set of 4 from Certified International from a Tunisian Sunset Collection. This set of 4 plates has a size of 8.75 inches with a perfectly round shape which comes in multi colors and designs that you can choose from. The material used in the making was tested and verified as free of lead which is safe for your daily use. What makes this set very special is the design that was crafted by the best designers around the world and then it was hand painted using food-safe paint.
This collection has a delightful look and beautiful design that is not only an ideal plate for desserts or salads, but you can also use as home decoration to give your kitchen a little touch of fall theme. For care instruction, it is microwave and dishwasher-safe although it is recommended not to use the oven as it can withstand limited temperature.
What to consider when buying a ceramic plate.
Material: In choosing, dinnerware material plays an important role as it can determine how long you can use the plate for. The materials that are highly recommended for durability are ceramic plate or stoneware. But if you are getting the set for decoration then durability is not the main concern.
Design: the design is also important; a simple design allows it to be suitable for various occasions. However, for decoration purposes, you can get the one with a pattern or color that matches with the theme of your kitchen.
Weight: Dinnerware is what you will use daily. Therefore, easily handling is a feature that should also be prioritized. Some ceramic plates have very interesting designs however the weight does not support for daily use as it is very heavy and risky to handle. but if you really love that, you can get the set for the purpose of decoration instead.
Conclusion
Selecting a set of dinnerware could be a challenge but at the same time it is a very fun and enjoyable experience.
There is a sea of options available on the market, to help you eliminate some, we have introduced you to a set of highly recommended ceramic plates from various famous brands and also the buying guide. With that, we hope you can get the best set plates for your family or business use.