Do you like Zucchini? Well it's a healthy and delicious kind of veggie. You can actually eat Zucchini in different ways. And today, we are going to show you how to make one dish out of it. It's called Hasselback Zucchini. The name is actually rumored to have originated from the recipe at the restaurant in the Hasselbacken Hotel in Stockholm, Sweden. Essentially, it's another take on a baked potato recipe, Hasselback potato. Inspired by this Hasselback potato recipe, Hasselback Zucchini recipe is emerged, and then I guess it originated from Sweden as well. Want to know how it's gonna taste like? Let's try it out together!
How to Bake Hasselback Zucchini
Here are the ingredients and instructions for you to cook your Hasselback Zucchini deliciously. It won't take you long, and won't cost you much either.
Baked Hasselback Zucchini
Baked Hasselback Zucchini is a healthy take on the potato classic.
Ingredients
2 zucchini
1.5 tbsp olive oil
1.5 tsp parmesan cheese
2 cloves garlic
1 tsp parsley
Instructions
Pre-heat oven to 375 degrees
Cut the zucchini into thin medallions, but do not cut all the way through. Leave room at the bottom so that the zucchini stays in tact but can be gently fanned apart (reference pictures above and use chopsticks if needed).
Mix together the olive oil, parmesan cheese, garlic and parsley. Apply the mixture to both zucchini, ensuring that it gets between each cut.
Bake on an oiled baking dish for 28-32 minutes.
https://www.economicalchef.com/baked-hasselback-zucchini/
Cooking In Process
Basically, to make something "Hasselback" you make multiple slices like you were going to cut medallions, but stopping just short of cutting all the way through so that you are left with an accordion-like zucchini. This allows the edges to get crispy and crunchy while the middle cooks through and is nice and soft.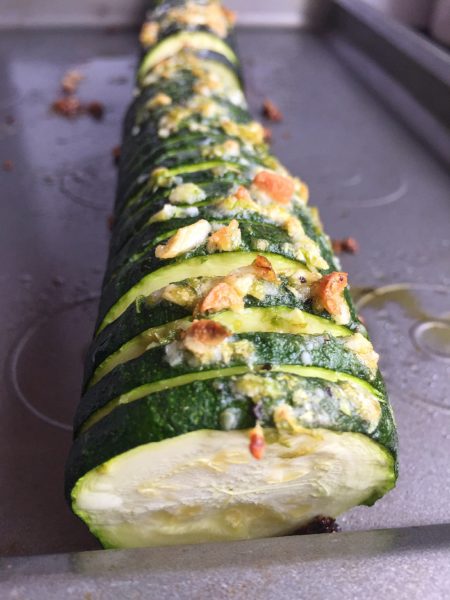 You bake this Hasselback Zucchini in either OTG Oven or convection oven. Baked Hasselback Zucchini is a unique and tasty way to get your serving of vegetables for the day. It's loaded with a savory garlic and parmesan rub that will make you forget you're eating something healthy!
Nutritions You'll Get
Wondering just how healthy is this Baked Hasselback Zucchini? Here is the high level nutrition info on one zucchini:
Calories: 43.8
Fat: 3.8 g
Carbs: 1.6 g
Protein: 1.2 g
Not much to report honestly. It's pretty low in calories because zucchini is low in calories, and the trace amount of fat and protein is coming from the olive oil and parmesan cheese. Most importantly though, zucchinis are full of vitamins A, C, and K. And the benefits of these vitamins are as follow:
Vitamin A: bolsters the immune system and vision. The specific type of vitamin A here is beta-carotene, the same vitamin found in carrots.
Vitamin C: helps fight sickness. According to

Livestrong

, it also helps build collagen to heal wounds.
Vitamin K: simply put, helps build strong bones.
Alright, so digging into the details of actually cooking this fun recipe – one trick I picked up along the way is to use chopsticks and kitchen knife to help slice the zucchini. To be specific, put chopsticks on either side of the zucchini, as pictured below: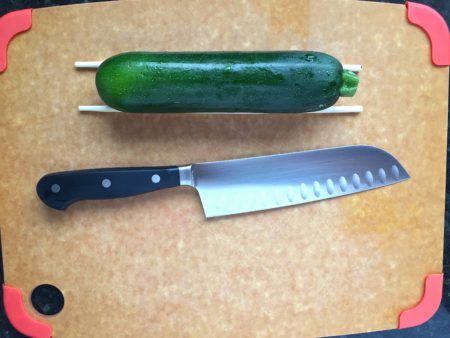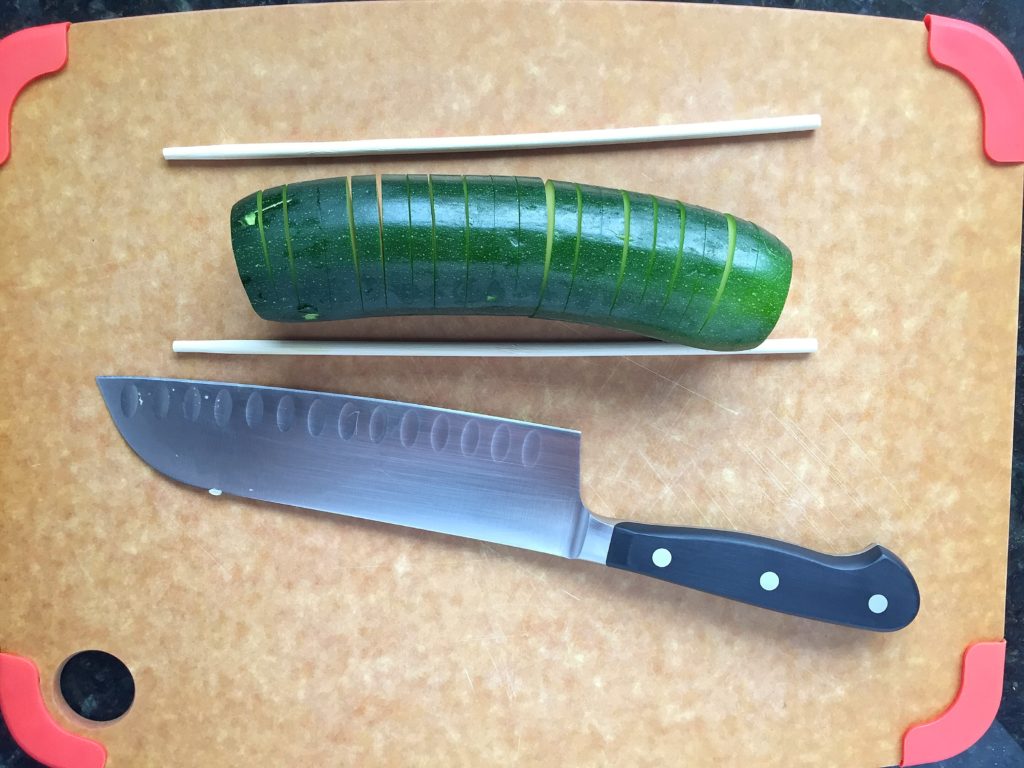 This will prevent you from cutting all the way through and allow you to make this zucchini all hasselbacky. One note of caution though, make sure you are using relatively thick chopsticks, cause otherwise you might up slicing right through anyway.
Once the zucchini is sliced, add it to a greased baking dish and fan it apart as best as you can. This will allow you to get the flavorful, herby and savory filling into all the slices of the zucchini.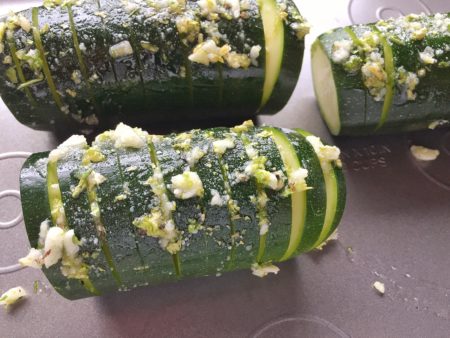 After, you simply bake the zucchini for about 30 minutes and serve it with whatever sides and proteins you want! I went with blackened chicken and quinoa this time around. It could also be good with Spicy Soy Sauce Basil Chicken or Asian Dijon Turkey Burgers.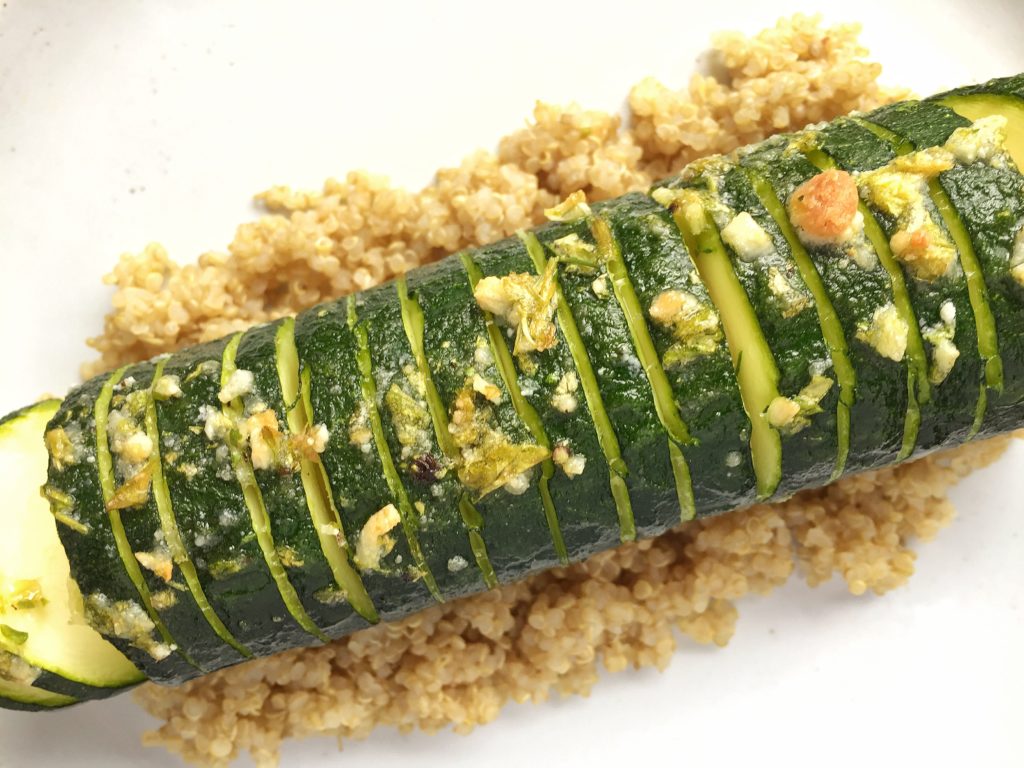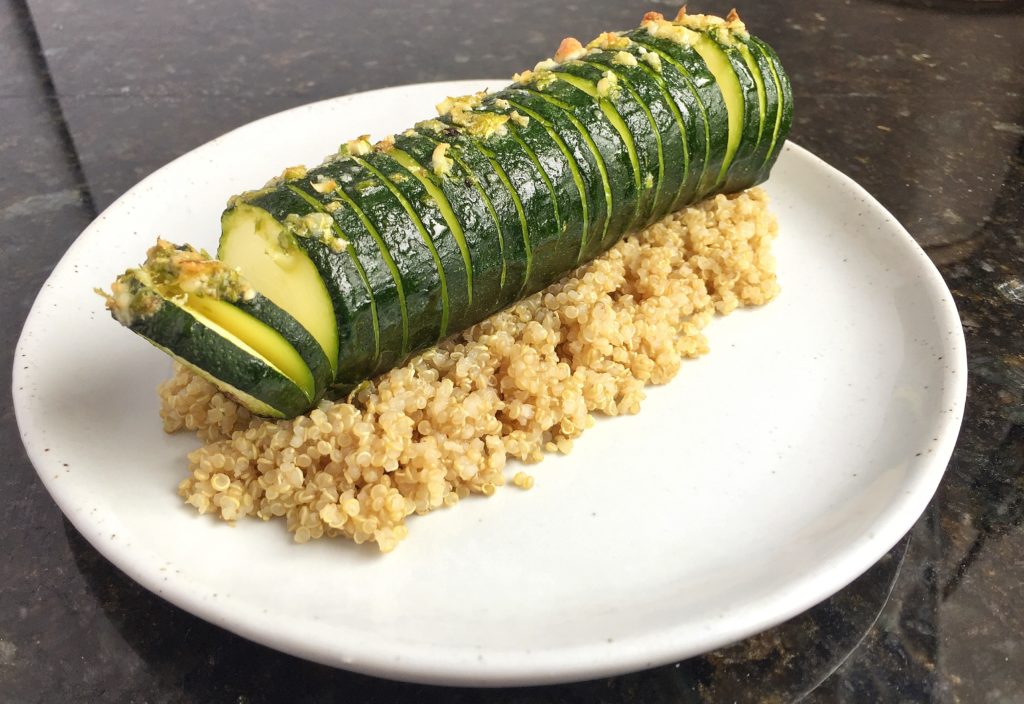 How Much Does It Cost You?
Let's get economical with this Baked Hasselback Zuchinni:
2 zucchini – $0.64
1.5 tbsp olive oil – $0.26
1.5 tsp parmesan cheese – $0.10
2 cloves garlic – $0.20
1 tsp parsley – $0.17
The grand total is $1.37. Which breaks down to $0.69 per serving, or per one zucchini. Eating healthy has a stigma for being expensive, but as you can see here, that is not always the case!
Conclusion
This Hasselback Zucchini is a very simple and easy to make dish. It is also healthy and cheap to make at home as well. I hope you enjoy this Baked Hasselback Zucchini today!